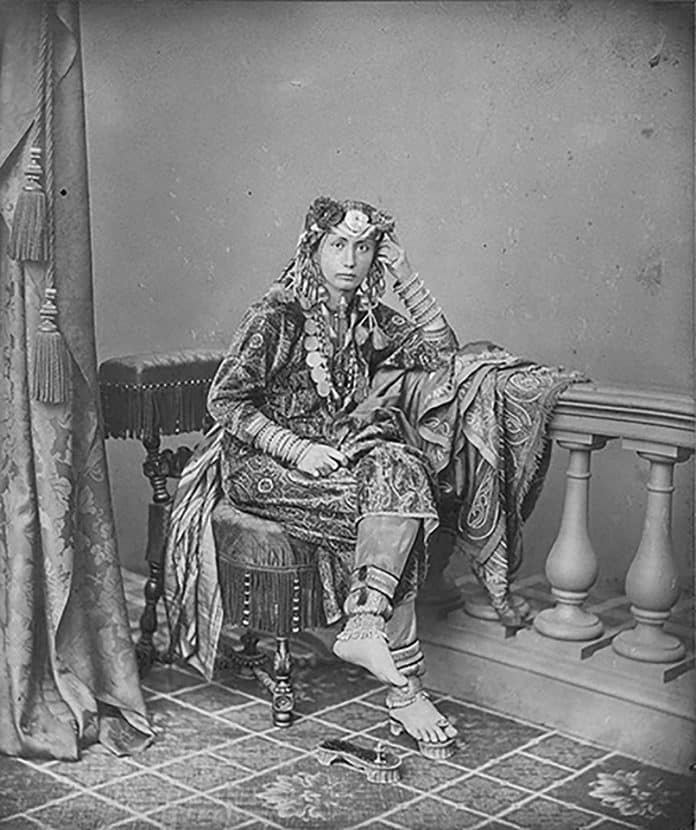 Emily Ruete
Biography – Life, Archives, Books, In Fiction and More
Emily Ruete's Background
Emily Ruete (August 30, 1844 – February 29, 1924), a Princess of Zanzibar and Oman, was born in Zanzibar and named Sayida Salama bint Said, popularly known as Salme. Said bin Sultan, Sultan of the Omani Empire, had 36 children, and Emily was the youngest of them. She wrote a book titled  Memoirs of an Arabian Princess from Zanzibar.
Early Years in Zanzibar
Emily Ruete was born on August 30, 1844, to Sultan Said and Circassian concubine Jilfidan (it is noted in some records that she is Georgian). Her early years were spent at the colossal Bet il Mtoni palace, which is located eight kilometers north of Stone Town on the coast. (In 1914, the palace was substantially dismantled.) She grew up speaking Arabic and Swahili fluently. In 1851, she went to Bet il Watoro, the home of the later sultan, Majid bin Said of Zanzibar. Her brother taught her how to ride a horse and fire a gun. She went to Bet il Tani with her mother in 1853. She taught herself to write in secret, a rare talent for a woman in her society at the time.
When her father passed away in 1856, Emily Ruete was deemed of age and acquired her family estate at the age of twelve. This included a farm with a house, as well as 5,429 pounds. Her brother Sayyid Thuwaini bin Said al-Said succeeded his father as Sultan of Oman and Muscat after the father's death, while her other brother Majid became Sultan of Zanzibar.
Emily Ruete got her family inheritance of three plantations when her mother died in 1859. In the same year, a feud erupted between her brothers Majid and Zanzibar's Barghash bin Said. Despite her preference for Majid, Khwala, her favorite sister, sided with Barghash. She served as secretary of Barghash's party at the age of fifteen since she could write. The insurgency of Barghash was quickly put down with the aid of an English warship; Barghash was exiled for two years in Bombay, while Salme retired to Kisimbani, which was one of her estates.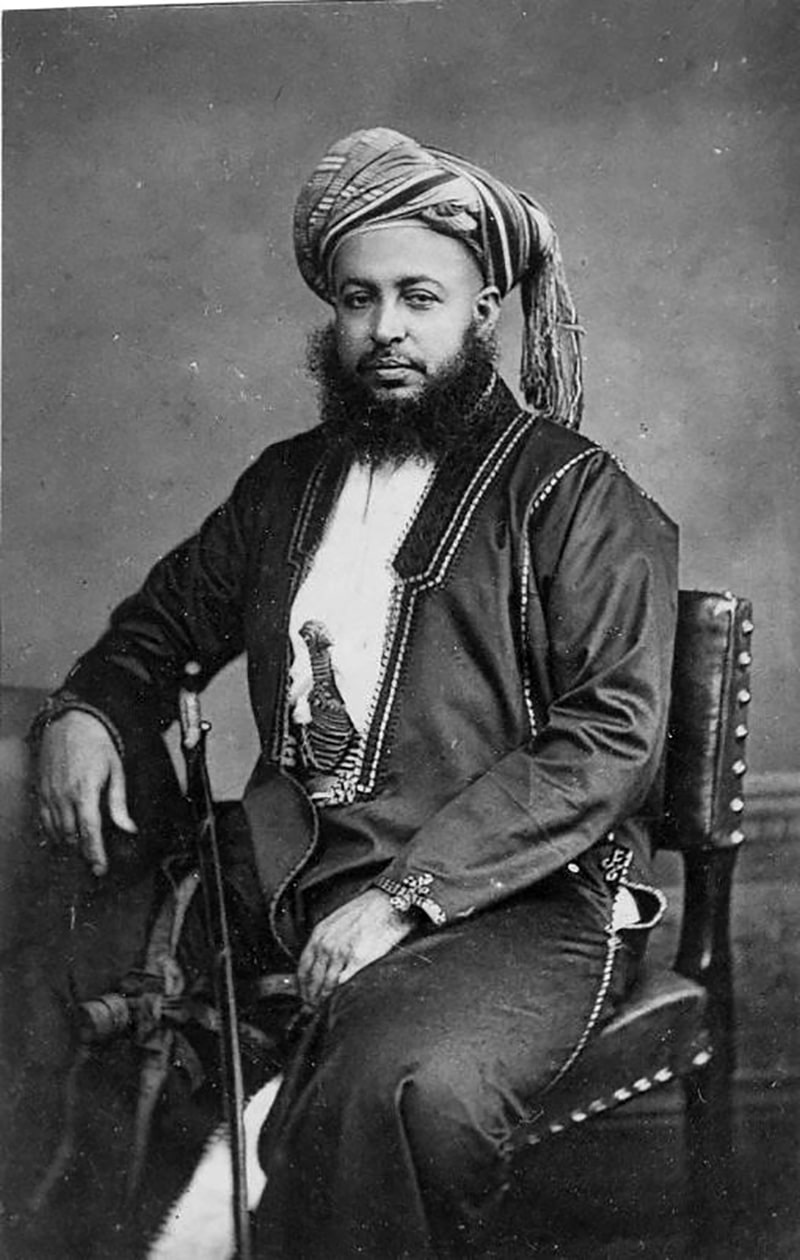 Emily Ruete later returned to Stone Town and reconciled with Majid. This earned her the animosity of Barghash for the rest of her life, as well as a separation with her favorite sister Khwala.
Emily Ruete met her next-door neighbor, a German businessman named Rudolph Heinrich Ruete (March 10, 1839 – August 6, 1870), and got pregnant by him while residing in Stone Town. She went on board the British frigate HMS Highflyer, captained by Captain [Thomas] Malcolm Sabine Pasley R.N., in August 1866, once her pregnancy became visible, and was permitted passage on his ship to the British colony of Aden. Prior to her marriage in Aden on May 30, 1867, she received Christian teaching and was baptized there. Nonetheless, she avoided eating pork and hated going to church in a subsequent letter to her sister, emphasizing that she remained Muslim in secret.   Heinrich, her son, was born in Aden in December 1866 and died in France in the summer of 1867 while in transit to Germany.
Emily Ruete Life in Europe
Emily Ruete and her family relocated to Hamburg, where they bore two more daughters and a boy. They were as follows:
Antonie Thawka Ruete (March 25, 1868 – April 24, 1945) had two daughters with Eugen Brandeis (1846–1930). She resided in Jaluit (Marshall Islands) from 1898 until 1904, while her husband was the German imperial governor. She began collecting anthropological objects and taught herself photography during this time. She was a long-time supporter of the German colonial women's movement, having been a member for about three decades.
Rudolph Said-Ruete was born on April 13, 1869, and died on May 1, 1946. (nl:Rudolph Said-Ruete). With the rise of the Nazi Party in 1933, he recanted his German citizenship and decided to settle in London, and became a British subject and dying in Lucerne, Switzerland, after World War II. Werner Heinrich (1902-1962) and Salme Matilda Benvenuta Olga (1910–?) were born to him and Mary Therese Matthias (1872–?) in 1901. He was related to Alfred Moritz, 1st Baron Melchett, the founding chairman of Imperial Chemical Industries, through his marriage.
Rosalie Ghuza Ruete (born April 16, 1870; died February 14, 1948), wife of Royal Prussian Army Major-General Martin Troemer.
Emily Ruete Memoirs of an Arabian Princess
Emily Ruete's husband died in a tram accident in 1870, leaving her in a difficult financial situation after the authorities rejected her inheritance claims. Memoirs of an Arabian Princess was born in Zanzibar, published for the first time in the German Empire as Memoiren einer arabischen Prinzesin in 1886, and soon after in the United States and the United Kingdom of Great Britain and Ireland, was written in part to alleviate these economic problems. The book is the first Arab woman's autobiography ever published. The book gives the reader an inside look at life in Zanzibar between 1850 and 1865, as well as an interior portrayal of her brothers, the subsequent sultans of Zanzibar, Barghash bin Said of Zanzibar and Majid bin Said of Zanzibar.
Following the death of her husband, Emily Ruete became entangled in Otto von Bismarck's imperial schemes. Bismarck was said to be planning to place her son as Sultan of Zanzibar. In 1885 and 1888, she returned to Zanzibar. She stayed in Jaffa from 1889 to 1892 before relocating to Beirut in 1892. She returned to Europe in 1914 to reside with Rosa in Bromberg, her daughter, where Martin Troemer was a military commander. She died of acute pneumonia at the age of 79 in Jena, Germany. An Arabian Princess Between Two Worlds was released in 1992, allowing the public access to her letters home as well as her views on life in Europe.
Book and Archive Collection Said-Ruete
In 1887, Emily Ruete became friends with Dutch orientalist Christiaan Snouck Hurgronje. Rudolph Said-Ruete, Snouck Hurgronje's son, donated her collection of books to the Oosters Instituut shortly after her death (created in memory of Snouck Hurgronje). Scholars were given access to the library at the institute's headquarters, the Snouck Hurgronje House located at Rapenburg 61 in Leiden. The volumes, as well as the massive bookshelf and other objects, were eventually moved to the Netherlands Institute for the Near East. The archive of Emily and Rudolph is kept at Leiden University Library (correspondences, photographs and personal documents).
The People's Palace in Stonetown, which was built by her brother, Sultan Barghash, contains a permanent display about Emily Ruete.
Emily Ruete in Fiction
Emily Ruete appears in M.M. Kaye's book Trade Wind as a minor character. Her participation with her brother Barghash's unsuccessful effort to usurp the kingdom from their brother Majid, as well as her later interest in and marriage to Rudolph, are mentioned in the novel, which is set in Zanzibar in the late 1850s.
If you would like to find more articles about The People Republic of Zanzibar, click here!