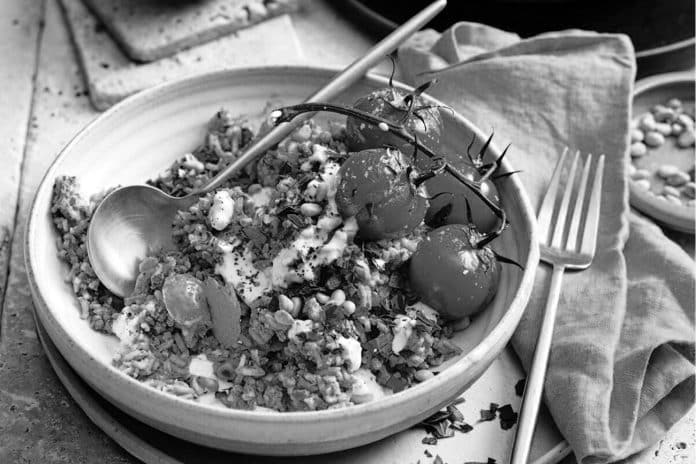 Brief Overview of the Turkish Pilau with Lamb
Turkish Pilau Rice Ingredients
 a tiny handful of flaked almonds or pine nuts.

 one tablespoon of olive oil.

 one big halved and chopped onion.

 Two cinnamon sticks, half-broken.

 500g of lean, cubed lamb neck fillet.

 Basmati rice (250 g)

 One lamb or veggie stock cube.

 Twelve dried apricots that are ready to eat.
  A handful of roughly sliced freshly picked mint leaves.
Turkish Lamb Pilau Method
MAKING OF TURKISH PILAU – STEP 1 
In a large frying pan, dry-fry the selected almonds or pine nuts until gently toasted, then transfer to a plate. In a large silver pot, heat the oil, then cook the cinnamon and onions together until they begin to turn golden. Increase the heat, put in the lamb, and cook until it begins to brown. Add the rice grains and cook for one minute, stirring constantly.
MAKING OF TURKISH PILAU – STEP 2:
Pour in 500 milliliters of boiling water, crush in the vegetable or lamb stock cube, followed by the apricots, and season for it to taste. Reduce the heat to a lower degree, cover the lid, and cook for Twelve mins until the rice in the pot is soft and the stock has dissolved. Serve with mint and pine nuts on top.
Turkish Pilau Recipe Suggestions
Preparing the Turkish Pilau Lighter
Instead of lamb, use chicken plus chicken stock and currants rather than apricots.
IF YOU'RE USING A SLOW BURNER…
Please take your time with this. Step 1: Toast the nuts and set them aside. For 5-10 minutes, fry the cinnamon, onion, and spices together. Increase the heat to high and put in the lamb, frying until it changes color. Stir everything together on the slow burner with the rice. Add the water, crush the vegetable or lamb stock cube, put in apricots, and stir—Cook for three-four hours on low or till the rice is soft. To serve, throw in the mint and nuts.
For more articles related to Tanzania Food Recipes, click here!