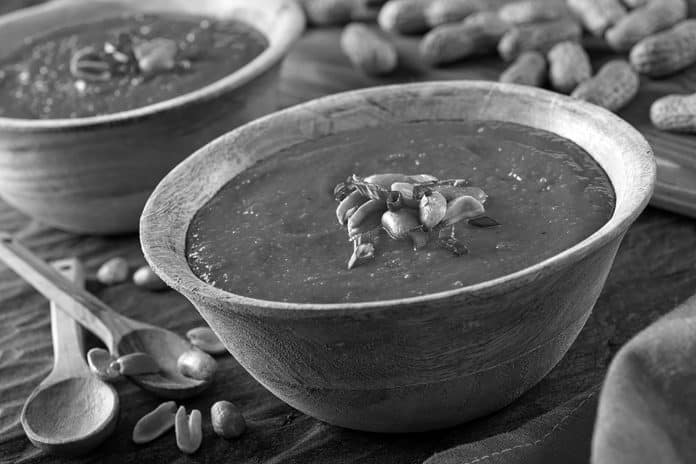 Swahili Food Recipe: African Peanut Stew Recipe from Tanzania
Karibu! The Table of Africa ZANZIBAR and TANZANIA was an incredible journey filled with culture, history, and community! One of my favorite memories is from our excursion to the Mpoto Foundation farming area. We collected fresh-farm seasonal food and prepared a delicious farm-to-table meal (African peanut stew) for our visitors and the local community!
This flavourful stew was a big favorite with our Mpoto Charity Farm guests, and it was packed with creamy chickpeas, fresh vegetables, peanut butter, and hot chillies! The African peanut stew goes great with coconut basmati grains or with the tasty spicy kachumbari and chewy chapati! chakula Karibu, At The unique African Table, you're invited to eat!
Course-Main Meal
Cuisine– Eastern African, Vegan, Tanzanian
Servings- eight people
Time to Prepare: 20 minutes
Time to cook: 25 minutes
Ingredients
Produce
One eggplant, medium
2 tbsp minced garlic
2 tbsp minced ginger
One red onion, medium
one ea red chilli
Four ea plum tomatoes
two ea carrot
One ea green sweet pepper
two ea limes
Packaged Items
Four tablespoons of peanut butter.
One canned chickpea, natural organic if possible
One cup of coconut milk
Optional] a half-cup of roasted peanuts
Oil & Spices
Optional: one tablespoon Jambo Harvest Masala Spice Blend or ½ teaspoon cinnamon
One tablespoon curry powder recommended, Blue Mountain, super-hot
One teaspoon of Cayenne Pepper
— — oil any recommended for sautéing (that is coconut vegetable, canola)
— — Salt
Servings: eight people
Instructions on How to Prepare the African Peanut Stew
Prepare the Vegetables
Vegetable Preparation: Wash very well and dry all groceries. 1″x1″ chunk of eggplant should be chopped. Toss with Masala Spice mix, a sizable pinch of salt, one teaspoon curry powder, and one tablespoon oil in a medium mixing basin to cover in spices. Ginger root, minced garlic, and red chilli. Chop the onions, carrots, sweet pepper, and tomatoes into small pieces. Slice the cilantro into small pieces. Cut limes in 1\2 and take the seeds out. (In Tanzania, limes have seeds!)
Sweat the Veggies for the African Peanut Stew
Heat three tablespoons of oil in a medium-large saucepan over medium heat. Put the eggplant into the hot oil and cook for three-five mins. It'll be partially prepared. Remove the item from the oil. Stir in the ginger, minced garlic, and chilis in the very pot until fragrant. With a bit of salt, put in the onions and keep on cooking. Cook for three minutes after adding the tomatoes, carrots, eggplant, and sweet peppers.
Important Note About Sweating Veggies and Utilising Salt: Salt aids in the release of juice or flavour from the fresh ingredients. When onions are cooked with salt, they become softer and start releasing more liquid, which is useful when making an

African peanut stew

foundation. To prevent over-salting, use salt sparingly and always taste as you progress. Note that I have stated "a tiny bit" of salt since I believe that adding salt to the mix of fresh ingredients is a key step in releasing deep aromas and juices.
Make the Sauce
Stir in the peanut butter and leftover curry powder. The

African peanut stew

will thicken quickly, but constantly stir and cook for about three minutes. Stir in the coconut milk, rinsed chickpeas, and one and a half to two cups of water. Cove for 10 to 15 minutes on moderate heat until the sauce has somewhat reduced.
Complete the Delicious African Peanut Stew and Serve!
Add the lime juice, cayenne pepper, cilantro and roasted peanuts and stir to combine. To check the taste, one teaspoon salt, mix very well and simmer for 3 minutes more.

Serve the African peanut butter stew over white rice and sit down and enjoy!!
For more articles related to Tanzania Food Recipes, click here!