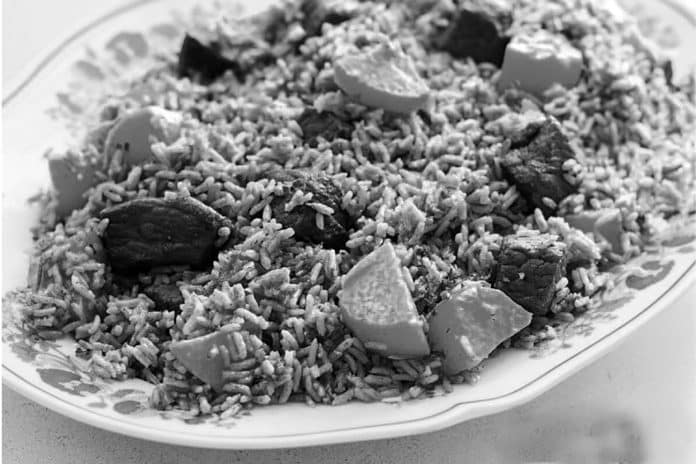 Swahili Food Recipe: The Famous and Authentic Pilau Rice Recipe and Seasoning
What is Pilau Rice?
East African Pilau rice recipe – Tanzanian famous Pilau rice is sometimes difficult to distinguish from its Indian Pilau rice origins. Nevertheless, when it relates to African food, Pilau is the versatile rice dish of Eastern Africa. It frequently goes beyond its shoreline from the Zanzibar peninsula into Indian Sea islands like Mauritius. Tanzanian Pilau differs slightly from its Indian cousin. Other easy Pilau rice formulas may frequently add saffron, turmeric, bay leaves, and crushed coriander seeds; nevertheless, Tanzanian Pilau formulas will frequently utilize five different spices to form the Pilau masala: cloves, black peppercorns, cardamom, cumin, and cinnamon. Tanzanians make liberal use of spices, particularly cloves. Cardamom is far more popular in the East of Africa.
Cooking Pilau rice – The best Pilau rice recipe can be prepared as a basic vegetable meal or coupled with lamb, beef, or chicken to make a complete one-pot meal. When prepared as a complete pot meal, often with tomatoes added, the result is strikingly similar to the Western African equivalent rice meal, "Jollof". Nevertheless, the two dishes are not identical, and the Indian flavors used in Eastern Africa distinguish this dish from jollof rice. Pilau is more akin to the Somalian bariis iskukaris.
Rice Pilau Ingredients
2 tbsp unsalted butter (or ghee)

one finely diced onion

one clove of garlic, finely chopped

Five cardamom pods

1–2 entire cinnamon sticks

1/2 tsp ground cumin

one teaspoon black pepper, freshly ground

1/2 tsp ground cloves

2 cups washed basmati rice (to eliminate extra starch)

one cupful of coconut milk

Two cupfuls vegetable stock (or 2 cups of boiling water)
How to Make Pilau Rice
Collect all of the Pilau rice dish ingredients.
Heat the ghee or butter in a heavy pot over moderate heat and cook the chopped onions until it becomes golden.
Stir in the rice until it is well infused with the fat. Stir in the garlic and other ingredients, allowing the ingredients to release their natural fragrance (in about one minute).
After stirring in the coconut cream and either the water or vegetable stock, bring the mixture to a boil.
Cover with a firm lid and let the rice cook for fifteen minutes on low heat after five min.
The Pilau rice should be fluffed and served hot with curries as well as stews.
For more articles related to Tanzania Food Recipes, click here!