Kunduchi Wet N Wild Waterpark

– Overview, Attractions, Dining and More
Overview of the Kunduchi Wet N Wild Waterpark Dar es Salaam
Location: Driving Guidance to
Kunduchi Wet N Wild Waterpark
Drive to Bagamoyo Rd. north, coming from Mwenge; it's 11 kilometers. On getting there opposite HOPAC, turn right and drive 1.6 kilometers.

At Mtongani Junction is where you need to turn another right; you'll be there in about two miles.

Then to the left, about 87 meters.

 
And there the Kunduchi Wet N Wild Waterpark is waiting for you in Tanzania's city, Dar es Salaam. 
Opening Hours of the
Kunduchi Wet N Wild Waterpark
The Kunduchi Wet N Wild Waterpark is usually open from 10:00 a.m. until 6:00 p.m.
Tips for
Kunduchi Wet N Wild Waterpark Visitors:
For a fun-filled day, dress comfortably.

You cannot wear anything made of cotton or street wares in the water or on the slides.

Whenever possible, try to stay away from swimwear accessories made of metal, like zips, buttons, and snaps, amongst others.

Longer chains and necklaces are not permitted.

Those with really long hair should keep it in a ponytail or a bun.

All pools and attractions prohibit the use of regular diapers of any kind. At all times, children must wear swim diapers.

Swimwear is necessary at the water park.
Precautionary Measures to Take While at the
Kunduchi Wet N Wild Waterpark

:
Observe all

Kunduchi Wet N Wild Waterpark

rules and directions by staff, as well as those posted.

Avoid running and diving at any cost. Only a few places allow scuba diving.

You are not allowed to bring your floats or sports equipment.
Adhere to ride-specific age, height, and health restrictions.

Whenever you feel unwell, your physical state changes suddenly, or you experience any other unexpected or mysterious symptoms, you should avoid taking the ride. Always exercise common sense.

The use of glass bottles is outlawed.
Riders are Ultimately Responsible for Their Actions at Kunduchi Wet N Wild Waterpark:
Adult supervision is required at all times when a child under the age of ten is present.

Children under the age of five must always be within the arm's reach of an adult (18 years or older).

Please don't leave anything of value in plain sight when you're not using it. Lost or stolen stuff is not the responsibility of management.

The rider is solely responsible for any injuries that may result from the slide's improper use or failure to follow these instructions.
It's in Your Best Interest:
The following items are offered for rent at

Kunduchi Wet N Wild Waterpark

: tubes, slide mats, and storage lockers for your convenience.

Swimming equipment is available at Malaika Boutique (Subject to availability).

First aid and ambulance services are available upon request and in an emergency.
Keep Others in Mind:
Maintain a polite demeanor at

Kunduchi Wet N Wild Waterpark

when waiting in line.

Keep your language and body language inoffensive and professional.

Please don't take pictures of the other guests.

Keep your clothing on; indecent exposures and nudity are not tolerated.

Admission can be denied to anyone with a contagious disease or an open wound.

No external food and beverages are permitted.

Those who choose to smoke are restricted to designated areas.
Guests' Ease of Access at Kunduchi Wet N Wild Waterpark:
There is enough parking for all guests and visitors.

If you've neglected to pack any of your swimwear, Malaika Boutique offers a wide range of clothing and accessories.

In a medical emergency, on-call ambulance and fire department personnel are available.

A first aid station has been set up.

There is a separate prayer room for those who wish to pray.
Attractions at Kunduchi Wet N Wild Waterpark
Sliding Pools from Rainbow Slides: With more than three dozen different kinds of slides to choose from at the park. Sit back and relax on the lazy river, or brace yourself for the rush of adrenaline as you get dragged five stories down the Mtundu rainbow slides.
In-school vacations: The well-trained lifeguards at our facility will ensure that your students have as much fun as possible.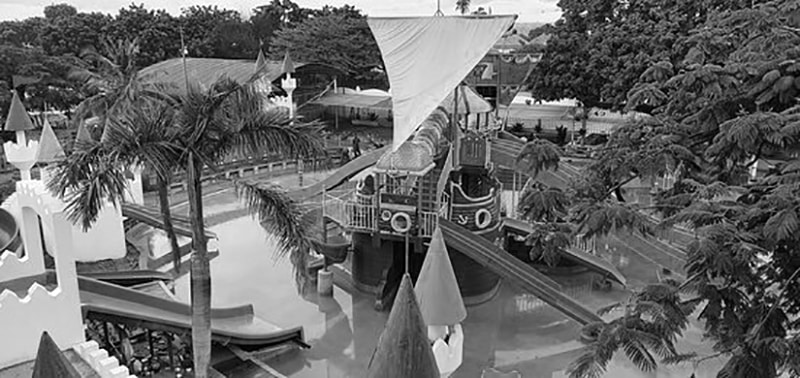 The Pirate's Bay: The nasty, wild, cheerful, and energetic children's area. You're right; these are indeed the happy little bundles. For this purpose, the Kunduchi Wet N Wild Waterpark has the ideal setting.
Coco Cabana: Relax by the pool with a cool drink, a fruit shake, and a few small snacks to keep you cool and hydrated in the summer heat. With its proximity to Raindance's platform, the Coco Cabana ensures you won't miss a beat.
El-Nino Raindance: The Raindance stage is a state-of-the-art platform for musicians and music lovers who believe they have what it takes to shake the world.
Encourages Cashless Payment: There is no need for cash at Kunduchi Wet n Wild Waterpark. Book online or use a credit or debit card to make purchases.
Dining at Kunduchi Wet N Wild Waterpark
Two fast-food eateries: With very efficient services to more than 2,000 people can be served simultaneously by Mbudya and Bongoyo. Everyone can find something on our menus that suit their needs, no matter their age or dietary requirements.
Fine Dining at Its Finest: Guests can choose from a broad a la carte menu from the buffet at the Kambarage Restaurant, which offers stunning views of the property's gardens. Each dish is produced to your exact requirements, from the salads to the seafood platters.
The Bar at the Swimming Pool:

Relax by the pool with a cool drink, a fruit shake, and a few small snacks to keep you cool and hydrated in the summer heat. You won't miss a beat because the Coco Cabana is next to the Raindance platform.

Kid's Bar:

Kidoz Bar and Grill at

Kunduchi Wet N Wild Waterpark

is intended for our Petite VIPs, serves delicious smoothies and shakes, as well as a wide variety of other kid-friendly fares.
Events
The Kunduchi Wet N Wild Waterpark has the capacity and human resources to host or accommodate any event.
At various times throughout the years, we've hosted a wide range of custom events for our diverse clientele, in addition to some of our own branded gatherings with strategic partners, which attracted many walk-in customers.
Team-Building Activities, Families, or Corporate Gatherings
Corporate outings and locations that require capacity, infrastructure, and staff to host a fantastic event are best served by Kunduchi Wet N Wild Waterpark amenities. Aside from that, there is accommodation for any client who wants to hold an event at Kunduchi Water Park that is more tailored to their specific needs.
Team building consultants and facilitators devoted to Kunduchi's waterpark are also on hand to help this group of people succeed.
Celebrations Such as Weddings, Birthdays, and Graduation Activities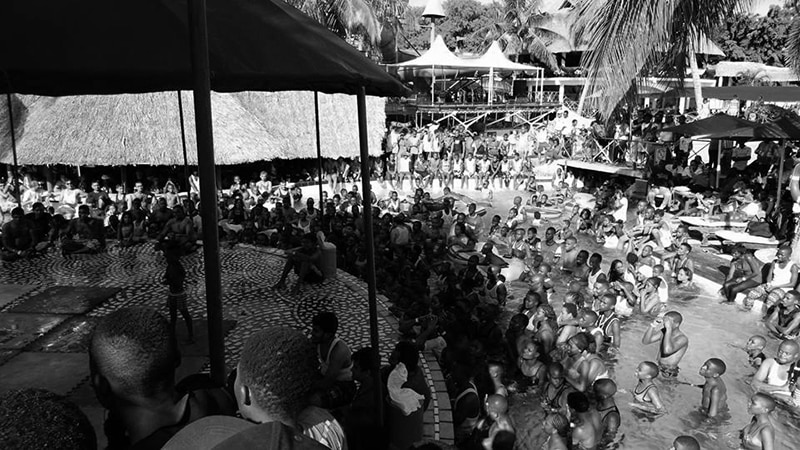 When it comes to family gatherings, Kunduchi Wet N Wild Waterpark has everything you need for a successful celebration:
A large venue.

Multiple foods and beverage outlets.

An in-house public address system can manage all the more delicate event planning and execution details.
You can rent from one or the entire venue or organize a secluded portion for your event; Kunduchi  Wet N Wild Waterpark has distinct propositions for you.
School Trips and Excursions at Kunduchi Wet N Wild Waterpark
When children aren't studying, they are playing with lots of effort. There's no doubt that this is a vital component in the positive development of each school child.
The Kunduchi Wet N Wild Waterpark is an excellent place for students of all ages to socialize and learn together.
There are experienced lifeguards and swimming instructors on hand to keep the kids safe while they play and help them reach their full potential as swimmers.
Music Extravaganza at Kunduchi Wet N Wild Waterpark
More than 12,000 partygoers and youthful enthusiasts have made Kunduchi Wet N Wild Waterpark a popular venue for eclectic music and other events. Ensuring a fun day in the sun for everyone is easy when there is enough safe parking and a high level of security.
Fashion Showcase
When it comes to hosting fashion shows, Kunduchi Wet N Wild has everything you need. The stage is visible from every angle of Kunduchi Wet N Wild; the venue is designed to look like a piece of art; the dancers will magically lift your spirits as you watch the models walk or tap your feet to the beat.
Involvement in Sponsored Activities
Numerous corporate clients, have worked together to design and execute a wide range of events, both internally and externally.
Kunduchi Wet N Wild Waterpark is the ideal location to conduct an event that will draw attention to your company and increase its exposure.
Merrymaking with Loved Ones
If you've not had time to relax with loved ones in a while, you're probably at a loss for ideas on where to take them. If you want to have fun with them, Kunduchi Wet N Wild Waterpark is the best spot to bring them.
The young at heart and the not so young can all benefit from the specialized services that cater to all three demographics with equal care and attention.
Institutions/Colleges
Show the world that you're young, capable, and aware of your desires by showcasing your style.  Kunduchi Wet N Wild Waterpark is the best place to start.
Every item on your wish list, from a state-of-the-art PA system, DJing, and watersports facilities to a variety of places where you can assemble and engage, is here for you to enjoy.
Our setting is also great for that graduation party or event you've been planning for months.
Prospects for Profit at Kunduchi Wet N Wild Waterpark
Distributive Merchandising
Entrepreneurs are requested to make proposals to operate and manage various facilities to inject new ideas and capitalize on the benefits and economies of local and foreign skills and specialties.
The following possibilities exist:
Restaurants and other food and drink establishments.

Development of merchandising and branding.

Otherworldly creations such as curiosities and artifacts.

Performing arts services.

Services and Sponsorships.
Request a meeting with a member of the Kunduchi Wet N Wild Waterpark at a time that works best for you.
Purchases in Large Quantity
The following possibilities exist:
Group tour sales (to students and institutions) are handled by tour operators.

Distribution and stocking companies.
Filming at Kunduchi Wet N Wild Waterpark
Commercial photography and filmmaking at the Wet n' Wild water park are perfect for various projects. Set up a time to speak with knowledgeable Kunduchi staff members at your convenience to go over the concerns in greater detail.
Sponsorships
Some examples of sponsorships are listed below:
Involvement in the Promotion of Events

Partnerships between the media and merchandising firms, amongst others.
For more articles related to  Things to Do in Tanzania (Zanzibar), click here!