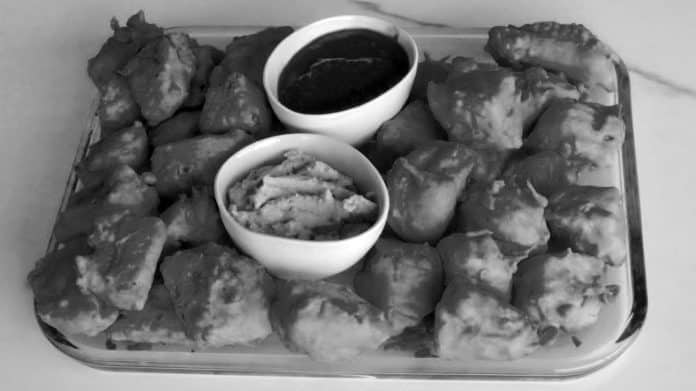 Swahili Food Recipe: Making Tanzanian Packed Potatoes (Viazi vya Karai)
On my numerous journeys to Wonderland, I sometimes wonder if somebody from the rural Texan South came to the Kenyan Coastline with packed potatoes in hand and presented it to Mamma Fatuma. Almost everything in the South is deep fried after being dipped in a batter. They enjoy frying
I'm not a huge fan of fried foods, but packed potatoes is well worth it.
In this recipe, partially cooked potatoes are coated in a no-fuss dough and deep-fried to absolute perfection. What's the end result? Delicate 'taters' with a crunchy outer layer. You must include the coconut chutney, tamarind sauce, and any barbecue sauce, or else you will feel as if something is lacking. Yum! Any day, I'll take seconds. If there are any leftovers from the packed potatoes the next day, I'll cheerfully add them to an omelette as a side dish. Oh, my God.
Ingredients
 5 lbs. potatoes (cooked in salt water)

 2 CUPS FLOUR (ALL-PURPOSE)

 1 1/2 gallon of water

 one teaspoon of salt

 1\4 teaspoon food colouring (orange

  Three cups of oil (for frying)
Salt Packed Potatoes Preparations
 Cook potatoes in salted water until tender on the inside but firm on the outside.

 Allow potatoes to chill before peeling them.

 Chop the potatoes in 1⁄2 lengthwise, then horizontally into tiny one-inch pieces.

 Combine salt, flour, and food colouring in a mixing basin.

 Whisk in the water until the batter is smooth — the dough should be thick enough to cover the back part of a spoon but not too runny.

 In a deep cooking pan, heat the oil.

 Toss the cleaned potatoes into the dough, making sure they are equally coated.

 Drop each batter-coated potato piece into the hot oil. Cook till golden brown. Blot with a piece of kitchen paper. Serve the

packed potatoes

.
For more articles related to Tanzania Food Recipes, click here!