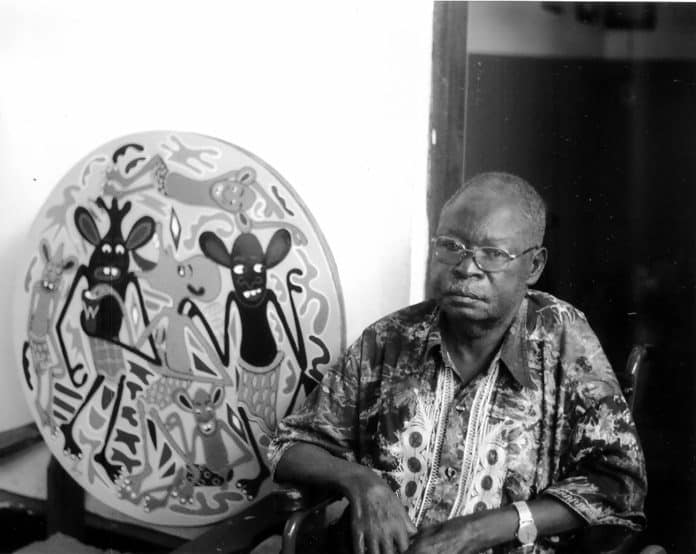 George Lilanga Biography – Life, Artistic Development, Legacy and More
George Lilanga Di Nyama (born 1934; died June 27th, 2005) was a Tanzanian sculptor and painter. He was active from the late 1970s till the early part of the 21st century. He is a Makonde man, and he lived most of his life in Tanzania's largest city, Dar es Salaam.
Along with other contemporary African artists, George Lilanga's work was displayed in many international art shows, African Art Now in 2005 and Africa Remix 2004. Through the exhibitions and the subsequent interest of critics and collectors of modern African art, he became the most renowned Tanzanian artist internationally.
At the beginning of his career, George Lilanga worked in the Makonde artistic tradition of making sculptures out of wood. After being exposed to other contemporary artists at the Julius Nyerere Cultural Centre (Nyumba ya Sanaa), he remodelled typical structural forms into 2-dimensional artworks like panels, etchings, or paintings. With the innovation, Lilanga developed his unique style out of the Shetani figures of the modern Makonde sculptures. George Lilanga paintings are characterized by the colorful and ironic method that reflects everyday life in Tanzania as he perceived it.
Lilanga George Early Life
The exact date and place of George Lilanga's birth are shrouded in uncertainty. However, Lilanga claimed he was born in Kikwetu village in the Masasi district of Tanzania's Mtwara region in 1934.
His parents were both Makonde (a tribe found in Tanzania and Mozambique). His father worked as an agricultural laborer on sisal plantations. George Lilanga had two brothers that died before him; he attended primary school for just three years. In his later years, he dedicated his works to village life, returning several times to represent his recollection of happy times when pupils received their diplomas.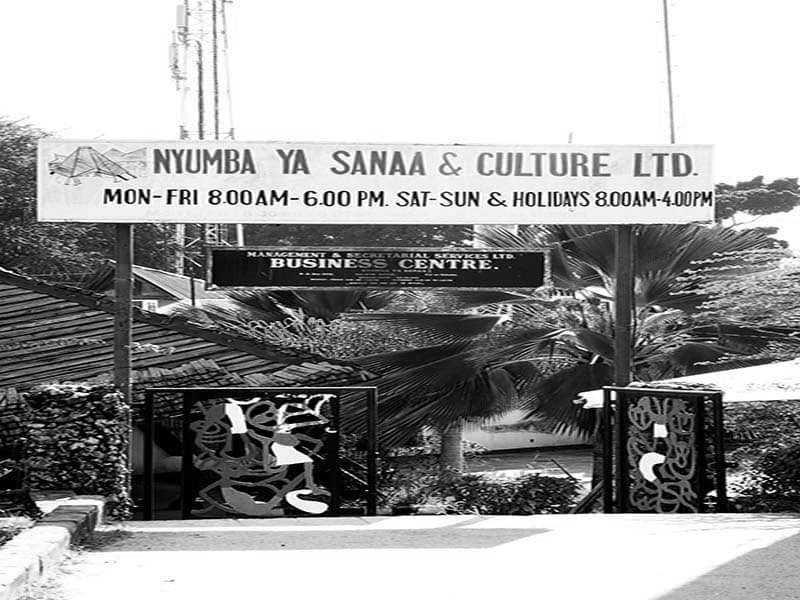 George Lilanga decided to migrate to Dar es Salaam in 1971, where there were better opportunities to practice contemporary art and sell sculptures. In 1971, Lilanga got his first employment with the help of Augustino Malaba, his uncle. Malaba was an already renowned sculptor who would collaborate with Lilanga in the future. He started as a night guard at Nyumba ya Sanaa (House of Art), a cultural center for the development of African craftsmanship and art in Dar es Salaam. He created wooden doors with colorful shetani figures for the cultural center in 1982. After the center was destroyed, the doors were procured and restored by a German collector. The doors are documented in the book George Lilanga: The Doors of Nyumba ya Sanaa.
As a modern artist, George Lilanga joined artists like Augustino Malaba, Patrick F. Imanjama, and Robino Ntila. He also started creating paintings on goatskin, batik cloth, and metal sheets for finishing gates and railings of the center.
Like other modern artists in Tanzania, George Lilanga regularly visited the art cliques of the increasingly successful Tingatinga school. However, he always maintained his style. Essentially, he became a painter after 1972. And in 1974, a couple of his works were presented at the National Museum in Dar es Salaam.
An American aid worker promoting Tanzanian art, Sister Jean Pruitt, recognised George Lilanga's talent. In 1977, he traveled outside Africa for the first time. He went to New York, where he had a show at the Maryknoll Sisters' Ossining Centre. He stayed briefly in Manhattan, where he sold prints made on cardboard or paper.
The Beginning of George Lilanga Art for Sale, Success and Artistic Development
George Lilanga had his first encounter with wooden sculpture and worked in the Makonde tradition. Shortly after he started grammar school, these sculptures were made from softwood, roots, and later ebony. He almost exclusively dedicated himself to this technique between 1961 and 1972. He showed his first set of works to Europeans working in refugee camps during the war of independence in Mozambique. Following their counsel, Lilanga moved to Dar es Salaam in 1970, where he had better opportunities to sell his sculptures.
He took part in a joint exhibition of African artists in Washington DC in 1978. Out of the 280 works exhibited, 100 were Lilanga's. On this occasion, he was compared to Jean Dubuffet. George Lilanga was considered to have influenced young American graffiti painters (Keith A Haring confirmed in an interview that Lilanga's art influenced him). Lilanga started a long series of exhibitions, and his works enjoyed increasing success in the USA, Europe, Japan, India, and Africa.
George Lilanga took part in the Salzburg Summer Academy in Austria a couple of times in the 1980s. There, he learnt the graphic style of etching, which became an essential part of his subsequent colored artworks. Eventually, he almost exclusively dedicated himself to painting. His various pictures depicting Shetani in various situations were reproduced two-dimensionally on Masonite or canvas, goatskin and batiks.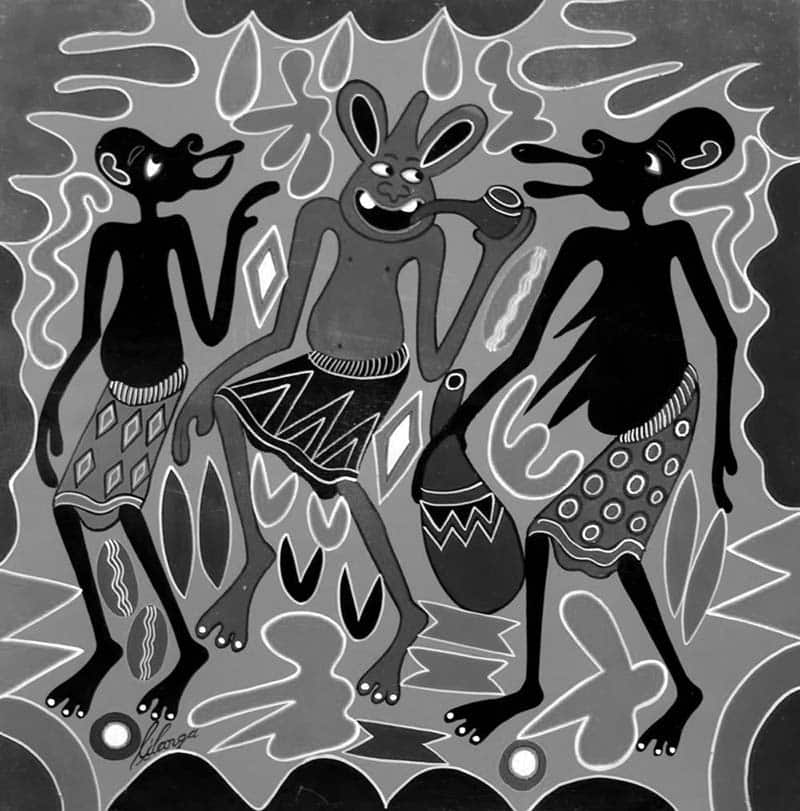 With his growing international reputation, Lilanga's paintings became increasingly larger around the 1990s. His oils on canvas around one square metre in size, 61 x 122 centimetre works on Faesite/Masonite, and his first large canvasses over 200 cm in length were from this period.  At the end of the 1990s, George Lilanga started working intensely with sculpture again, creating a huge number of carvings in softwood (usually mkongo or mninga), vividly colored with oil-based enamels.
Lilanga's colorful artwork underlines an unusual evolution from traditional Makonde art, which is the source of the various shetani creatures depicted in almost all his sculptures and paintings. Makonde sculptors traditionally pick the finest woods for their pieces and would not approve of painting over the natural texture of the wood. The bright enamel-multicolor painting style George Lilanga pioneered gives his works a more modern aesthetic appeal and developed into a personal style that made him popular with art dealers and collectors. Thus, he became a reference in African art and had considerable commercial success in the latter stage of his life, and the value of his pieces was boosted after he died in 2005.
Many pieces have, however, been attributed to George Lilanga by gallerists primarily because of their 'Linga-ish' appearance. Due to the fact that artworks sold as 'Lingas' are in many hundreds, it is only logical that George Lilanga couldn't possibly have handcrafted them all, particularly considering his poor health during the last ten years of his life when many of such pieces were made.
The truth was that George Lilanga inspired and mentored many artists who worked with him and capitalised on the value of the 'Lilanga; label. Many of those artists and other new ones kept producing under Lilanga's name even after his death.
Lilanga's works are available in popular international collections like Jean Pigozzi's Contemporary African Art Collection (CAAC) or Peter-Andreas Kamphausen's Hamburg Mawingu Collection. Shortly after his death, the HMC/George Lilanga Collection launched the first thematically and systematically complete catalog of Lilanga's work. In addition, the book examines the traditional origin of East African Makonde art and forty years of Lilanga's artistic growth with different techniques and materials, including metal works, etchings, sculptures, paintings, and drawings. Presently, the HMC publishes the George Lilanga News as an online blog with information about Lilanga, his exhibitions, artworks, and other engaging background material. In 2005, the African Collection Series (Skira Editore, Milan) published a richly illustrated book on Lilanga's work with valuable information.
Death and Health Issues
George Lilanga was diagnosed with diabetes mellitus in 1974." I always felt tired and unable to go about my regular routine. Therefore, I visited the local hospital for a complete check-up. The doctors found out that I had diabetes."
His diabetes became worse in the late 1990s, and he had severe complications. Eventually, he had to reorganize his work, setting up a workshop that included many young pupils and his relatives, who were painters and sculptors. George Lilanga closely supervised them, and they started taking over parts of the work that Lilanga couldn't do.
In the late 1990s, he suffered severe complications due to diabetes. George Lilanga was forced to reorganize his work, putting together a workshop that included numerous young pupils and his own relatives, who were also sculptors and painters. Lilanga closely supervised them, and they began to take over part of the work that Lilanga could no longer easily do by himself.
In 2000, the combination of heart disease, high blood pressure, and diabetes led to a sharp decline in Lilanga's health. He had to get his right leg cut off in October 2000 as a result of gangrene. The left leg was also cut off in December of the same year. George Lilanga, therefore, had to use a wheelchair. However, he resumed working after he returned home in January 2001.
Due to serious physical impairments, George Lilanga returned to small works with ink on small goatskins 22.5 x 22.5 cm and ink on paper, which could be done more easily and quickly. However, with the help of his atelier, he continued creating paintings of larger sizes. He produced big canvases, tondo, and Masonite until shortly before his demise.
On Monday June 27th 2005, George Lilanga died in his workshop at mbagala, Dar es Salaam.
George Lilanga Art Major Exhibitions
Group
2000/2001 – Shanghai Biennale, Shanghai China

2002 – Mapico Dance (Musée d'art moderne et contemporain), Geneva, Switzerland

2003/2004 Latitudes, Hotel de Ville, Paris, France

2004 Africa Remix, Art Contemporain d'un continent (Paris, Düsseldorf, London, and Tokyo

2005 African Art Now: Masterpieces from the collection of at MFA, Houston, USA

2005 Arts of Africa, held at Grimaldi Forum, Monaco, France

2006 100 percent Africa, held at Guggenheim Museum, Bilbao in Spain

2007 Why Africa?, held in Pinacoteca Giovanni e Marella Agnelli in Turin, Italy

2010 African Stories, Marrakech Art Fair in Marrakech
For more articles related to Famous People from Tanzania, click here!