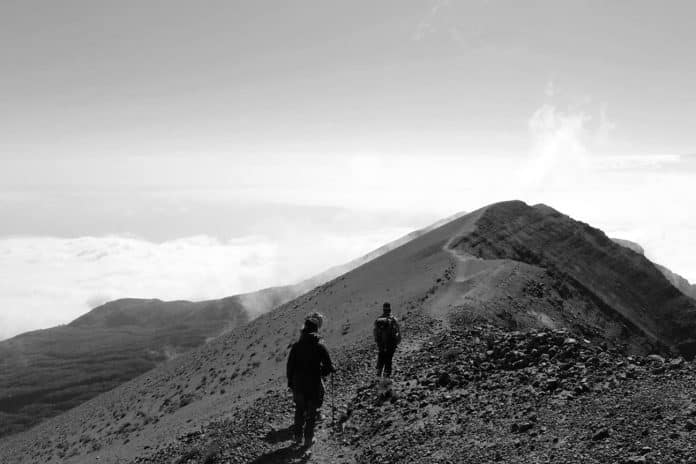 Climbing Mount Meru Tanzania – Things You Need to Know
Considerations Before Embarking on Mount Meru Climb
Climbing Mount Meru
At 70 kilometers or 43 miles west of Tanzania's Mount Kilimanjaro, the dormant stratovolcano of Mount Meru can be found in Arusha National Park. It is at an altitude of 4,566 meters or 14,980feet. Climbing Mount Meru is typically accomplished over four days; however, three can be done.
Depending on your definition, it can be seen from Mount Kilimanjaro on a clear day and is Africa's fifth-highest peak. In Tanzania, Mount Meru, the country's second-highest peak, offers a wildlife-rich, traffic-free experience.
Facts about Mount Meru
There were numerous interactions with wildlife on the first day of the trip.

It is 4,566meters high, the second-highest peak in Tanzania.

Perfect hike to prepare for the Kilimanjaro attempt.

The Momela route is a three-day ascent and descent.

Cottages with sleeping arrangements similar to those seen in a dorm
Mount Meru Route Climbing Plan
In Tanzania, Mount Kilimanjaro, Africa's highest peak, is the primary focus of mountaineering. Other peaks should be considered as well; a little distance west of Kilimanjaro, Mount Meru is the most prominent and offers us a fantastic warm-up trek for those who have the time and want to embark on an even more extraordinary adventure. Climbing Mount Meru is truly a pleasant experience.
Mount Meru Climbing Difficulty
Compared to Kilimanjaro, Mount Meru's elevation of 4565 meters or 14,980 feet makes it a far more doable hike. Mount Meru serves as an acclimatization tour for many trekkers before scaling Africa's largest summit. This increases their chances of making it to the top of Mount Kilimanjaro and cuts down on the time it takes to reach the peak at Uhuru Point.
On the first day of a Mount Meru trek, visitors are more likely to encounter wildlife. It's common for a ranger to accompany parties to assure their safety as they make their way to the first campsite.
Before reaching the summit, the trail makes its way up the north side of Meru's volcanic crater. Spectacular views of Kilimanjaro may be seen from the peak, particularly in the distance.
Mount Meru's summit can be reached in three days instead of four with proper acclimatization, even on this lower peak. At Momella Gate, all hikers begin their ascent of the mountain by following the same path to the summit.
Hikers pass the nights in huts with basic but adequate lodgings at two separate campsites on their way to the top. Socialist peak is the pinnacle name on which you'll find the highest dormitory-style cabin.
Mount Meru and Kilimanjaro climb – Climbing Mount Meru has two advantages for vacationers. Trekkers can taste what it is like to mount Kilimanjaro on a smaller scale and still enjoy an incredible adventure for those who don't have the time or ability to conquer Kilimanjaro.
Most importantly, it's a great way to prepare them for the more enormous challenges they'll face on Kilimanjaro by taking the mystery out of the acclimatization process.
Mount Meru can be summited in three or four days. However, the armed ranger is usually paired with clientele from other parties and operators on the lower slopes.
Due to the lengthy travel from Miriakamba Hut to Socialist Peak and back to Momella Gate, we do not recommend climbing Meru in three days or two nights.
The 4 Days Mount Meru Climb Overview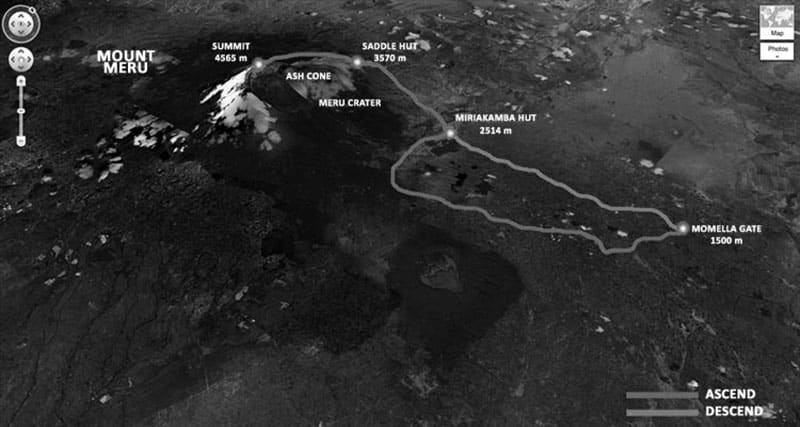 Hiking an elevation of 1500 meters of Momella gate to Miriakamba hut at 2541 meters on Day 1
With an approximate 4 to 6 hours of walking time
You are leaving your hotel in Arusha or Moshi early in the morning to reach the Momella entrance of Arusha National Park. The driving time from Moshi to Arusha is around 3 hours and 1 hour from Arusha to the park. You'll meet your guide, porters, game ranger, and cook when you arrive at the entrance before proceeding with climbing Mount Meru. You'll get an opportunity to see buffalos, warthogs, and other grazers as you go through open grassland.
Ngare Nanyuki River and a mountain forest await after crossing the river. You'll be able to see various birds and colobus monkeys while you're there. And subsequently, Miriakamba Hut, where you will spend the first night.
2. Hiking an elevation of 2541 meters of Miriakamba hut to Saddle hut at 3570 meters on Day 2
With an approximate 3 to 5 hours of walking time
Short but intense, day two's ascent takes a few hours compared to the first. Elephant Ridge's midway point is reached via a problematic ascent through a deep, bird-filled mountain forest. The crater can be seen from this location. After three to five hours of climbing, you'll arrive at the Saddle Hut for a hearty meal.
Afterward, head to a few summit areas of Little Meru at 3,794 meters for a final glimpse of the setting sun before heading back to Saddle Hut; To ensure a good night's sleep for the next day's climbing Mount Meru hike, you should get to bed early.
3. Hiking an elevation of 3570 meters of Saddle hut to Rhino Point at 3850 meters to the Socialist Peak at 4566 meters And Down to Miriakamba hut on Day 3
With an approximate 10 to 12 hours of walking time
Between 1 o clock and 2 am, the ascent will begin. You will ascend the narrow ridge to the summit of Rhino Peak at 3850 meters via the treacherous Rhino Point Road. When the sun rises, you'll be on top of Mount Meru, the Socialist Peak at 4566 meters.
There are stunning views of Mount Kilimanjaro in the distance and awe-inspiring landscapes. You'll head back to Saddle hut after taking some photos from the summit.
The ridge between Rhino Point and the top may be impassable if it's icy or windy. Your tour guide will be able to tell you if it's safe to continue traveling or not.
4. Hiking an elevation of 2541 meters of Miriakamba hut to Momella gate at 1500 meters on Day 4
With an approximate 2 to 5 hours of walking time
At around 8:00 am, you will depart for Momella Gate. You have the option of going down a longer or a shorter path. The ash cone and fauna can be seen in all their glory on the long descent. Once you've arrived at the gate, it's time for appreciation by tipping your guides, porters, cooks, and rangers. A waiting vehicle will pick you up and take you back to Moshi.
The Three Days Climbing Mount Meru Overview
From Arusha to Momella gate to Mariakamba Hut
Hiking an elevation of 1000 meters to 2541 meters
Covering a distance of 10killometers on Day 1
With an approximate 4 to 5 hours of walking time
Reach the Momella gate of Arusha National Park by driving through the park. Miriakamba Hut is located at an elevation of 8337feet or 2541 meters through the Ngare Nanyuki River, crossed on the way up. The Mariakamba Hut provides both meals and lodgings for its guests.
2. From Mariakamba Hut to Saddle Hut
Hiking an elevation of 2541 meters to 3566 meters
Covering a distance of 4killometers on Day 2
With an approximate 2 to 3 hours of walking time
Saddle Hut is located at 11,711 feet or 3570 meters above sea level and can be reached by ascending steeply through gorgeous forest glades and giant heather. A side climbs up Little Meru's 12,450-foot or 3,794-meter peak and returns to Saddle Hut should take two hours for dinner and overnight stay.
3. From Saddle Hut to Climbing Mount Meru Peak and Back to Momella Gate
Hiking an elevation of 3566 meters to 4566 meters
Covering a distance of 5killometers plus an additional 19killiomters decent on Day 3
With an approximate 4 to 5 hours + 6 to 8 hours of walking time
At an altitude of 4566 meters or 14000 feet, the highest point of Meru is gained by foot. From Rhino Point and then 14,981feet or 4566meters peak. Mount Kilimanjaro can be seen in the early morning light, and then you'll descend to Momella Gate and be driven back to your accommodation in Arusha in an hour.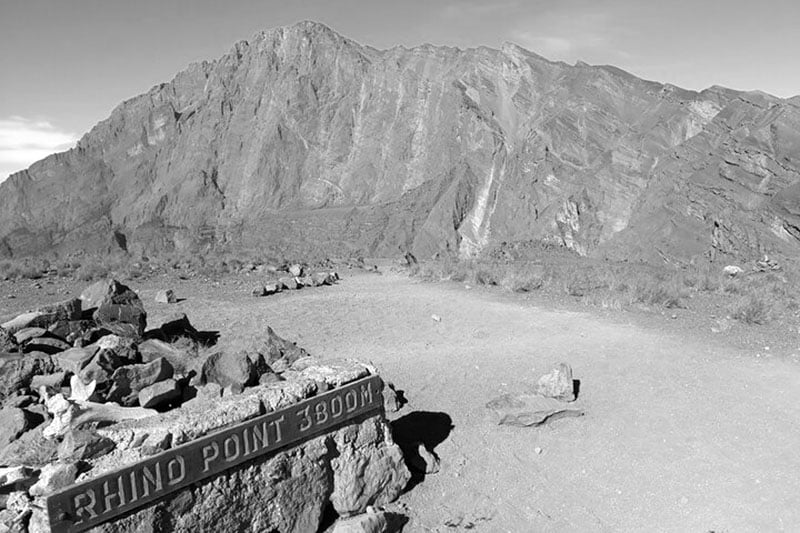 The Cost of Climbing Meru Mountain
It is USD950 per person required to participate in the three-day Meru climb, whereas USD1050 is required to participate in the four-day Meru climb. Mount Meru is accessible all year round, but we recommend avoiding the rainy season. The best time to climb Mount Meru is from January to early March and June to October.
Precautions for Mount Meru Climbing Safety
Confide in our trust by being completely open and honest with us. We're all on the same team, and our goal is to reach the summit and safely return home.
Don't pretend to be if you don't feel good before or during a climb.
Before Climbing Mount Meru, be sure your physical and mental health is in good shape. Pre-climb medical examinations are recommended.
Symptoms of altitude sickness might be mild for the vast majority of people. Learn more about the symptoms and prevention of Acute Mountain Sickness, High Altitude Sickness, and High Altitude Pulmonary Edema (HAPE, HACE, and HACE).
To avoid Acute Mountain Sickness (AMS), you must descend Mount Meru momentarily under the guidance of your guide.
Preparations Before Attempting Mount Meru
Prepare for your trek at least two months ahead of time. As you approach the final two weeks of training, let off the pressure and allow your body time to recoup. We recommend swimming, taking long walks on various terrain, and doing yoga.
Begin by taking a long, slow breath in. Breathing techniques such as Pranayama or any other method that works best for you should be tried.
Please make sure you have everything you need by following our packing list.
Include some "comfort" meals like chocolate and energy bars to enjoy while climbing Mount Meru. On summit night, you may need this to get you up on the run.
Ascending Mount Meru
In any situation, the best thing you can do is be upbeat and prepared for weather and terrain.

Stir a slow ascent; please don't overdo it when hiking.

Breathe slowly and steadily (taking in deep, deliberate breaths).

Please keep open communication with your guide, and follow his instructions at all times. He is the most knowledgeable person on the mountain, and he is always ready to help.

Loss of appetite is common in those who go to higher elevations. Eating and drinking when you're not in the mood will help you stay healthy.

Mount Meru's peak is challenging both day and night. The cold, wind, and a loose gravel surface are all factors that will require utmost effort. Begin by preparing yourself for this challenge and conserving your mental and physical energies.

Having fun is essential! Feel a sense of oneness with the mountain and the enlightenment it provides.
Entities Included in the Package up Mount Meru
The Arusha National Park's transportation, both to and fro.

Spending the night in the mountain hut.

Knowledgeable and experienced mountaineering guides.

Park fees.

The cost of rescue services.

Mount's meals are included.

The salaries of guides, cooks, porters, and park admission fees.

Plenty of nutritious, fresh food.

Drinkable water that has been thoroughly purified.

Managing a crisis and ensuring personal safety are top priorities.

Porters should be treated with respect.
Entities not included in the Climbing Mount Meru Package.
Airport transfers can be included when requested.

Arusha's hotels and motels can be included when requested.

A Tanzanian visa

Gratuity

Private expenditures like laundry, telephone, beverages, etc.

Food items that are not included in the above list

Visits different from this expedition, like a brief safari after your climb, etc.
Other Important Things to Know About Climbing Mount Meru
Climbing mount Meru documentary – here is an official trailer, Meru
For more articles related to Things to Do in Tanzania (Zanzibar), click here!