Uwanja wa Fisi – A Peak of Dar's Lifestyle of the Busiest Slum
At the distance upon my arrival at Uwanja wa Fisi, i was standing the crowd of tiny houses made of mud completely shut the view ahead of me. A couple looked at each other, blocking every side of the road following, meanwhile, another group of houses did stand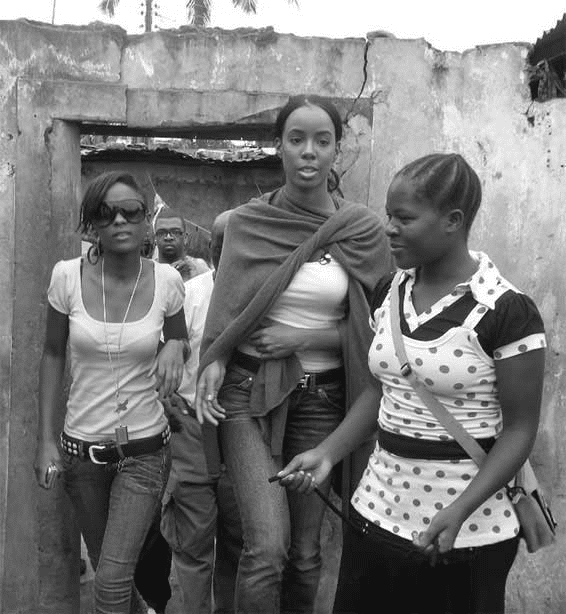 directly in the road, forcing it to turn around in order to find an exit out of the dead end of jammed houses.
Most of the residents of these shacks in this part of the city of Dar es Salaam their profession is prostitution and most of them are Wahaya (people coming from the "Haya" ethnic group). It is a bit and pieces of what I collected, as most of the talking and discussions I over heard were made in Haya.
These female prostitutes staged themselves on the sidewalk wearing short sexually inviting skirts and kanga, which were waved from one and to the other showing of beautiful thighs, largely like a sale tomatoes arranged in the shape of a pyramid or pieces of meat sold by butchers in this city's busiest hotspot.
Around 7 o'clock in the evening, at the Uwanja wa Fisi a skit of ​​Manzese (also known in one term as Manzese Uwanja wa Fisi), a time which the entire area was dark because the whole area is not connected to electricity. But somehow, the Uwanja wa Fisi people were able to be to come into my view – sitting on their chairs that were short, each one holding a lighter of some fashion or kerosene lamp between their legs, perhaps comfortably, but most likely to make sure they looked good.
No one, from the number of people i conversed with, knew the meaning of the name "Uwanja wa Fisi". Many assumed it got created based on the Swahili saying: "Uwezi kuanika ngozi katika uwanja wa fisi" (You can't spread your skin on a hyena's home ground – because now one is expecting neither men nor women to be faithful once they enter the place and will be revealed by the events that will unfold while there). Let's put it this way, the acceptable short version abbreviated 'Hyena land,' is definitely in line with the despair that this area manifests.
Uwanja wa Fisi as a name tends to signify that the place is a big area in size, but the reality it is only close to ]three stadiums for football matches, adding the meat traders, bars and small roads that house sex workers, is actually a super small area that is part but very vital for the entire Manzese district.
People looking from the outside, any view of Uwanja wa Fisi is rooted behind comparisons of other Dar es Salaam areas in which lifestyle is although difficult, but is regarded "a bit comfortable." But it difficult it looks to outsiders, Uwanja wa Fisi settlers are mostly happy with their lifestyle and conditions of are living. That's is something they are accustomed to, so for them it's normal.
In an area of ​​such poverty, employment is clearly almost obsolete, therefore residents trade whatever they own… this includes sex.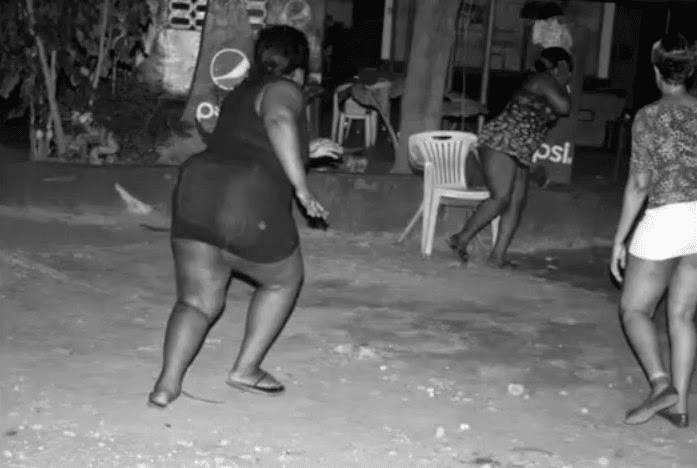 The market for sex operates 24 hours 7 days a week, the one exception is prostitutes at work during daytime hours who sell their 'products' do not expose themselves compared to when it gets dark.
In day times, buyers of sex just get into the homes of sex workers and do their bargaining in the privacy of the inside, this is if they were not outside sitting. Repeating sex buyers most often visit the Uwanja wa Fisi during those hours and regularly, but their loyalty and regular business is the basis of this exception, they also can get services on credit.
Walking through each house, every woman made some interesting looks intended to lure me to their direction plus reassure me that they are the top not in the pool.
A lady among them seemed to have dressed a bit high class and warm from where she sat. She spoke in a soft voice in Swahili: "Njoo hapa kaka, bei ni nzuri!" (Welcome brother, it is affordable here) and she continued by explaining are prices to me in a very polite manner.
Ordinary sex, he explained, the fees are from 500 to 200 shillings, on the other end unconventional sex costs 1,000 shillings. Due to the fact, she owned her room, any customer who wants privacy should pay Sh500 per room. During the night an alternative that is easier to to meet carnal desires of any man is available for you at the road.
I paid the bill and we went into the prostitutes' home.
The room was very small. In terms of furniture, it was just a six-foot-long bed and no furniture that anybody can assume will be in any of the houses where a woman stays. There were children, two of them sleeping on dirty mats of woven grass.
The children's mom pull the sheets out of the bed and place it over them and immediately, she stripped down all her clothes, standing in front of my eyes.
Quickly i found myself with the daunting challenge of having have to talk about my real intention which wasn't getting her to have sexual intercourse with me but my major goal was only to get an opportunity of interviewing her.
She did not buy anything from my explanation.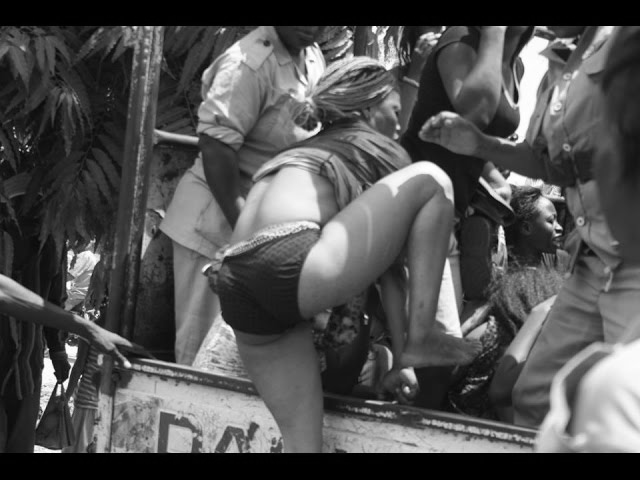 "You are a police officer and you intend to catch me?" she yelled, accusing me of hesitation while very concerned.
"I am going to call my friends to come help me," she threatened me as she held the condom packet oh her hand tightly. None of my reassurances pay her extra cash nor calmness helped to cool her temper, so I came to a conclusion that the option remaining was to get out of the room.
I could here her friends who was listening to the screaming and yelling from the outside, circling the house ready to deal with me, but through some explanations and bargaining, I was able to escape the situation without being harmed.
Surrounding the narrow footpaths of Uwanja wa Fisi low class prostitutes providing sex at a give away price is a twenty-four hour schedule, when business starts from 4 a.m. to the day after. Majority of those prostitutes do not stay outside for more than four hours at night. because they are afraid of hooligans attacking and raping them. But the ones roaming the streets at nights are usually Uwanja wa Fisi residents themselves.
As I was walking around on Saturday at about 8 o'clock in the evening, I met a woman who stood on the sidewalk together with her man, sucking on each other's faces.
This young woman was a sex worker, 19 years old, Immaculata, and the man she was standing with was Peter, her long term companion. Peter is aware that his woman is prostituting, though he doesn't like to discuss about the issue. Giving a brief overview of her condition, she explained that her whole family have no jobs.
"The man (Peter), his dad, mom and i all live together. We divide everything evenly from what I get from the sex trade from beginning of the day to the end," explained the young woman.
At any time Peter would like to sleep with his woman, as any client he just goes along with Immaculata to alleys in total darkness which is her usual working area during the nights and they finish their business there. "He does not have money to rent a room in a motel as some clients of mine and we can't afford to spend the small amount of cash we have on room fees," clarified Immaculata.
The price of 'Guest House' is basing on the accommodation quality. The priciest guest houses in Uwanja wa Fisi goes for around 1,000 shillings while the lowest class ones are rented at about 300 shillings for a hour and a half and not more than that.
Expensive guest houses in Uwanja wa Fisi do usually comes with beds, dirty sheets and rugged mattresses. Most of the time, the crappy ones are not equipped with anything except a cheap mattress placed on the floor – and this is if you're lucky. But to a bit of relief, most have mats made out of grass.
Considering Uwanja wa Fisi is famous for being a cheap Dar es Salaam's type of red light district, that means the sex workers doing their business there will definitely be cheaper than others and in many cases they get paid in beers only for their services. Frequently, they get so intoxicated to extent they can provide sex to more than one man unknowingly, because of being too drunk.
When it was about 9:30 pm, Uwanja wa Fisi was busier than usual swarmed with vendors of roast meat plus many girls roaming around trying to attract potential customers. Many women are dressed in their finest attire but wandering aimlessly and seemingly having no place to head to since all they are doing is hoping for someone to approach them.
Maybe I was naive, but the lack of care and behavior of men to the women there was shocking. They would touch the private parts of women in front of all people around and not even children or adults was surprised or appalled by this bad behavior.
A 78 years old John Udugu is a resident of Uwanja wa Fisi. The man got himself into a crowd of young people who were enjoying pieces of amazing roast beef that cost only 50 up to 100 shillings. 'Questionable,' because that meat didn't look like a type of meat anyone would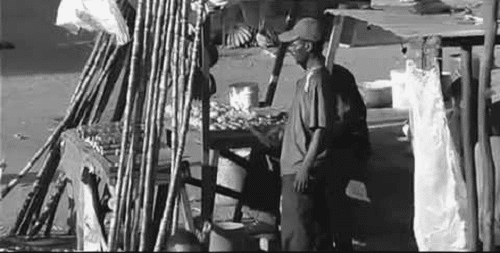 recognize – it looked black in color and some them weren't cooked but stashed below some tables didn't smell good. No one, not even the sellers, could tell the origin of the meat or the type of animal that meat belong to.
Udugu has six daughters who were all prostitutes – he was fully aware of that – and together they have 8 babies in total all living at the house of the grandfather, Udugu. Going with the flow of the response I started receiving from other Uwanja wa Fisi people, Udugu did not say a lot when it comes to his personal life, but he seemed happy, while he was holding a chibuku mug with a roasted meat piece.
"What you see is our everyday lifestyle. We don't have anything else, so let us enjoy ourselves, "he explained to me.
On Sunday, there was peacefulness in the area than any other day which I spent at Uwanja wa Fisi. I got to meet Nancy who was a 20-year-old woman who, just like other prostitutes i met in the past was sitting on the sidewalk, eagerly waiting for buyers. She had three-year old son being babysitted at her mother's house. As expected, the family would sit round expecting her to come back with enough cash to be able to put food on the table for the family at the end of day.
Nancy lost her father 10 years that passed, and she was left in the care of a mother who could support herself.
"This work is not humane but I there is nothing else around here," she spoke with her head bowed. "If the has gone well, I go home with approximately 6,000 shillings for the whole daywork. I am sure that if I did not do this work, my mom and my baby would starve to death."
Nancy noted that aside from the poor working conditions and the clear dangers towards her health, the trade comes with a ton of other challenges. Often, there a cheap and rude customers who reject paying for the service given to them, forcing the sex worker to get hooligans to rescue them when incidents like that come up.
Additionally, wherever there is prostitution around, drug use is a common occurrence – whether it is to help dealing with their depressive lifestyle or making workdays tolerable – many girls uses marijuana and or snort cocaine. The ones aiming to generate some cash, apart from the little they get from the sex trade, decide to change careers and deal drugs.
Nancy accepted to have a chat with me basing on specific conditions. She did not want her name revealed, I was asked to pay her sex fees twice, bought her a cigarettes pack, paid for the guesthouse we were going to talk to and for sure assured her that I had no hidden recording device.
The sex trade on that day looked down to my opinion, this was not Nancy's view though because she was happy with her day's income explaining that it was a good day and was projecting to make more than most days.
She revealed that majority of her customers are poor too, although first-class customers visit her here and there. "Various are return buyers and have appointments on when to show up."
Responding to the question why men searching for fulfillment of their sexual desires visit Uwanja wa Fisi, Nancy said, "It's very affordable there unlike any other areas of the city. Additionally, it's a good hiding place for men who don't want to be exposed from being involved with prostitutes. Most people in Tanzania believe Uwanja wa Fisi is a bad place where most respectable people in the society would not pay a visit, but shockingly various of our clients use that assumption to their advantage.
Mwanjobe together with her colleagues who are not from the Haya ethnic group are faces an up hill battle from a large group of Haya prostitutes of the area. She explained that Uwanja wa Fisi is the home for Haya prostitutes, therefore they have an advantage of getting more business than the non Haya women. Also "Homeowners prefer them over us for unknown reasons."
Mwanjobe's fellow prostitute, Ashura came from Mwanza just a month prior and she has a sister who was also a prostitute too in the past, who pushed her into the trade forcibly. Ashura now has come to terms with her reality and always pass her everyday earnings to her sister.
She further opened up that her virginity was lost just a few days earlier, but she indicated to have had recovered and she has gradually started to be okay with the reality. "Now, I don't feel a lot of pain like how i did in the past 10 days, but still a few of customers can be very harsh. They will give you money for the standard sex but later pushes you into having unconventional and sex from the back."
Ashura has zero wealth left for her back in Mwanza, since her mom and dad both passed away. She has no one to lean on apart from the sister who lives with her.
10pm in the evening of that day, two young men came running to the spot i was standing, and started scuffling between them in front of me, attempting to get me involved into their play. It was childish cunning as I figured out they were plotting to rob me and I immediately stepped away.
At a crowded place with crowds of people and houses which was still flowing with people like Uwanja wa Fisi, it sounded okay to visit a questionable bar going by the name 'Unnamed Pub.' That was early Saturday at the hours which everyone was highly intoxicated and drunk, plus indicated visible signs that they had been at the place for a long while.
Repeat customers that regularly visit this hyena dooms day pit searching for low class women are deceived by their appearance. It was no different for me, my jeans that were black in color, a short-sleeved brown shirt and running shoes, failed to make me look like one of the residents.
The drinkers realized that i was different and the situation suddenly became very hostile. A man in overalls who looked highly intoxicated blocked me as i was arriving and shouted: "We have a high class among us today." Someone else seated next to him interrupted the conversation: "A rich person or a cop searching for illegal alcohol?" He questioned.
The alternatives i had was to get out of there immediately or purchase everyone the local brew to put away their doubts. The pub had a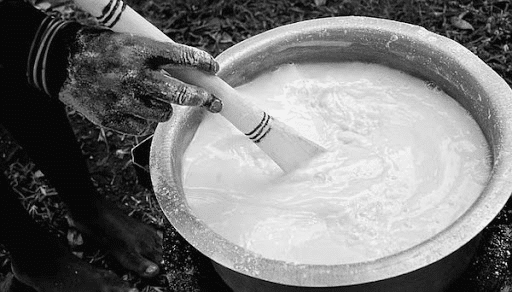 wide range of local liquor; Chakacha, Chibuku, and Gongo la Mavi (alcohol made from human feces and other things that a person sitting beside me explained with absolute pride, it was sold only to regular buyers such as himself)
Overall appearance of the drinkers was very ugly, feet with no shoes, long hair that was never combed, and loose-fitting clothing with ton of patches. Music at high volume was played from an old average size sound system and speakers were mounted on big pots to maximize the volume, while drinkers were pouring liquor into their bodies. Chairs were not available at the bar, only worn out benches and unclean mats that matched the pub's customers.
Each customer of the pub got a large cup of alcohol basing on his preference. And then all drinkers would circle around and place in the middle all their follow then start handling the cups to each other, taking turns to drink from the cup, until the alcohol run out.
As soon as the cups ran out of alcohol, two men started fighting about some issues involving a woman, an incident that turned violent when the rest of the drinkers joined in, attempting to support their buddies or shut down the situation. Around nine pm at night, the bar staff were playing a one-hour news bulletin which was recorded to cheat their drunk customers that it was not too late, they did not have to go back home yet. The outcome of this is the drunk customers would continue sit and spend all their money on either overdrinking and unsafe sex or both
Kiwohede, an NGO, has established a testing and counseling center at Uwanja wa Fisi to raise awareness about AIDS to residents of the area. Basing on Idd Ngunde insights, the local government of Tandale district chairman located at Uwanja wa Fisi, through a project funded by the International Labor Organization (ILO), numerous women who are in prostitution were registered and given entrepreneurial skills.
"The education is offered in stages where by the beginning of phase one it included eight prostitutes who pledged to stop taking part in the sex trade," Ngunde said.
Many of the students that attended phase one of the program felt that they could not meet their goal to stop prostituting themselves and hence asked to be relocated away from Uwanja wa Fisi to properly rehabilitate.
The presence of many prostitutes of the Haya tribe at Uwanja wa Fisi was confirmed by Ngunde. "It is a fact that most of the people who live in these houses are Haya basing on their ethnicity and network, Umoja Pakacha Union, Upamu (an informal type of microfinance), gives them cheap loans to start small businesses," he clarified.
A group of security was also launched in the area as an attempt to maintain peace and stability something that resulted into a decline in the number of crimes. However Ngunde explained that many of the individuals who frequent or work at Uwanja wa Fisi are outsiders flowing from neighboring counties and districts.
As i was going for my interview with Ngunde, I met Ashura for the second time, however pretended to not recognize me. She hesitated to stop when yelled her name. "What is that you need?" She said with attitude. I told her to recall that we met three days ago. She shouted: "You are degrading me. Be very careful with what you tell people another time, " she responded angrily.
A small businessman that was closeby hearing the conversation said that if I had mentioned to her that we met far away from Uwanja wa Fisi at the hotel known as Moevenpick, she would probably have been happy to stalk and converse with me.
Click here for more articles related to Daily Life in Tanzania and Social Customs!