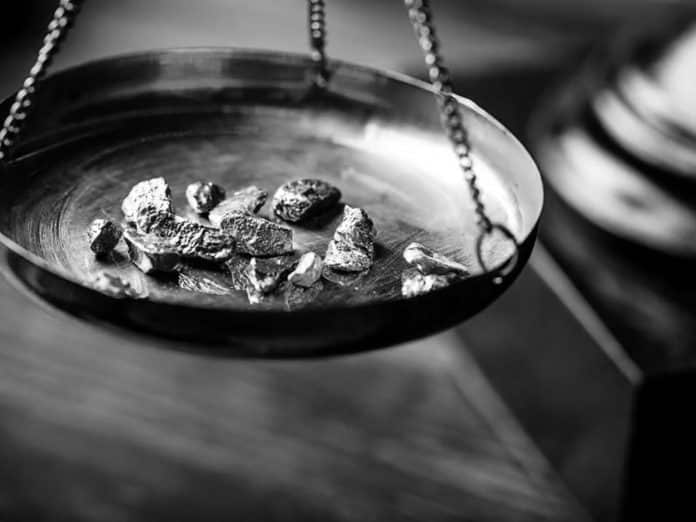 Overview: Tanzanian Gold Corp and Its Buckreef Project
Tanzanian Gold Corp Background
In collaboration with its joint venture collaborator, STAMICO, Tanzanian Gold Corp is developing a large gold project in Tanzania at Buckreef, based on an enhanced Mineral Reserves base and the treatments of its extractable mineral reserves in 2 distinct facilities. The measured mineral resource is now 19.98 MT at 1.99 g/t gold, constituting 1,281,161 ounces of gold. In comparison, the indicated mineral resource is 15.89 MT at 1.48 g/t gold, constituting 755,119 ounces of gold, with a total capacity of 35.88 MT at 1.77g/t gold, constituting 2,036,280 oz of gold. The Buckreef Initiative also has an Inferred Mineral Reserves of 17.8 MT at 1.11 g/t gold for 635,540 ounces of contained gold. On its property, the Firm is actively studying and evaluating a number of exploration opportunities. For more information, please see Tanzanian Gold Corp Updated Mineral Reserves Estimate for the Buckreef Gold Project, made on May 15th 2020.
Tanzanian Gold Corp is working on three different value-creation strategies:
Increasing near-term output to 15,000 to 20,000 oz. of gold annually via the processing of oxide materials from an enlarged oxide plant, thereby strengthening its financial statement.
Advancing Sulphide Construction for a stand-alone facility with a far bigger capacity than previously type and an objective of significant yearly gold production.
Continuing a drilling campaign to evaluate the potential of its own property, Exploration Targets, as well as Mineral Reserves base by: (i) infill drilling to improve Mineral Resources in Buckreef Main that are presently in the Inferred class; (ii) drilling step-out in Buckreef main north-eastern extension; (iii) Buckreef West's infill drilling program; (iv) devise an exploratory strategy for the recently found Anfield Zone; (v) improve historical resources in Bingwa as well as Tembo; (vi) discovery of new opportunities at the Buckreef Gold Mines and elsewhere in the region.
The Buckreef Gold Project by the Tanzania Gold Corp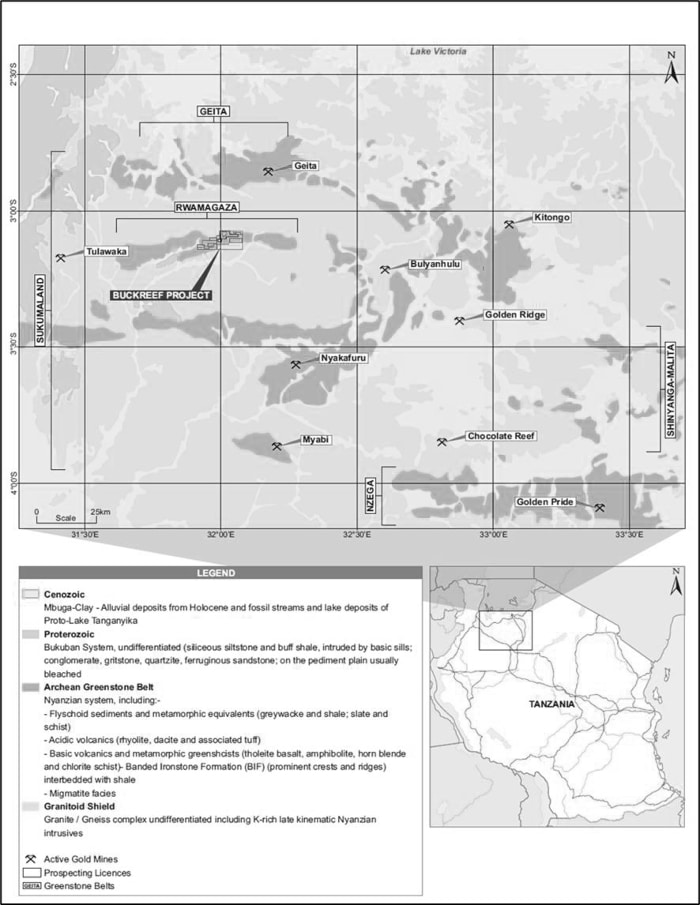 The Buckreef Gold Project initiated by Tanzanian Gold Corp is situated in the Geita Region at the same district, roughly 110 kilometers southwest of Mwanza, Tanzania, southwards of Lake Victoria. See the map below for further information. The Buckreef Gold Project site is accessible through a ferry over Smiths Sound, a paved national highway, and then well-managed unpaved regional highways. Buckreef, Eastern Porphyry, Tembo, Bingwa, and Buziba are the five areas in the Buckreef Project.
Buckreef Main, Buckreef South, and Buckreef North are the three primary mineralised zones on the Buckreef Project. Tanzanian Gold Corp ensured that the Buckreef Project has all of the necessary permits for gold mining and extraction.
The Buckreef Project's mineral reserves are presently standing at [0.4g/t cut-off]
| | | | | | | | | | | | |
| --- | --- | --- | --- | --- | --- | --- | --- | --- | --- | --- | --- |
| Measured |   |   | Indicated |   |   | Inferred |   |   | Total M+I |   | |
| Tons | Grade | Content Au | Tons | Grade | Content Au | Tons | Grade | Content Au | Tonnes | Grade | Content Au |
| (Mt) | (g/t) | (oz) ounce | (Mt) | (g/t) | (oz)ounce | (Mt) | (g/t) | (oz)ounce | (Mt) | (g/t) | (oz) |
| 19.98 | 1.99 | 1,281,160 | 15.89 | 1.48 | 755,120 | 17.82 | 1.11 | 635,540 | 35.88 | 1.77 | 2,036,280 |
Mineral Reserves stay unchanged as of the 2018 Preliminary Research [see July 30th, 2020 Media Release]. Tanzanian Gold Corp is performing a Feasibility Study to update the Mineral Deposits [updating the 2020 Mineral Reserve in the process].
BUCKREEF RESERVES
TONS
GRADEs
IN SITU GOLD CONTENT

 

(Mt)

Au (g/t)

Kg

Oz

Probable

9,730,764

1.36

223

7,160

Proven

9,352,183

1.72

16,092

517,358

Proven-Stockpile

119,726

1.86

13,265

426,492

Mineral Reserves

19,202,673

1.54

29,580

951,010
A] Mineral resource shapes, mining dilution, mining recovery, and open-pit pre-production development expenditures are all included in mineral reserves. Dilution is factored into the mineral reserve estimation.
B] Mineral reserves were calculated in accordance with N143-101F complaint Guidelines on Mineral Reserves and Resource Definitions.
C] Due to rounding, contained metal may fluctuate.



Tanzanian Gold Corp

Buckreef Gold project will proceed with plans to establish a separate Forty tph oxide mine while continuing to operate the Fifteen tph oxide mine. The Company is currently finalizing the forty tph oxide mine design and financial sample for this operation, which SGSC is also reviewing. Buckreef Gold intends to run the Fifteen tph oxide facility for the first 18 months while building the Forty tph oxide plant. The 40 tph and fifteen tph oxide units will be located in different places on the Buckreef SML [special mining license]. In collaboration with Buckreef Gold Company, the Firm will evaluate the feasibility of expanding the oxide mining operation to a 55 tph [40 tph + 15 tph] capacity over the medium to long term. The Forty tph oxide miners intend to use dry stack tailings, whereas the Fifteen tph oxide miners intend to use wet tailings. Based on the preliminary mine plan as well as grade profile, the Forty tph oxide mine activities are projected to be able to produce 15,000 to 20,000 ounces of gold annually.
The call for proposals for the building of the 40 tph oxide facility and associated infrastructure has been completed. The Firm has inscribed on LOI [letter of intent] with an EPC [Engineering, Procurement, and Construction] contractor. It is now in the process of finalizing the construction agreements for this facility. Ausenco Engineering Canada Incorporated has been appointed as Administration Engineer to help in the management of the Forty tph oxide plant project. More information will be published on

Tanzanian Gold Corp

site once this process is completed.
Buckreef Gold's testing program has allowed it to validate the grade control block prototype, confirm forecasted operating expense inputs such as processing and mining costs for 40 tph and 15 tph oxide mining activities, and develop a more proper knowledge of oxide mill feed slog, retention times, clay processing, and how to reach higher recovery rates. More crucially, this acquired knowledge has been used in the designing of the fifteen tph and forty tph oxide mine procedures, significantly reducing the risks associated with these operations.
Buckreef Gold Company has continued to enhance anticipated recovery rates for both the fifteen tph and forty tph oxide mining activities in collaboration with SGSC Lakefield [SGSL] and Ausenco. The predicted recovery ratios for these activities are expected to be between 85 and 90 per cent. The last phase of the Five tph oxide test facility will lay emphasis on recovery rates rather than balancing production and recovery rates. This testing stage has already begun with promising first findings [See Page twelve- 5 tph Oxide Test Facility and Operations for more information]. Recovery ratios at the five tph oxide test facility varied from 77 per cent to 87 percent for the 9 months ending May 31st, 2021. The oxide test facility generated 446 oz of pure gold in Q3 2021 and 1,440 oz of pure gold year to date.
Other Tanzanian Gold Corp News and Important Information
Tanzanian Gold Corp stock forecast – Checkout the current status of the Tanzania Gold Corp stock today
For more articles related to Government of Tanzania and the Society (Community), click here!