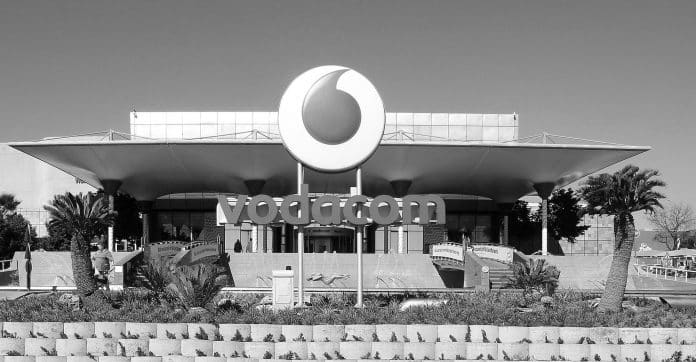 Vodacom Tanzania PLC – History, Network, Ownership and More
Vodacom Tanzania Limited is among the leading mobile network companies in Tanzania. By December 2020, the company had more than 15.6 million subscribers and was among the largest mobile networks for telecommunications in Tanzania. In early 2007, Vodacom Tanzania made 3G High-Speed Downlink Packet Access (HSDPA)  available in Dar es Salaam to become the second cellular network company in Africa to follow Vodacom. In Addition, Vodacom Tanzania internet is another of their product line, which is considered one of the fastest and probably the widest in Tanzania.
Vodacom Codes Tanzania
Vodacom Tanzania codes 640 04 represent Vodacom as a carrier, while Vodacom Tanzania code numbers include; country code + 255 and Vodacom Tanzania phone number in formats +255 74x xxx xxx, +255 75x xxx xxx, and +255 76x xxx xxx
Location Vodacom Tanzania Head Office
The corporate headquarters of Vodacom Tanzania LTD are on the 15th Floor of Vodacom Towers located at 23 Ursino Estate, alongside Old Bagamoyo Road, in Tanzania's financial capital, Dar es Salaam. This is the current Vodacom Tanzania address as they moved from downtown location. In geographical terms, the coordinates of the firm's head office are 06°46'41.0″S (Latitude:-6.778056), 39°15'37.0″E (Longitude:39.260278).
Overview of Vodacom Tanzania Public Limited Company
By late 1999, the company was formed as a subsidiary of Vodacom from South Africa. In the beginning, Vodacom Tanzania operated as a joint venture with the Vodacom Group, having about 65 %, and the balance of 35 % in the hands of Vodacom Tanzania shareholders including Mirambo Holdings.
In August 2000, the company's GSM infrastructure was completed before it went live on 14 August 2000. Commercial operations for Vodacom Tanzania were announced officially on 15 August 2000. The company became the biggest mobile operator in Tanzania in just a year after its launch including remaining the biggest mobile telecom network company in Tanzania to date.
The are currently active Vodacom Tanzania roaming agreements with various mobile network service providers around the world including, Vodafone Limited United Kingdom, T-Mobile USA, and Vodafone India.
Sitho Mdlalose became Vodacom Tanzania CEO (Vodacom Tanzania Managing Director) as of August 2021, title he is still holding since. But as of July 1st of 2022, he was also given the title of Vodacom South Africa's Managing Director.
Mdlalose, was a key player in the Vodacom Tanzania management team even though his time in the country was very short but oversaw numerous strategic operations which placed the company in good and competitive position in the market overall.
Vodacom Tanzania History
Getting a License
Vodacom Group got a GSM cellular network provider license in December 1999 to operate in Tanzania thereafter becoming Vodacom Tanzania Limited, a subsidiary company. The conglomerate also operates in the Democratic Republic of Congo, Lesotho, and Kenya as Safaricom. By the time Vodacom came to Tanzania, Tritel was the only GSM 900 MHz mobile operator on the Tanzanian mainland with around 20,000 active subscribers well as the other service provider was operating particularly on Zanzibar Island.
MIC Tanzania Limited (tiGO), a provider of analogue cellular network also existed with about 50,000 active subscribers. This was also known as Mobitel at the beginning of its operation in the country during late 1993. Tanzania Telecommunications Company Limited, TTCL a government-owned provider of fixed-line telecommunications also existed. Vodacom Tanzania became the third network service provider to get an operating license in the country well as becoming the biggest mobile telecommunications service provider in Tanzania just a year after its launch.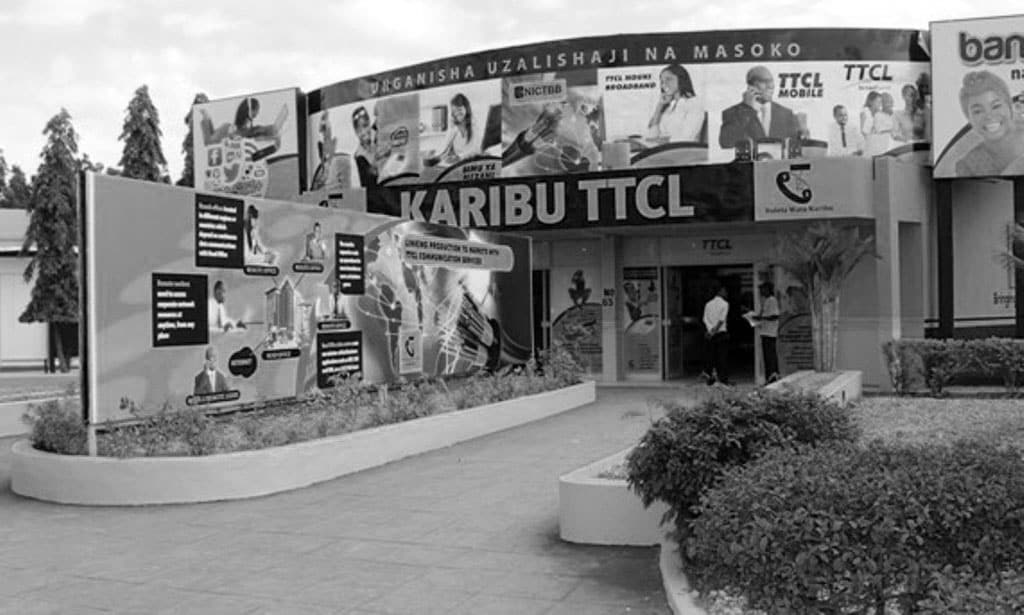 Vodacom Tanzania Partnership
Vodacom Tanzania got a license in Tanzania whose local partners included Caspian Construction holding 16% and Planetel Communications holding 36%.  Afterward, Planetel reduced its shares to 16%, and Caspian got more to make 19%.
Rostam Aziz, a businessman and President Jakaya Kikwete's close supporter represented Caspian during negotiations with Vodacom Tanzania. By the time of licensing Vodacom in the country, these men didn't have the same power as they got later.
Vodacom Tanzania Network
Vodacom Tanzania domestically works on two frequencies GSM 900 MHz and 1800 MHz. Siemens from South Africa fixed the network in 2000. There were claims about the the1800 and 900 GSM networks being too hi-tech for Africa's mobile telecoms, with its IN platform including various maintenance and management platforms.
Towards the end of 2006, Vodacom Tanzania installed equipment for The VectaStar wireless transmission including commercial operation of the backhaul network the same year. The Vodacom Tanzania coverage map includes Moshi, Dar es Salaam, Mwanza, and Arusha, in the 10.5 GHz spectrum band utilising an appropriate license. Vodacom Tanzania has top-notch customer service that relies on IVR technology. For that, Vodacom customers receive bilingual services in English and Swahili language.
Roaming Service
By December 2020, Vodacom Tanzania numbers of telecom subscribers was 51 million, of these 30.6% who make up 15.6 million subscribers as Vodacom Tanzania market share.
Vodacom Tanzania has most operations in the mainland as well as acting as the Mobile Virtual Network Operator (MVNO) for ZanTel on the mainland. ZanTel has an independent network in Zanzibar, as well as having a deal with Vodacom Tanzania for the utilization of the latter's mainland facilities, and to consequently  offer countrywide roaming.
Across East Africa, Vodacom has footprints in Tanzania as well as roaming agreements with various East African carriers, including Safaricom Kenya and MTN Uganda. On 2 February 2007, an East African free-roaming zone was formed between Uganda, Tanzania, and Kenya. Just like "One Network", East Africa and the world's first borderless network that Celtel launched on 27 September 2006.
A free-roaming zone allows subscribers to call without incurring charges between member countries, thus eliminating roaming costs, calling as well as sending SMS at the home rate plus receiving free incoming phone calls and SMS. Airtime transfer Vodacom Tanzania are also allowed to subscribers by the company for purchase using their own vouchers while traveling away from their home country.
By 2008, prepaid customers of Vodacom Tanzania accessed restricted roaming privileges apart from roaming in Uganda and Kenya. Although all post-paid customers access international roaming, activation is required through customer service.
After provision, costs for calls and SMS made as well as received during international roaming go to the customer's post-paid monthly balance back in Tanzania. The company offers international roaming because of collaborations with 288 online networks in 140 countries well as territories including Kerala in India. The latest roaming destinations are Germany and China. Vodacom prepaid customers in Germany can roam through Vodafone D2.
3G Upgrading
Part of rolling out a $126 million broadband technology as well as a $1.3 million capital expenditure project included 3G technology to expand the Vodacom network in Tanzania by December 2006. Siemens Communications from South Africa was again given the contract by Vodacom Tanzania to deliver and roll out the full 3G network together with High-Speed Downlink Packet Access (HSDPA) technology.
This marked the second 3G network set up in Southern Africa by Siemens and is arguably the first true high speed mobile broadband connection accessible in Tanzania. Siemens Communications had already set up the 3G network in South Africa for Vodacom.
Despite the 3G technology being officially available by the beginning of 2007, the technology including necessary frequency 3G services existed since the beginning of December 2006 in a trial phase to develop the network. The company hoped to stretch out the 3G capabilities to more parts of Tanzania in the wake of the successful evaluation of the initial 3G launch. Vodacom Tanzania pioneered this technology in East Africa and with an assumption that 3G HSDPA offers a significant competitive edge to clients.
Plans for WiMAX
Vodacom Tanzania plans to join other network operators in the country to roll out WiMAX technology. The others operators include ZanTel, TTCL, and tiGO. By 28 September 2007, there was no indication that Celtel Tanzania planned to roll out WiMAX.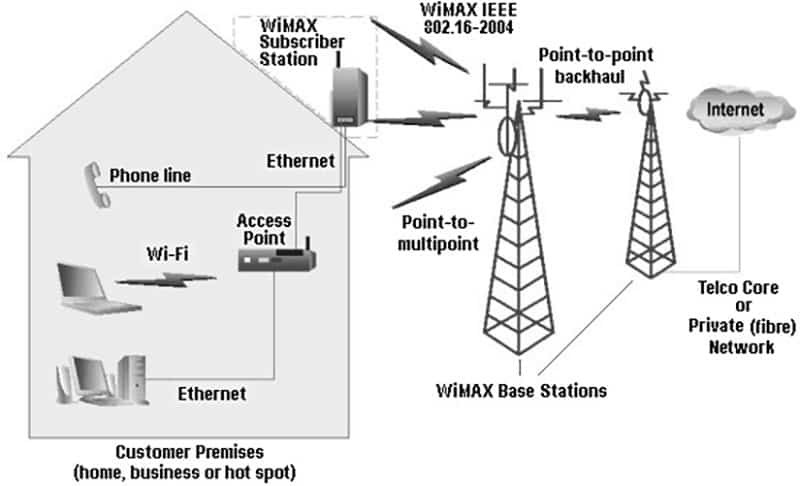 Plans for Vodacom Tanzania's WiMAX rollout were accompanied by 3.5 GHz regulator guaranteed spectrum. The guaranteed spectrum is for use to target data transfer in the corporate sector within the country's main cities.
Today, Vodacom Tanzania uses VectaStar equipment from Cambridge Broadband. This equipment has the potential to transmit signals from both data and mobile networks such as WiMAX, 3G, and GSM, sites when deployed. In fact, Cambridge Broadband Limited fixed the equipment according to the contract for radio transmission equipment. On 5 September 2006, Vodacom Tanzania gave the biggest contract for radio transmission equipment to Cambridge Broadband Limited.
Ownership of Vodacom Tanzania
Vodacom Tanzania share price is listed and its shared traded in the Dar es Salaam Stock Exchange. By March 2020, the share ownership of Vodacom Tanzania stock was as portrayed in the table below; afterward Vodacom Group Limited purchased 26.25% of shares formerly owned by Mirambo Limited.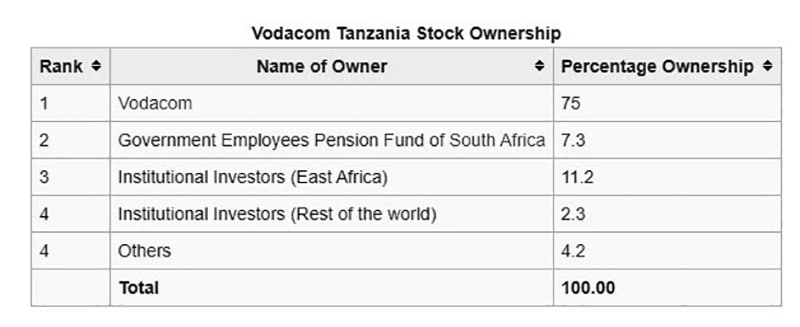 Other Telecommunication Firms in Tanzania
Below is a table illustrating the market share between the active mobile service providers in Tanzania by 31 December 2020.

Shareholding
By August 2017, Vodacom Tanzania's shares were listed on the Dar es Salaam Stock Exchange, trading with the label VODA.
You can also find Vodacom Tanzania annual report from this link for the most updated financial information – https://vodacom.co.tz/annualResults
Other Important Information About Vodacom Tanzania
Ha tunnel plus config file download Vodacom Tanzania – There are numerous websites on internet that provide free download of this file, such site is Networkpalava.com (Disclaimer – use the site at your own risk)
MPESA Vodacom Tanzania – a couple of important things you need to know about Vodacom MPESA Tanzania:
Cash transfer from MPESA to Vodacom Tanzania – Get all answers related to Vodacom Tanzania MPESA including to but not limited to Vodacom Tanzania MPESA code, Vodacom Tanzania MPESA tariffs, how to send money from Vodacom Tanzania to MPESA Kenya, send money to Vodacom Tanzania through MPESA, Vodacom Tanzania MPESA charges and more at this official page – https://vodacom.co.tz/mpesa
Frequently Asked Question:
How to check your number on Vodacom Tanzania – If you are asking yourself a question, "how to know my Vodacom number Tanzania", then this page will have the answer you are looking for – https://now.vodacom.co.za/article/how-to-find-your-vodacom-number
Vodacom bundles Tanzania in general – visit the following page to learn more about Vodacom Tanzania bundles:
https://vodacom.co.tz/internet-overview
    3. Vodacom internet bundles Tanzania – https://vodacom.co.tz/internet-overview
4. Vodacom sim card Tanzania – For all your Vodacom Tanzania sim card questions, please visit https://vodacom.co.tz/sim-registration
5. Vodacom Tanzania prepaid data bundles – https://vodacom.co.tz/voice-sms
6. Recharge Vodacom Tanzania – https://vodacom.co.tz/ (click on the button "Buy Bundle & Recharge")
7. Vodacom Tanzania check airtime balance – https://vodacom.co.tz/voice-sms
Vodacom internet settings Tanzania:
Vodacom Tanzania internet settings iphone – https://www.apnsettings.org/tanzania/vodacom-tz-iphone/
Vodacom offers in Tanzania:
Vodacom Tanzania Contacts
Vodacom Tanzania Customer Care
Vodacom Tanzania Customer Care Contacts
Vodacom Tanzania customer care number:
Dial 100 from your Vodacom handset
Call from abroad on +255754705000
Vodacom customer care Tanzania email:
customercare@vodacom.co.tz
Vodacom Tanzania Head Office
Vodacom Tanzania email address:
Vodacom Tanzania head office contact number:
Vodacom address Tanzania:
Vodacom Tanzania headquarters address:
Vodacom Headquarters Tanzania
15th Floor Vodacom Tower,
Ursino Estate Plot 23,
Old Bagamoyo Road,
P.O. Box 2369
Dar es Salaam
If you still have questions regarding Vodacom Tanzania, just reach out to Vodacom Tanzania customer service by dialing the Vodacom customer care number Tanzania given. We are positive you will get the assistance on any matters related to the company, its products and services.
For more related articles on Manufacturing and Business in Tanzania (Trade) click here!