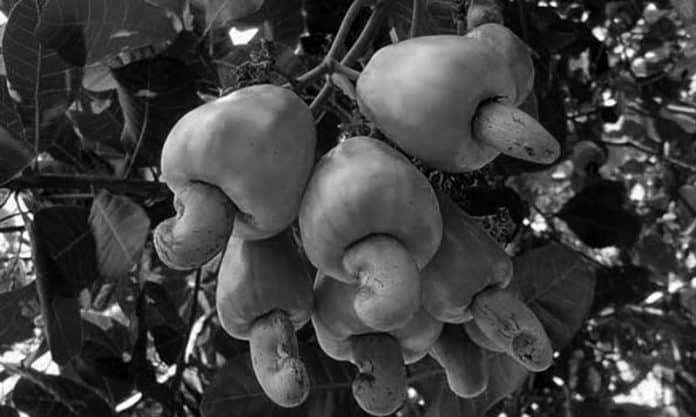 Critical Insight About Production of Cashew Nuts Tanzania
Tanzania cashew nuts production has made the country among Africa's leading cashew producers, and its exports make up 10 to15% of the national foreign earnings. The nation is the 8th biggest cashew nut grower in the world including ranking 4th in Africa. Figures from United Nations Food and Agricultural Organization (FAO) released in 2012 revealed that 20 % of cashew nut in African comes from Tanzania, trailing the three leading producers including Guinea-Bissau, Nigeria, and Cote D'Ivoire
Tanzania cashew nuts production has been in effect since colonial times in the 1960s unfortunately, the lack of unreliable farmers' payments and poor regulation have posed big challenges to the country's cashew nut industry. Guinea-Bissau, just a tenth of Tanzania's area, produces significantly greater yield.
Cashew nut is mainly cultivated in the country's southern coastal areas, near Dar es Salaam, Mtwara, and Kilwa town. Tanzania's Cashew nut Board manages the marketing and sale of the cash crop through many farmer co-operatives. Greater than 90 % of the exports go to India and are completely from raw cashew nut suppliers in Tanzania.
The absence of local processing firms makes the country lose out on vital foreign earnings and thousands of employment opportunities. The government of Tanzania has been having trouble getting potential investors to restore cashew nut production in Tanzania and its processing sector.
History of Tanzania Cashew Nuts Production
Cashew nuts farming in Tanzania has been commercially going on in the country from the 1950s. Because of developing infrastructure and limited employment opportunities in the southern part of the country, cultivating cashew has become prevalent. The region was also formerly used as a portion of the Tanganyika Groundnut project that failed. Production in this industry peaked in 1973, with a total yield beyond the record of 145,000 tones.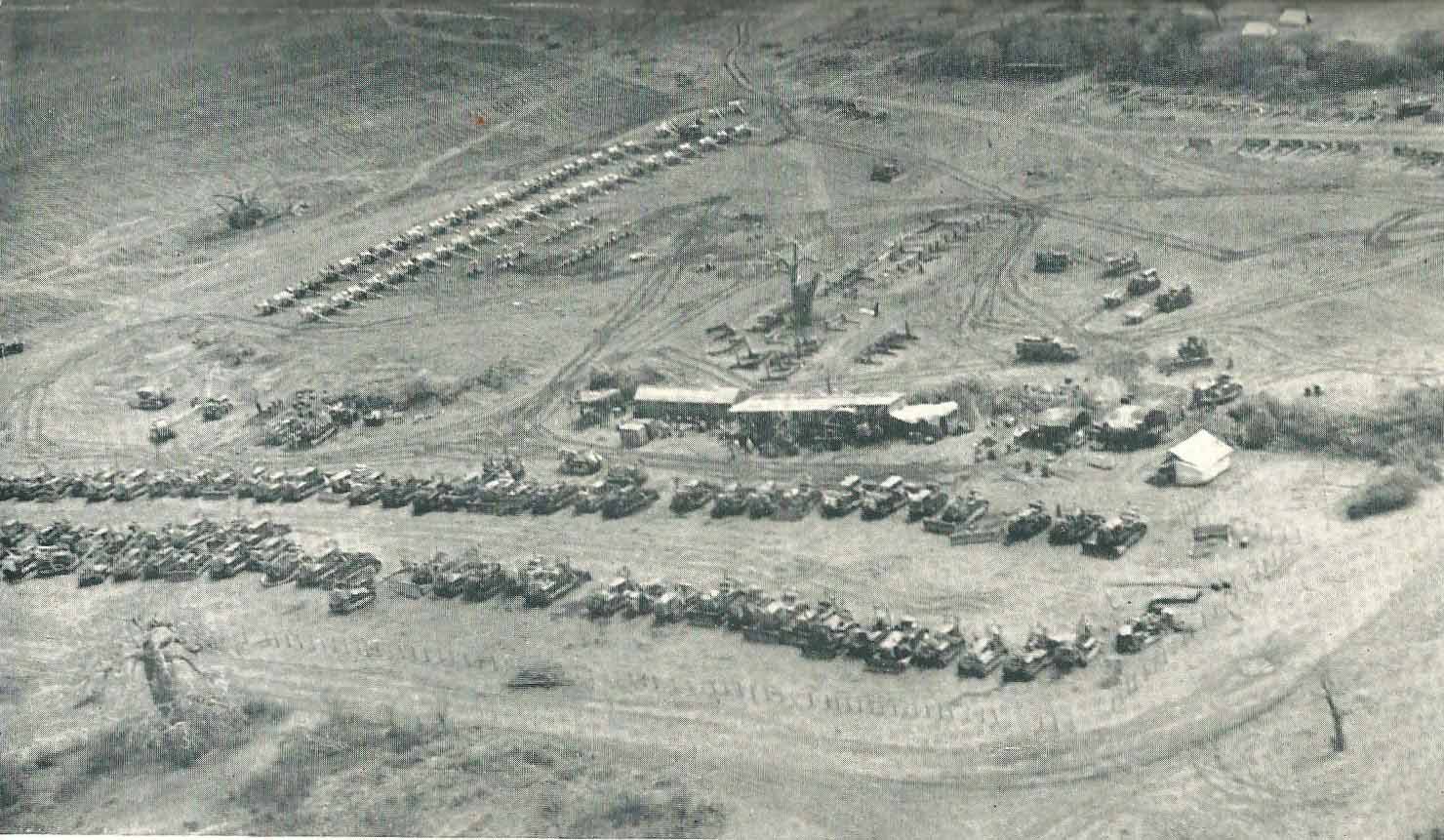 The sector nearly collapsed during the 1980s. Yearly statistics of Tanzania cashew nuts production shows that the product had declined in 1986 to a low of 20,000 tones. The drop was mainly because of various state interventions in the marketing and harvest procedures. The Ujamaa program led to a shift in farming to alternative crops from cash crops.
Additionally, massive resettlement of people coupled with the government ownership of villages in the 1980s led to many farmers involved in Tanzania cashew nuts production leaving huge real estates and areas. Nationalizing processing factories of the many large cashew nuts suppliers in Tanzania further advanced the severe difficulties of the sector as these government bodies were new as well as having a long way to go in this particular industry.
After this close downfall, economic reforms started happening to restore the struggling industry. Remarkable recovery has been realized since then. After only 10 years between 1990 to1999, Tanzania cashew nuts production went from around 29,000 to 120,000 tones. More than $100 million was added to the national coffers and interest across the country increased leading to expansion in the industry. More sector reforms and trade liberalization focusing on eliminating state monopoly led to growth in the sector.
Additionally, earlier laws passed by the state that limited the exportation of raw nuts got reversed leading to accessibility of much-needed support earning to the farmers. A fall in the Tanzanian shilling versus the dollar sustained the Tanzania cashew nut exporters sector more including recent investment in the private sector increased farmers' earnings. Farmers started getting on-time payments with increased substantial output since it was the main barrier that prohibited small farmers before.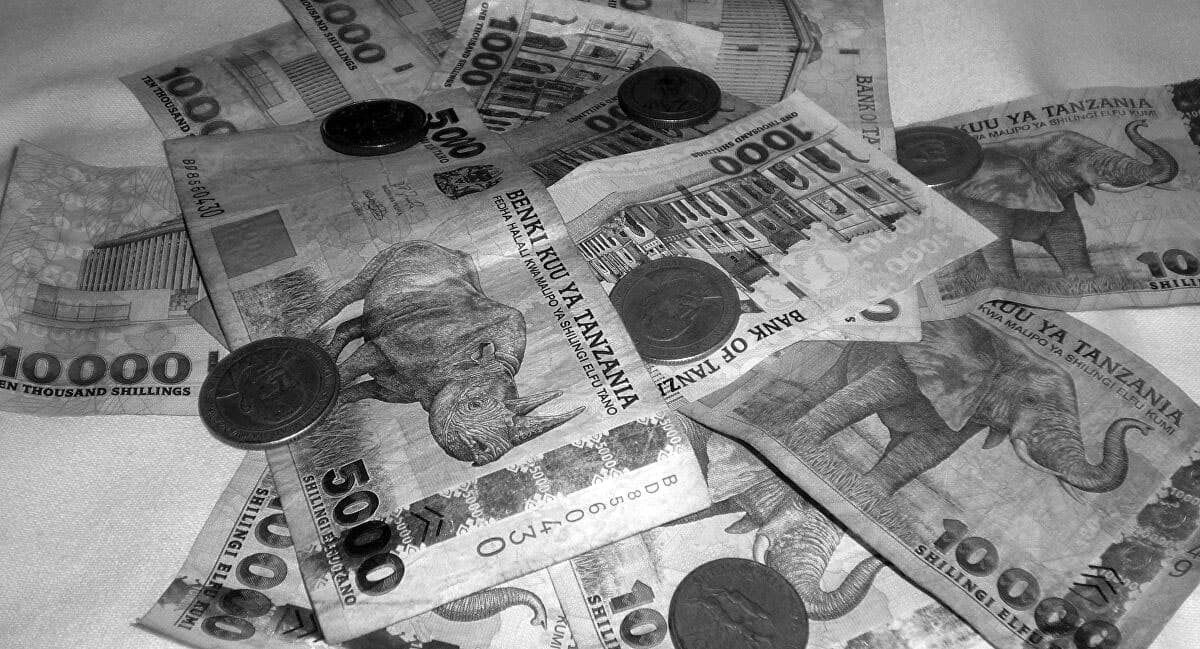 Plantation
Over 85 % of farmers involved in Tanzania cashew nuts production cultivate on small scale with the average farm size measuring a hectare. Many farmers are aged and depend on manual labor instead of machinery. Many rural youths prefer moving to the city areas since cashew farming doesn't appeal to them. The absence of young blood with recent investment in the plantations have led the trees to grow old in most areas leading to a reduction in yield throughout the years.
Areas Where Plantations are Located
Tanzania cashew nuts production is mainly done in the following 7 locations:
Tanzania cashew nuts production has a favorable business position on the world market, though; the country encounters barriers to take advantage of this resource. The harvest period for cashew nuts from Tanzania and Mozambique is during the off-season for West African and Indian cashews and consequently is sold during times of higher market prices. Additionally, Tanzania is among the producers of nuts with the biggest size including an exceedingly high natural harvest per hectare. An average farm had a yield of more than a tonne for each hectare in 2010.
Cashew Nut Grading
Grading cashew nuts has caused an unnecessary argument that has challenged the sector. Prior to the liberalization of the sector in 1994, cashew nut grading was carried out in the villages including sorting the nuts into 3 categories; "rejects", "under" and "standard".
Nevertheless, grading became not compulsory after liberalization and because the farmers urgently wanted cash from their harvest, grading was often ignored. This led farmers to notice a consistent drop in revenue for each tonne consistently since raw cashew nuts exporters in Tanzania doubted the quality. Lack of sorting encourages various challenges for the sector.
Because the nuts are in an unsorted form, the situation hikes transport costs including escalating contamination of quality nuts since they are put together with those of low quality. Not sorting also leaves local women with no jobs as they used to earn from sorting the nuts and it also dissuades farmers from cultivating nuts of high quality since they earn a similar amount anyway.
A major debate has been around to change this system within the Tanzania cashew nuts production cycle, either by bringing back the old system or implementing a similar system like that of Tanzania's coffee board and to do quality checks ahead of auctioning the nuts.
Processing Cashew Nuts
More than 90% of Tanzania cashew nuts production goes to India to be processed. Of recent, Vietnam also started purchasing Tanzania's cashew nuts, however with just 3,000 tonnes in value by 2001. The current 4 leading processors of Tanzanian cashew follow in the numerical order below;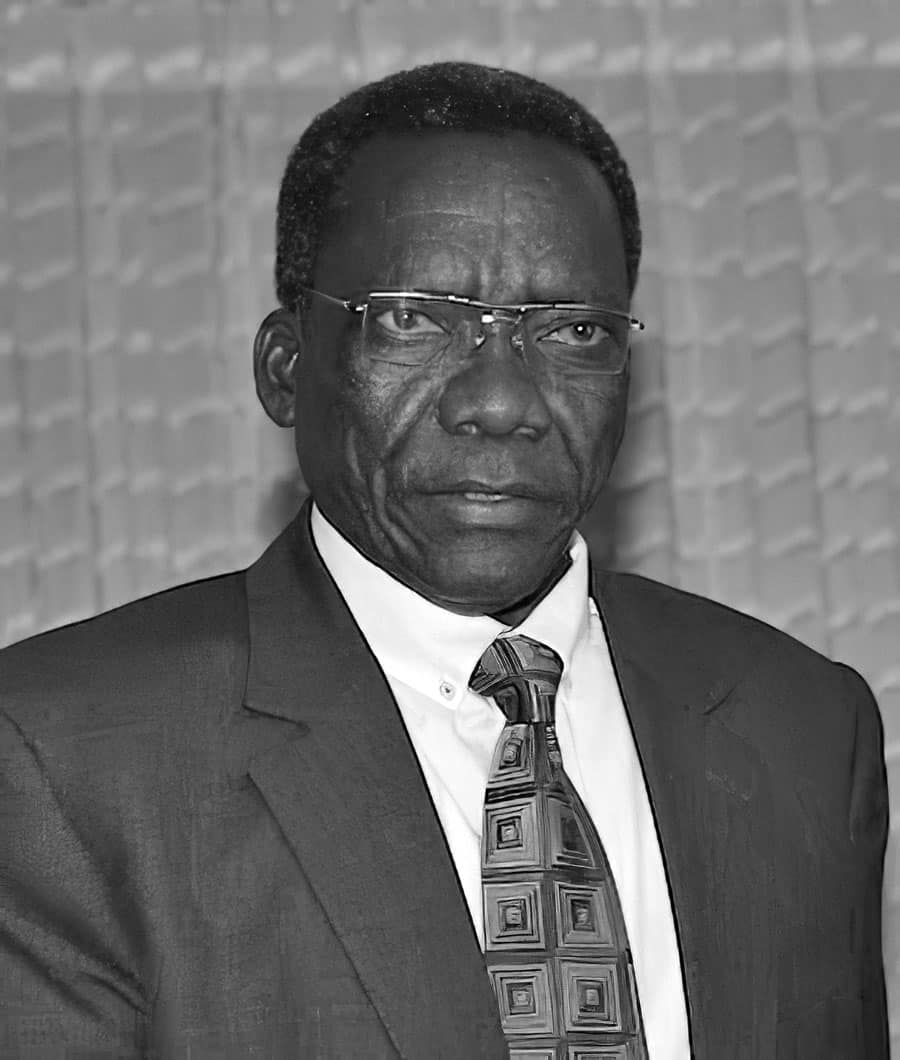 These 4 processors don't approach the country's total output and the government has an interest in reviving and opening new processing factories. By July 2014, the former Prime minister of Tanzania, Mizengo Pinda, disclosed the government's plan to spend $72 million including reviving 4 processing factories in the south. The plants planned for restoration are located in Masasi, Nachingwea, Lindi, and Newala. The new factories will increase the processing capacity of the country by 29,500 tonnes.
Statistics Related to Tanzania Cashew Nuts Production
Exportation of cashew nuts from Tanzania by country include:
The first cultivation of cashew nut in Tanzania was in the 1950s with the production output reaching a peak in 1972. Nevertheless, the country has not yet achieved equal output but is recovering rapidly ever since. Below are cashew nut production statistics between 2005 and 2011.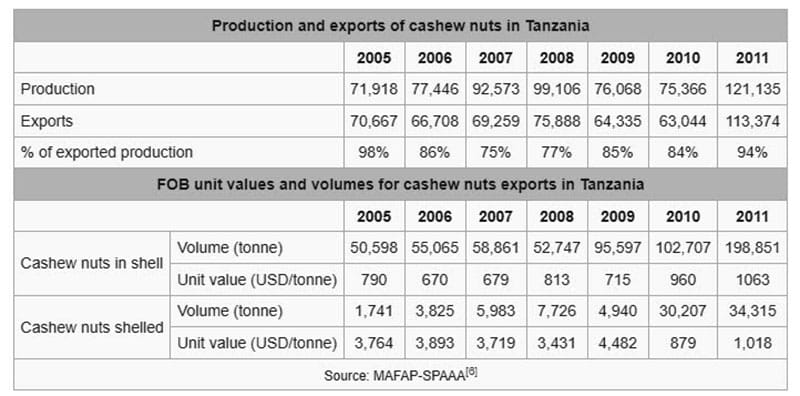 Other Important Information and Cashew Nuts Tanzania News in General
Price of Cashew Nuts in Tanzania
How to Import Cashew Nuts from Tanzania
The Tanzania trade portal has all the information you need from purchasing all the way to import procedure of Cashew nuts – https://trade.tanzania.go.tz/procedure/160?l=en
For more Cash Crops in Tanzania articles click here!