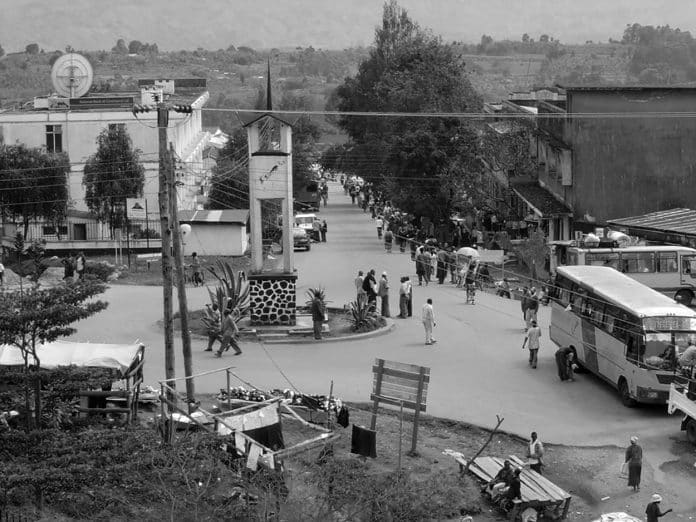 Tukuyu Tanzania – History, Topography, Infrastructure, Tourism and More
Tukuyu, is a tiny hillside city that lies around 36 miles (58 kilometres) south of Mbeya City, at an altitude of about 5,000 feet (1,500 metres) in the highland Rungwe District, southern Tanzania in East Africa, during German colonial rule, it was referred to as Neu Langenburg. Tukuyu town experiences moderate to cool temperatures varying from 10° Celsius during May/June to mid-20°Celcius in November. Tukuyu and nearby places are green throughout the year because of the almost year-round convectional rains coming from Lake Nyasa (Lake Malawi). The town is divided into various wards including; Bagamoyo, Kawetere, Bulyaga and Msasani.
Nyakyusa is the local language in Tukuyu with Swahili as the national language. Secondary education and college education are conducted in English. The people here are called Nyakyusa, various localised groups award themselves different local names, including the Waandali from the nearby Ileje Mountains. There're also mixed marriages with the Wabena, Kisii, and Kinga tribes from Mount Livingstone ranges.
The Nyakyusa tribe dominating the whole of Kyela and Rungwe Districts is also in Northern Malawi.
History of Tukuyu Mbeya
In 1891, Moravian and Lutheran Christian missionaries began working in this area, aiming to change the locals to their faith.
"German administration in the northern end of Lake Nyasa was created in January 1893, some 18 months following the coming of the initial German missionaries. The new administration came in as a party headed by Hermann von Wissman, Commander-in-Chief and Imperial Commissioner, with directives to capture the southern territory in German East Africa acquired under the clauses of the Agreement between  the British and the Germans in 1890."
The city was established by the German Imperial regime in 1900 as a colonial town known as Neu Langenburg, named after the first Langenburg on Lake Nyassa's shores which had to be abandoned because of rising sea levels. The city was an essential regional centre under Germans control and consequently, there's a heavy Lutheran presence here, with a hospital. Deutsches Koloniallexikon revealed in 1920 that 2 out of 10 shops were managed by Europeans with "coloureds", making up the 66 strong police force.
The British dominated the town from 1919 to 1961, since Tukuyu belonged to the Tanganyika Territory of the British Empire. After the Germans left in 1919, Scottish missionaries continued the activities of the German Catholic missionaries at Itete and Kiymbila Stations. The British set up a huge hospital in the town during the beginning of the 1920s and constructed reliable bridges and roads. A tiny British military post existed a few miles south of Masoko.
Mount Rungwe's dormant volcano, with an altitude of 2,961 metres towers beyond the town, a section of the East African Rift Valley. Most parts of the mountain have a forest reserve, established by the British in 1949. The mountain has an unbroken 10 to15 metres closed-canopy forest reaching the treeline at 2600 metres, and inhabits various important species of bird. The bamboo zone begins at 1900 metres, with bamboo wood extensively used by the locals.
The mountain forest is of spiritual significance to the Wanyakyusa people (locally known as called 'Isyeto'). Lava flowing from Mountain Rungwe created a natural bridge on River Kiwira known as Daraja la Mungu or "Bridge of God", which flows fast and nears the Ileje Mountain ranges. More notable topographic features include the Kaporogwe Falls and Masoko Crater. Rungwe's ridge goes northwest to join the Poroto Mountains.
Tukuyu's surrounding areas face some notable but less significant tremors resulting from the region's volcanic nature. Around 30 kilometres away at Kyejo, carbon dioxide comes out from the earth, confirming that the region faces not-so-dormant volcanic activity.
The place produces spectacular short-timed thunderstorms. The annual temperature for the whole Rungwe district varies from 27 °Celsius maximum in November and December to about 5 °Celsius minimum during June and July. However, one should be cautious, since even during the hottest season the difference in temperature between day and night is about 10 °Celsius. Tukuyu's wettest period is November to April, with rain, often in sleet, might rain for days throughout. However, June to September, are relatively sunny and dry.
Mount Kipengere Range in the eastern part of the town is commonly known as the Livingstone Range, above where the land is incredibly mountainous and harsh.
National Institute for Medical Research owns an important Medical Research Station in Tukuyu, and a tiny Lutheran hospital also exists.  Africa Bridge charity is located near Tukuyu. Kipande School including various other small educational institutions is also available. Tukuyu is home to Konde Diocese headquarters of Tanzania's influential Lutheran Church.
Nevertheless, the Moravian Church, originating from Central Europe and Germany has a very huge following in and around Rungwe and Tukuyu District including the whole Southern Highlands.
There was the establishment of Rungwe mission (around 10 kilometres from Mbeya−Tukuyu road) as an optional missionary settlement of the Moravian Church. This mission includes a secondary school, the initial Moravian Church with more agricultural training schemes.
Tukuyu has a tiny post office. The place has some coffee, various commercial tea plantations, and intensive smallholder agriculture benefiting from the well-drained rich volcanic soils.
Tourism in Tukuyu
The nearby highlands in the south of Tanzania are ideal for walking and hiking.
Ecologically lush forests surrounding Tukuyu have clear freshwater streams and rivers, with friendly villagers, very few dangerous animals, away from the mosquito zone, and accompanied with Tukuyu weather that provides a cool elevated highland climate. Ngozi Peak trek is popular with a spectacular volcanic crater lake below. There's a local legend about a water-serpent on Lake Ngozi, while overnight bush camping here is possible.
The Tukuyu town receives about 2500 millimetres of rain annually, with no month getting less than 50 millimetres (2 inches) of rain. Mists and rainfall are common during some seasons while the nights are usually cool; very lightweight water-resistant, and a cap and a light sweater are recommended in some months.
NBC bank is present in Tukuyu which changes travellers' cheques.
Tourist travel begins at the international airport in the country's capital, then an overnight train from here to Mbeya, then to Tukuyu by a local vehicle. However, the international Airport recently built at Songwe, 25 kilometres south of Mbeya city, made travel convenient and easier. Daily coaches to Tukuyu (New Force and Rungwe Express) from Dar es Salaam are also available. Tukuyu lies on the major road to Malawi with daily connections to the border with Malawi border and other inward lands.
Tea is extensively grown around Tukuyu. It's among the perennial crops sustaining various small-scale farmers. A tea processing plant exists at Katumba, (Wakulima Tea Company) 5 kilometres out of Tukuyu, on the way to Mbeya.
There's also extensive coffee growing around Tukuyu though there has been a drop in yield during recent years due to a drop in farmers' financial returns.
For more articles related to regions of Tanzania click here!