Hatari Film 1962 – John Wayne Film Set in Tanganyika
Hatari! (pronounced [hatari], in Swahili language it means "Danger!" An American comedy film made in year 1962, directed by Howard Hawks and star John Wayne. It features a group of expert hunters in Africa. The film launched a massive showcase of wildlife and landscapes of the majestic Mount Meru, a dormant volcano.
Hatari! It was shot in a series of color motion picture processes and filmed in the northern part of Tanganyika (now Tanzania).
What was the Plot and Where Was Hatari Filmed?
When was the Hatari filmed? Inside Tanganyika in the 1950s, the Momella Hunting Company catches animals for zoos, using cars, trap ropes, and castle traps. The company has Frenchman Brandy de la Court, owner; Sean Mercer, a powerful Greek-American who leads hunting trips; Mexican bullfighting expert Luis Francisco Garcia Lopez, targetshooter Little Wolf "Indian", former NYC taxi driver "Pocket", retired German sports car driver Kurt Müller, and several local employees.
They open one hunting season by catching a female rhino. Kurt and the Indian get into a small car and force the rhino toward the ropes and poles which Sean and his assistants are holding from the back of their big truck. Kifaru approached the car and stabbed the Indian in the leg, and the group embarked on a five-hour journey to Arusha for medical help, the region which became Hatari film location later.
At the hospital, Kurt is involved in a dispute with French businessman Charles "Chips" Maurey, who is keen to work for the company. However, it turns out that Chips is the only one that was available and had the type of blood that is suitable to save the Indian life via transfusion. Chips agrees to help with this, and Sean gives him a job. They are heading home, and discover Italian photographer Anna-Maria "Dallas" D'Alessandro has arrived unannounced. The next morning, Dallas shows them a letter saying the a non profit Zoo in a city of Basel had sent him. Since this Zoo was the biggest customer Momella, Sean decides to give things a try even though was reluctant. Despite the job mistakes and a ton of embarrassments, Dallas enjoyed her first day, whereby others staff voted for her to stay, something that increased Sean's irritation more.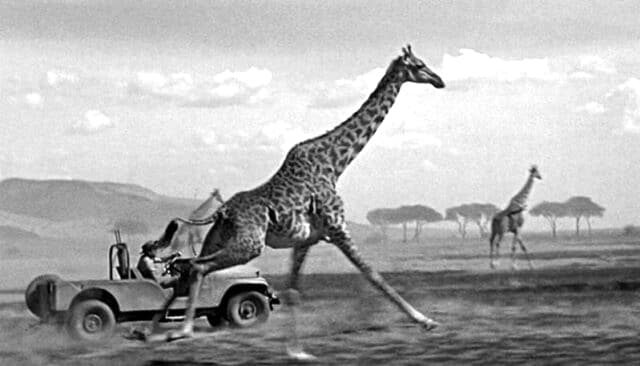 Chips arrives, and they become friends with Kurt. The company catches giraffes, three ostriches, zebras, antelopes, leopards, and buffalo as the days go by, Dallas and Sean begin to share romantic feelings, though Sean, who had been abandoned by his ex-girlfriend prior, protests. Meanwhile, Brandy is followed by three suitors – Kurt, Chips, and Pockets. The Indian returns from hospital, trembling from his whole ordeal, and because of that Sean agrees not to pursue any more rhinos until the end of the season.
While visiting the Arusha tribe, Dallas finds an orphaned elephant calf and decided to adopt it, much to Sean's annoyance as all his staff start herding goats to provide milk to this calf instead of doing their job. However, on the same night, Dallas makes Sean calm down a bit and they kiss for the first time.
While they are hunting a mule, Kurt's watch car bursts a tire and breaks down, he gets his shoulder dislocated and straining Chips' leg badly. On the same day, Pockets walk on a long fence and slide and fall, but just got some bruises. Despite this, Brandy shows more concern for him, putting her feelings out in the open regarding which of the three men she loved the most.
Dallas gets two more orphaned elephants, and she is allowed to keep them as soon as she promises to hire a young man who will feed and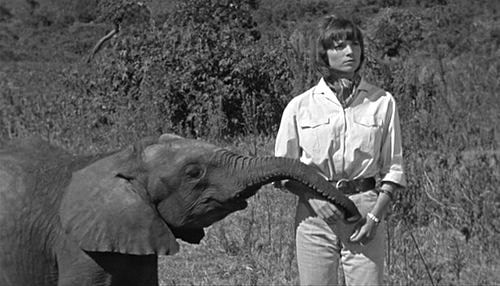 care for them. News of how young elephants are following her is reaching out to Arusha people, and they are celebrating Dallas and give her a name "Mama Elephant", mother of elephants. Some of the colors she applied for the ceremony were hard to get off her skin, a situation that made her angry because Sean did not warn her, but in the end the two agree to dismiss the absurd issue.
Pockets designed a Rube Goldberg machine with a rocket and a net to catch a large group of monkeys in one shot, something that brought amazing results. Eventually the company was left with only one job – the rhino. They chased after an angry male rhino, who managed to escape several times. Eventually they managed to catch him without anyone being harmed, a situation that comforted the Indian.
Dallas begins to fear that Sean still sees her as a woman who has left him, rather than herself. She leaves Pockets a farewell letter and flees to Arusha. However Sean loves her and does not want her to leave. With the help of three baby elephants, he traces her through the streets of Arusha and finds her in a hotel. They got married that afternoon, and prepared to enjoy their wedding night in Sean's room; however, the three elephants came in, destroying the room, much to their annoyance.
Actors in the Hatari Film
Hatari Film Cast In the Order of Their Positions
John Wayne as Sean Mercer
Hardy Krüger as Kurt Müller
Elsa Martinelli as Anna Maria "Dallas" D'Alessandro
Red Buttons like "Pockets"
Gérard Blain as Charles "Chips" Maurey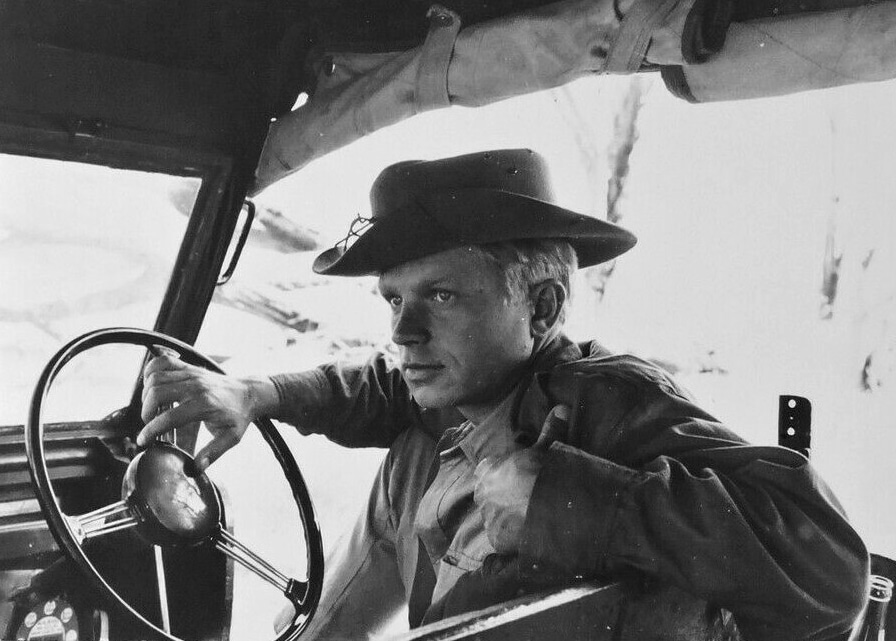 Bruce Cabot as a Little wolf ("Indian")
Michèle Girardon as Brandy de la Court
Valentin de Vargas as Luis Francisco Garcia Lopez
Eduard Franz as Dr. Sanderson
Queenie Leonard as a Nurse (shots removed)
Actors Who were not Named
Jon Chevron as Joseph
Sam Harris as a Man who grew up in a store
Cathy Lewis as "Arusha Control," Radio Operator (voice)
Henry Scott as Sikh Clerk
Emmett Smith as Bartender
Judy the chimp as herself
Jack Williams as a man
As of June 2020, Hardy Krüger is the last major character in the series.
The Making of the Hatari Movie
Hatari! has a very flexible story and, like other great Hawks works, is essentially based on the relationships between the characters, though "covered" by the initial violence (which almost led to the disaster) involving a contact with the rhino and the final season decision to make such a capture in order to meet the team's quota goals. The story was written by Hawks' favorite writer, Leigh Brackett, after the group returned from Africa with interesting pictures.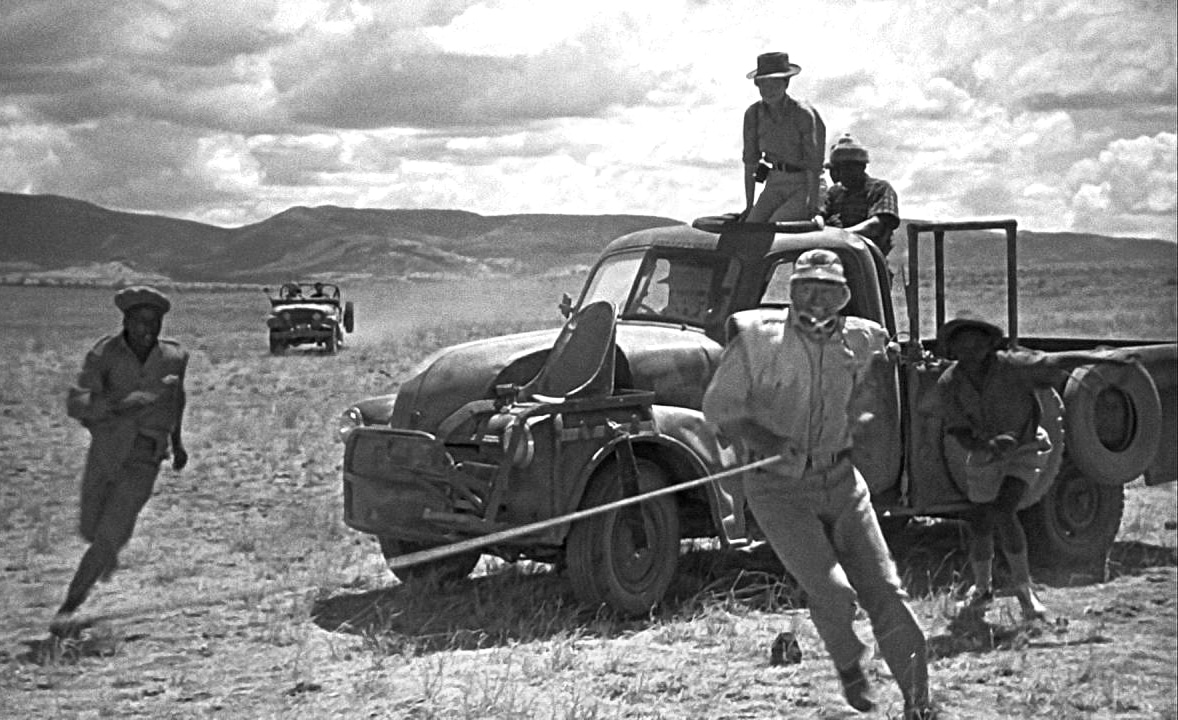 Much of the Hatari filming locations deal with the capture of animals in cars and trucks in African wildlife parks. The animals being monitored are also live, wild, and untrained. Capturing animals by chasing them is prohibited today because of fears of tiring and killing predators. There is also the fact that, thanks to the development of tranquilizers and high power dart rifles used on animals in the last few decades since the film Hatari! was released, it is no longer necessary to use rope traps and pull animals.
At the beginning of the making of the film, one of the things Hawks wanted was a movie about people hunting animals in Africa for wildlife sanctuaries, a dangerous profession with exciting events that had never been seen in a film before. Hawks added his knowledge of animal hunting from the work of South Africa's most famous animal keeper, Dr Ian Player. In 1952 South Africa was eliminating all large wild animals to protect livestock, and only 300 white rhinos survived. Player discovered his famous technique of catching rhinos in order to transfer and save white rhinos. The project of migration of animals by Player was called "Operation Rhino" and was recorded in a popular film with the same name. Hawks deeply analyzed this film closely and used some of the several aspects in his film.
Michèle Girardon (Brandy) did not speak English at the time of filming; she studied English while on set, as reported by LIFE magazine of July 1961 about the actor's biography.
State-licensed animal hunter Willy de Beer was hired by the Hawks as a close technical advisor, and his assistants became their expert staff on animal capture.
Hawks was motivated by the famous animal photographer Ylla, so he asked his writer Brackett to add in the film script the character Dallas. Hawks said, "We took that part of the story from a real character, a German girl. She was the best animal photographer in the world."
Making movies in Africa was dangerous for the production team and the actors. The director Howard Hawks explained that all of the animal capture images in the film were actually made by actors; no fake actors or animal experts were switched in when the film was being recorded. The rhino actually escaped, and the characters were forced to arrest him again – and Hawks included a whole series of events to show the authenticity of the whole ordeal. Many of the sounds in the sequence of actions had to be re-recorded because of John Wayne's curse words when he was fighting animals. However, the reserve actress, "Rusty" Walkley (real name: Mildred Lucy Walkley), was used in several episodes involving the character Elsa Martinelli.
Hawks said Wayne admitted to being scared during the recording of numerous film scenes, and "he was worried every time the car got unbalanced that it would end up overturning and he held his heart in his hand, wearing only seat belts in the open roof car, car engine roaring, body hitting left and right, animals kicking dirt and rocks and thunder of hundreds of hoofs that increasingly added fear to his ears.
John Wayne was wearing a tape and his famous Red River D fabric, as he did in many of his movies. You can easily see it in the part of the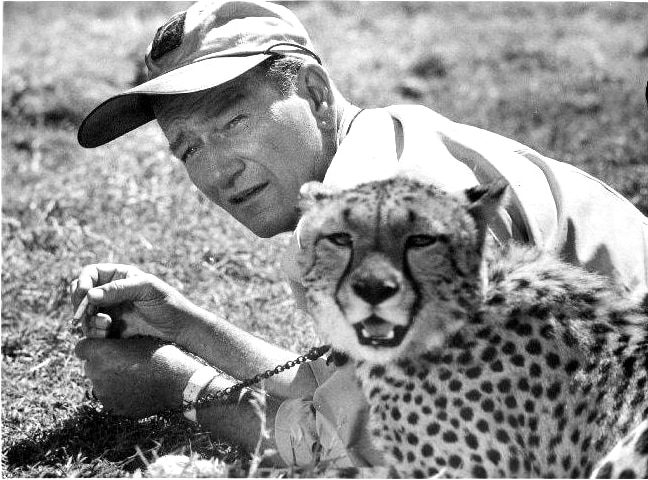 film that Sean Mercer calls Arusha Control after the Indian got poked by the rhino's horn at the beginning of the movie; and again in a place where a cheetah named Sonja was wandering around the bathroom while Dallas bathed and introduced himself by licking and cleaning Dallas.
During Hawks interview with de Vargas, he told her it would be very dangerous and showed her the film. De Vargas did not have a fake backup actor as other characters that appeared in a film segment that showed the capture of the animal. One evening Buttons and Wayne were playing cards outside and a leopard appeared in the woods heading towards them. While Buttons was talking about the leopard getting closer to them, Wayne said, "Look what he wants." De Vargas said technical adviser Willy de Beer was injured by a baby leopard that escaped from the cage and jumped from a tree.
Because the animals often refused to do the noises "when ordered" (specifically, young elephants who refused to blow their trumpets in densely populated areas), Arusha hunting experts and zookeepers were hired to do "animal sound simulations".
Hawks said in an interview that he had previously planned to include actors Clark Gable and Hatari film John Wayne in the film until Gable's death eventually overturned the decision.
Hatari! introduced Henry Mancini's most memorable song "Baby Elephant Walk" to the general population. Another memorable Hatari film music is the dance "Old Folks in the Home" by Stephen Foster (River Swanee) with Dallas playing the piano, and Pockets playing music.
Where was the movie Hatari filmed exactly in Arusha?
The Ngorongoro farm, owned by Hardy Kruger from 1960 to 1973, was used as the movie recording studio.
Reception
Hatari! It generated a total turnover of $ 12,923,077 from movie theater tickets, earning $ 7 million for American theater rentals. It was the 7th best film of 1962.
Jean-Luc Godard listed Hatari! as one of the best films of the year released.
The film is recognized by the American Film Institute in the following lists:
2005: 100 Years of AFI Film Scores – Nominated
Comic Book Conversion
Dell Movie Classic: Hatari! (January 1963)
Novel
Michael Milner transformed a movie made by Leigh Brackett into a paper novel published by Pocket Books in 1962 as an extra to the movie. The cover of the novel has a movie poster of a rhino attacking a hunting truck. The novel goes into more details on a number of aspects of animal hunting, particularly about Pockets rocket net project, and about Brandy's chase by Kurt, Chips, and Pockets. The book is smaller than a film, but it is fast-paced and is completely matching with movie scenes. The ASIN number for the novel is B000BJUQP4.
For more articles about Tanganyika click here!