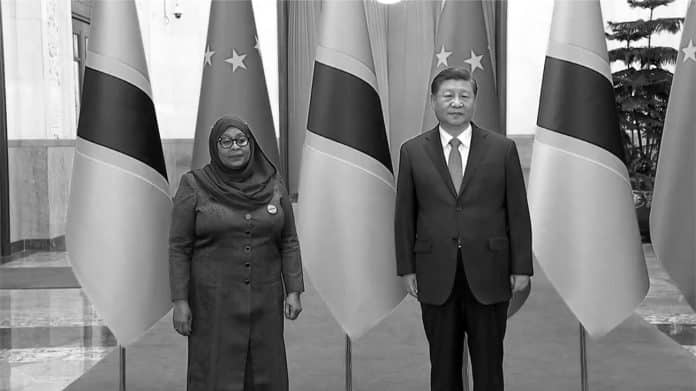 Chinese Investment in Tanzania – Trade, Economic Relations, Direct Investments and More
Tanzania is the biggest recipient of Chinese aid in Africa. Chinese investment in Tanzania has been offered in various forms of aid to Tanzania since 1964. The biggest China-supported project in Tanzania includes the Mubarali Rice Farm, TAZARA, the Mahonda Sugar Cane Plant, and the Friendship Textile Mill.
Tanzania-China relations refer to the foreign relationship between Tanzania and China. China established bilateral relations with Zanzibar and Tanganyika on 11th December 1963 and 9th December 1961, respectively. When Zanzibar and Tanganyika united to become Tanzania on 26th April 1964, the Chinese government extended its diplomatic ties to the country.
Tanganyika was the tenth African country to recognize the People's Republic of China (PRC) in 1964. It was also the first to do it just a few days after independence. Political and military unrest that occurred in Zanzibar and mainland Tanzania in the 1960s further solidified the bond between the two (Tanzania and China). On 12th January 1964, the Zanzibari Revolution increased China's influence on the island. China swiftly recognized the new regime and offered developmental assistance and military help. In addition, the Tanganyikan army's mutiny on the 19th of January 1964 made President Mwalimu Nyerere ask for external military aid to rebuild the army, and the Chinese were the first to respond. They became the primary suppliers of military aid to the TPDF. Furthermore, Tanzania's reluctance to align with either of the two cold war superpowers and continued insistence on liberating Southern Africa made them enemies of the West. China became the primary supplier of military aid to the armed forces of Tanzania in 1970. It also became the biggest source of bilateral developmental aid.
Former President of Tanzania, Benjamin Mkapa described the Chinese Investment in Tanzania as one that has gone beyond the usual government-to-government relations and extended to cooperation between citizens of the two countries to the extent that both people refer to each other as 'rafiki' – a term that means 'friend' in the Swahili language.
Economic Background of Tanzania
After independence, a colonial market economy was handed down to Tanzania. Agriculture made up 59 percent of the gross domestic product in 1961. Other sectors like commerce, mining, manufacturing, services, construction, and transport made smaller contributions. The Ujamaa era (1967 to 1985) introduced a socialism-driven society devoid of exploitation and conflict. The socialist ideology concentrated on creating an egalitarian society, combating poverty, distributive justice, and self-reliance primarily through nationalization and villagization. Nationalization led to a state-controlled economy as all privately-held businesses were taken over by the government, including milling companies, mining companies, manufacturing companies, banks, and other major businesses. Villagisation was a rural development program that gathered people dwelling in sparsely populated villages to work in communal farm settlements, foster self-dependence, and collectively uplifts the standard of living. After the Ujamaa era, the first era of restructuring started in 1986, including liberalization of trade and exchange, liberalization of agriculture as well as the implementation of many reforms in the civil service. The second phase of restructuring started in 1996 with widespread privatization and liberalization of the finance system, formulation of market-oriented regulatory and economic reforms, reforms in trading, changes in fiscal and monetary policies, and financing from international donors.
Infrastructural Background of Tanzania
Most of the infrastructures in Tanzania were built in the colonial era when the country was used for extracting economic resources and exercising territorial dominance. Economic resources like metals, minerals, cash crops, and many natural resources were exported. This meant that most of the colonial railway lines ran from the interior parts of the country to the coastal port cities like Dar es Salaam. The inherited infrastructure couldn't meet the need of the country's changing logistical needs and growing population. In World Bank's logistics performance index of 2015, Tanzania was ranked 60 globally, with an infrastructure score of 2.81/5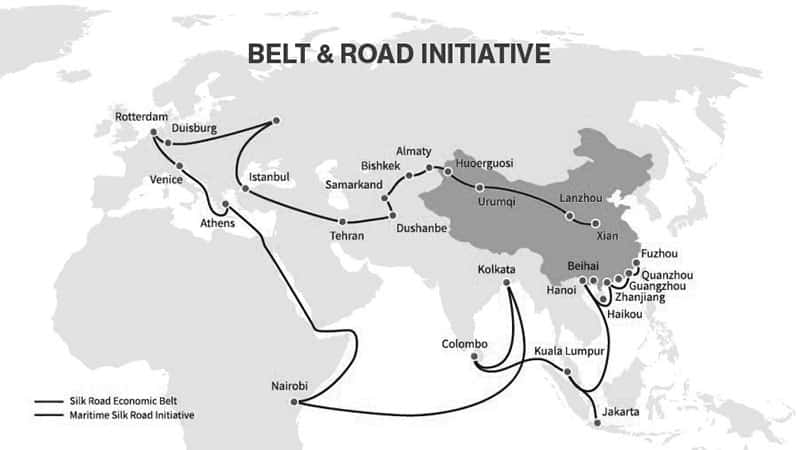 Chinese Belt and Road Foreign Policy Initiative
Modern infrastructural and economic cooperation between China and Tanzania is connected to the former's Belt&Road Initiative (BRI). In 2013, China broadened BRI as a form of international policy primarily to build an overlaid infrastructure network to connect Chinese trade and aid economic integration to other areas of the world. The initiative particularly focused on Eastern Europe, Asia, and East Africa. The initiative includes financing and building power grids, highways, railways, industrial parks, shipping facilities, special economic zones, telecommunications infrastructure, and alternative energy sectors. With the help of Tanzanian stakeholders, these efforts are coordinated by the government of China and many Chinese companies through generous credit lines, free trade agreements, and various measures aimed at creating a Chinese investment in Tanzania for international investors.
Economic Ties
From the start of their bilateral relationship, China has helped Tanzania with many economic aid programs. The most prominent early aid program was the construction of the TAZARA Railway (1971-1975) with Chinese financing, technology, and labor assistance. The 1,860-kilometre railway links Dar es Salaam with landlocked Zambia. The government of China sent more than 50,000 workers and has kept on helping the railway ever since. Between 2000 and 2011, there were more than 60 Chinese-aided development projects identified in the country through many media reports. The projects include China's bid to start the Tanzania Agricultural Development Bank, a $400 million loan to solve the financial problems faced at the Kwira coal mine, as well as the construction of the National Stadium. Tanzania canceled a loan of $10 billion which was a part of the Belt&Road Initiative.
TAZARA
TAZARA (Tanzania-Zambia Railway) is a 1,860-kilometre long railway that runs from Dar es Salaam to Kaprimposhi in Zambia. The railway links East Africa with Southern Africa to aid inter-state cooperation, trade, and tourism. On 5th September 1967, Zambia, Tanzania, and China signed the initial agreement regarding the railway. The agreement represented the beginning of China's official commitment to the Chinese investment in Tanzania and the TAZARA project as they agreed to offer the professional and technical manpower required for each phase of the construction process. In 1970, China formally agreed to fund the project by making available a $401 million loan divided equally between Zambia and Tanzania. The loan was free of interest and repayable over three decades with a five-year grace period. It also required payments to be made from the exports of the two countries or in a third-party currency. The Chinese Engineering Construction Company implemented the railway project, which included the construction of over 2,000 culverts, 22 tunnels, and 320 bridges along the train's pathway and needed extra funds from China to offset the cost of workshops, stations, cement, steel rails, rolling stock, power, training school, signaling equipment, and many related infrastructures. The Chinese government has continued its financial and technical support for TAZARA since 2010. It upgraded and funded the railway to increase operational efficiency to meet growing trade and passenger demand.
Unity Bridge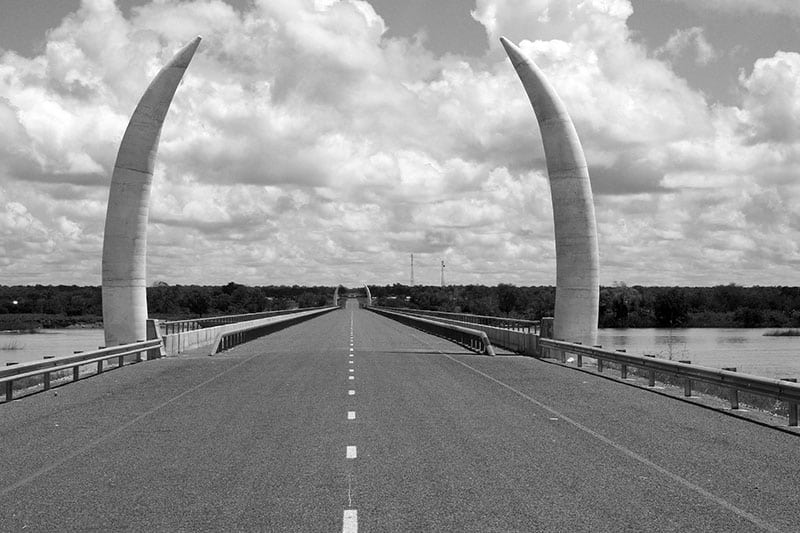 The Unity Bridge (Umoja/Ponte da Unidad) is a 720-meter bridge that connects Mozambique with Tanzania across the Ruvuma River. China GeoEngineering Corp. implemented the project, which was funded by the governments of Mozambique and Tanzania. The total cost was $26.8 million. The bridge was opened in May 2010 and is reducing the cost of doing business across the region as it facilitates a more accessible path for travel and trade between East Africa and Southern Africa.
National Stadium
The Beijing Construction Engineering Company finished the construction of the National Stadium of Tanzania in 2007. The new stadium is located in Dar es Salaam and was said to cost over $60 million. The government of Tanzania contributed more than 50% of the total fund used to build the stadium. The National Stadium is regarded as another monumental achievement in Tanzania-China relations. Wen Jiabao, a former Chinese Premier, echoed this sentiment when he visited the site in 2006. He emphasized the quality of construction done and the importance of cooperation between the two countries.
Bagamoyo Port
Bagamoyo is the location of a special economic zone administered by China. There's a mega-port built through the Chinese investment in Tanzania program by the China Merchants Ports Holdings. In 2012, the governments of Tanzania and Oman, as well as China Ports Holdings, sealed an agreement on a flagship BRI project with an investment totaling $10 billion. Apart from the port, the 3,000-hectare location will connect TAZARA to the new standard gauge railway. However, several challenges hindered the project, including an issue in 2016 that caused a brief cancellation of the project.
Mining
In 2011, Chinese company Sichuan Hongda Co. sealed an agreement with Tanzania for the mining of coal and iron ore. This joint venture with the National Development Corporation of Tanzania is worth over $3 billion. The project gave Tanzanians the opportunity to access agreements with the government of China, including the funding of power plant constructions, natural gas pipelines, as well as roadway, railway, and port upgrades. The mineral resources are largely found in areas far away from the coastal area, posing logistical and infrastructural challenges that hinder economic activities like trade. This problem has made mining companies and their partners prospecting in Eastern, and Southern Tanzania site infrastructural problems as the major problem. Mining companies need infrastructural networks to handle heavy loads that are mostly absent and lack the investment and support of government stakeholders. However, there has been significant planning to improve the infrastructure in the gold-mining region of the northwest and the iron-ore and nickel regions along the boundaries of Burundi and Rwanda. Institutional infrastructure is also available through the Central Corridor Transit Transport, which regulates and maintains roads but has done little in terms of improving the power grid and railway.
Information Communication Technology
Chinese technology companies and financial institutions aided the telecommunications revolution in Tanzania in the 1990s and 2000s. In 2009, the Tanzanian National ICT Broadband Fiberoptic Backbone was launched to offer better ICT services at a more budget-friendly rate to make the country the digital hub of East Africa. This Chinese investment in Tanzania project was funded with $264 million in loans from the Exim Bank of China, and Huawei and CITCC implemented the project. In 2010, the second phase of the National ICT Broadband Fiberoptic Backbone was launched with an extra $100 million loan from the Exim Bank of China with the clause that Chinese equipment and suppliers be utilized for the project. Thus, the partnership with Huawei and CITCC continued. The project helps to reduce communication costs, promote e-governance, e-commerce, e-learning, and e-health and aid the development of technology and science.
Zanzibar International Airport
In 2011, the Beijing Construction Engineering Group started upgrading the international airport located in Zanzibar. A third terminal was constructed, while the second terminal was renovated. The government of Tanzania got $70 million in funding from the EXIM Bank of China to support the project. Upon completion, the project will support the travel of over 1.4 million passengers every year. Apart from expanding air transport for travelers, the project improves goods transport by air to and from Zanzibar as it provides a reliable and safe airport for big aircraft and a high volume of flights.
Chinese Funding Agreement Details
Chinese loan deals are friendly and use a soft power style emphasizing mutually profitable cooperation, equality, mutual support, shared prosperity, and friendly relations. However, these agreements usually have stringent requirements as regards material sourcing and contracting firms' agreements. For instance, the EXIM Bank of China requires that 70 percent of contract purchases (materials and machinery) come from China. According to estimates, roughly 89 percent of infrastructure projects in Africa funded through China are done using contractors from China. The positive sentiments surrounding Chinese loans are majorly due to the fact that China's assistance is not dependent on the recipient state's commitment to human rights, good governance, or democracy which are often the common conditions laid out by Western nations.
Chinese Administrative Enclaves
Enclaves are distinctive social, cultural, and territorial units located within the borders of an international territory. As a result of the Chinese Investment in Tanzania, there are Chinese enclaves. This is evident from Chinese workers not visiting the local community, not consuming local content, and not getting cultural exposure outside work, which is usually company policy. Language barriers have been identified as the primary reason for the formation of Chinese enclaves as older Chinese workers usually don't speak English while the younger ones struggle to understand the heavily accented English of the Tanzanians. In addition, only a handful of them understands Bemba, the local language of East Africa's Copperbelt, or Kiswahili, Tanzania's national language. In Urafiki, Kitwe, and Chambishi, Chinese teams inhabit segregated houses called "Chinese compounds" or "China houses." These residential quarters usually have their own security personnel, cooks, tables for ping pong, Chinese DVD media, television, videos, livestock, vegetable gardens, and athletic spaces. Salaries of the workers inhabiting the Urafiki compound are paid into their Chinese bank accounts directly to encourage saving. The staff is only given an allowance to purchase items like toiletries or fruits because necessities and entertainment are provided within the compound, further alienating them from the native population.
Military Collaborations
According to the National Institute for Strategic Studies, in 1972, the Tanzania People's Defense Force had over 90,000 personnel, 20 T-59, four infantry battalions, more than a dozen T-62 light tanks, and a couple of BTR-152 and BTR-40, Chinese mortars and Soviet field artillery.
The Kagera War occurred between 1978 and 1979, and it witnessed the first battle of tanks in Africa, between Libya's Soviet tanks and Tanzania's Chinese tanks.
In 1992, the Tanzanian army was said to have 32 T-54/55  and 30 Chinese Type 59 main battle tanks.
Chinese Citizens and Elephant Poaching
The report of the 14th gathering of the Convention on Global Trade in Endangered Species of Wild Flora and Fauna expressed clear-cut concerns over:
"The involvement of Chinese citizens in the direct purchase of ivory in Africa's elephant range countries. ETIS data shows that Chinese citizens have been apprehended, detained, or escaped in more than 100 cases of seizures(around 14 tonnes of ivory) that have happened in or started from 22 elephant range countries in Africa, including Tanzania, Cameroon, Botswana, Nigeria, Congo, Congo DRC, Ivory Coast, Kenya, Ghana, Guinea, Equatorial Guinea, Zambia, Zimbabwe, Mozambique, Mali, Malawi, Namibia, Sudan, South Africa, and Senegal. This phenomenon is quite recent as 87 percent of those cases have happened only since 1998. With their growing economic presence across the African continent, Chinese citizens are now favorably positioned to take advantage of direct sources of illegal ivory in a way that wasn't the case before."
In a report in 2013, the UN Office on Drugs and Crime reported that:
"The recent wave of Chinese investment in Africa has brought many Chinese workers and executives to Africa, including territories where ivory is sold openly, usually carved into items for the Asian market. It may be moved by post in smaller quantities or transported in luggage for onward sale in the Asian market or personal use. The quantities were usually small, but they could be a major source considering their frequency.
Despite the generous donations made available through the Chinese Investment in Tanzania, Chinese citizens have been imprisoned in relation to large-scale interdictions. In 2013, three citizens of China were apprehended with a cache of 797 tusks.
The increasing purchasing power among Chines baofahu and tuhao coupled with corruption among Tanzanian police and rangers have had a devastating effect. From 2010 to 2013, more than three tonnes of ivory were seized in Tanzania. Two-thirds of the elephant population at Tanzania's largest game reserve (Selous Game Reserve) have disappeared.
According to the UN report, the connection between Tanzanian supply and Chinese demand is the most destructive factor on the population of elephants in Africa:
The majority of large ivory consignments to Asia from Africa pass through the ports in Tanzania and Kenya

Recent research shows that poaching has increased in Africa, so high that the local population of elephants is threatened

According to estimates, between 5,600 and 15,400 elephants are poached in East Africa annually, yielding up to 154 metric tons of illegal ivory, out of which 37 tons worth $30 million in 2011 went to Asia.

Expatriate Chinese nationals in East Africa are among the most prominent middlemen. Although measures have been taken to address the illegal trade, China and Thailand are still two of the most prominent destinations.

Recent INTERPOL operations have unearthed an increasing number of carved objects, with dealers speaking Chinese to their buyers.
Immediately after UNODC's findings were made public, Tanzania's Deputy Minister of Tourism and Natural Resources responded to citizens' complaints of "Chinese citizens involved in the massacre of animals and sending them to their countries for their personal benefit." According to Lazaro Nyalandu, the Tanzanian government planned to take action against poachers, irrespective of their home country, and that anything that threatened tourism revenue would be seriously handled.
In 2014, a Chinese man, Yu Bao, stood before the Kisutu Resident Magistrate's Court, Dar es Salaam over allegations of collecting 81 elephant tusks illegally. Yu begged for leniency, citing his many dependents and his lack of prior criminal dealings. Senior Resident Magistrate D, Kisoka slammed a fine of TzS9.7 million on Yu. In default of this fine, Yu is held in Tanzania pending the outcome of the appeal of a 20-year jail term. Officials in China have taken measures to stop the inflow of illicit ivory. Out of the 900 annual ivory seizures in China, 90 percent were items uncovered in hand inspections of travelers' luggage. The Chinese government is not known to offer political, financial, or legal aid to Chinese citizens accused of poaching in Tanzania.
Diplomatic Missions
As a result of the Chinese Investment in Tanzania;
Tanzania has a consulate-general in Guangzhou and an embassy in Beijing.
For more investment in Tanzania articles click here!