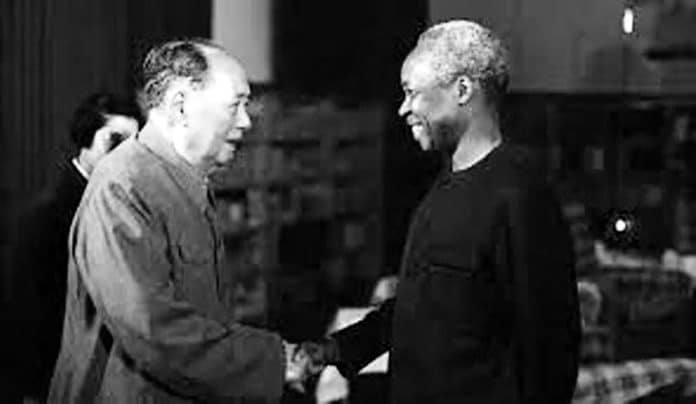 China Tanzania Relations – Economic and Military Ties, Poaching and More
Ties between Tanzania and China are referred to as China-Tanzanian relations. On 11 December 1963 and 9 December 1961, respectively, Zanzibar and Tanganyika established diplomatic ties with China. China extended the connections with Tanzania when it was formed following the merging of Tanganyika and Zanzibar on 26 April 1964.
The Zanzibari Revolution on 12 January 1964 significantly increased China's influence on Zanzibar as China swiftly acknowledged the new government and availed military aid and development assistance, and military support. In 1964, Tanganyika became the 10th African nation to recognize the People's Republic of China in the days following its independence. In addition, Tanganyika army's mutiny on 19 January 1964 prompted President Nyerere to ask for foreign military aid to rebuild the army. The Chinese responded first and eventually became the main providers of military aid to the Tanzania People's Defense Force. Tanzania also developed hostility with the West due to its opposition to allying with either of the cold war superpowers and its continued focus on the liberation of South Africa. China became the primary bilateral source of economic aid and the primary provider of military aid to the Tanzania's armed forces in 1970.
Former President of Tanzania, H.E. Benjamin Mkapa, stated that people-to-people cooperation had replaced traditional government-to-government relations in Tanzania-China relations, which is why residents of both countries refer to one another as "friends" or "Rafiki" in Kiswahili.
The Economic History of Tanzania
The country inherited a colonial economy after independence, with agriculture accounting for 59 percent of the GDP in 1961. Other economic sectors like transportation, mining, commerce, construction, manufacturing, services, and more make significantly smaller percentages. The period between 1967 and 1985 is known as the Ujamaa era, an African socialist movement which was established by the ruling class with an aim to establish a socialist principled society without the use of force. Villagisation was created as a rural development initiative that brought together residents of sparsely inhabited regions to work on community farms, establish self-reliance, and raise living conditions as a group. Phase one of the restructuring after the Ujamaa era started in 1986 with the liberalization of trade and exchange, the agricultural sector, and the implementation of reforms in the civil service. Phase II started with widespread privatization in 1996, the financial system liberalization, the establishment of market-oriented regulatory and economic reforms, changes in fiscal and monetary policy, trade reforms, and funding from foreign sources.
Background on Tanzania's Infrastructure
A large portion of Tanzania's infrastructure was built during the colonial era to extract economic resources and exercise territorial control. Many colonial railways connected the interior of the country to coastal harbors in towns such as Dar es salaam so that economic resources like metals, cash crops, minerals, and other natural resources could be exported. However, Tanzania's infrastructure from the colonial era is inadequate to support the country's expanding population and shifting logistical requirements. Tanzania was ranked #60 globally in the World Bank Logistics performance index of 2016, scoring 2.81 out of 5 in the infrastructure score.
Foreign Policy of China's Belt and Road Initiative
China and Tanzania's current infrastructural and economic cooperation is closely related to China's Belt and Road Initiative (BRI). China's BRI was expanded in 2013 as a foreign policy, primarily to build an overland infrastructural network to better facilitate Chinese trade and boost economic integration worldwide, focusing on Eastern Europe, Asia, and East Africa. The initiative includes constructing and funding railways, power grids, oil and gas pipelines, telecommunications infrastructure, dedicated economic zones, industrial parks, shipping facilities, alternative energy sectors, information technology, and other types of infrastructure.
Economic Tanzania China Relations
China has supported Tanzania with a range of economic aid initiatives from the beginning of the two countries diplomatic ties. The TAZARA Railway, a 1,860 km railway that connects Dar es Salaam with landlocked Zambia, was one of the most significant early projects. It was constructed between 1970 and 1975 using Chinese financing, technical help, and labor. Up to 56,000 employees were dispatched by the Chinese government, which has supported the railway ever since. About 62 Chinese-funded development projects in Tanzania between 2000 and 2011 have been identified via different media sources. These initiatives include the Chinese efforts to establish the Tanzania Agricultural Development Bank, a $400 million loan to help with the financial difficulties faced by Kiwira Coal Mine, and the building of the Benjamin Mkapa Olympic Stadium named the National Stadium. Tanzania rejected a loan of USD10 billion that was a part of the BRI.
TAZARA
The 1,860 km Tanzania-Zambia Railway (TAZARA) connects Southern and Central Africa with East Africa to promote tourism, trade, and intergovernmental collaboration. It runs from Dar es Salaam in Tanzania to Kaprimposhi in Zambia. China's formal commitment began with the signing of the first railway agreement on 5 September 1967, when Zambia and Tanzania agreed that China would supply the professional and technical labor required for each stage of construction. By 1970, China had formally committed to financing the project by giving a 401 million USD interest-free loan split equally between Zambia and Tanzania. The loan was to be repaid over 30 years. The Chinese Engineering Construction Company's railway project required additional financing from the Chinese to pay for the power cost, rolling stock, signaling equipment, steel rails, cement, workshops, stations, a training school, and other infrastructure. China has continuously supported the Tazara region technically and financially since 2010.
Unity Bridge
The Umoja/ Ponte da Unidad, also referred to as the unity bridge, refers to a bridge 720-meter-long that spans the Rovuma River and connects Tanzania and Mozambique. The project was implemented by the China GeoEngineering Corporation with funds from the governments of Mozambique and Tanzania at a total cost of USD 26.8 million. The bridge, which was inaugurated in May 2010, is reducing business costs in the area by providing a convenient travel and trade route between East and Southern Africa.
National Stadium
The Tanzania National Stadium, which is situated in Dar es Salaam, was built by the Beijing Construction Engineering Group in 2007. It was approximated to cost over 60 million USD, with the government of Tanzania providing more than half of the project's total financing. Wen Jiabao, a former Chinese Premier, expressed this sentiment by highlighting the high-quality construction of the stadium and the significance of the cooperation between the two countries when he visited it in 2006.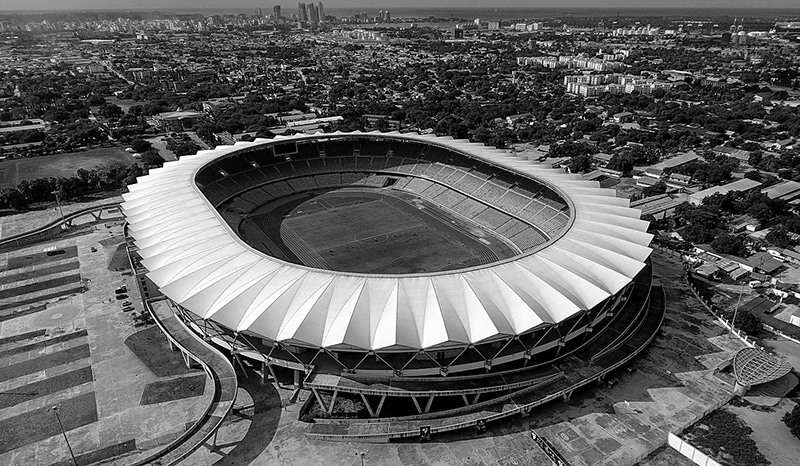 Port of Bagamoyo
Bagamoyo is a special economic zone run by the Chinese and has a mega-port built by the Chinese Merchants Ports Holdings. In 2012, the governments of Oman, Tanzania, and China Merchants Ports Holdings agreed on a flagship BRI project with a total investment of over US$10 billion. Besides the port, the 3,000-ha site will connect the new Standard gauge railway in Tanzania and the TAZARA. However, this project has had several setbacks and was even briefly canceled in 2016.
Mining
Sichuan Hongda Co. of China secured a contract to mine coal and iron ore with Tanzania in September 2011. The joint initiative with Tanzania's National Development Corporation is valued at over US$3 billion. This project has given Tanzanian citizens access to contracts with China, including funding for natural gas pipelines, the development of power plants, as well as railway, port, and roadway renovations. Mineral resources are found in areas far from the coast, creating a logistical and infrastructural challenge that limits economic activity such as trade. This is made obvious by prospecting companies and other mining stakeholders who shy away from Eastern and southern Tanzania projects pointing to infrastructure as the biggest obstacle to investment. Mining firms need infrastructure that can cope with heavy loads. Such infrastructure is mostly absent and is not supported by government stakeholders. However, the Central Development corridor has been involved in numerous strategies to develop in the gold mining northwest region as well as the iron ore and nickel deposit regions bordering Burundi and Rwanda. Institutional infrastructure can be found through the Central Corridor Transit Transport, tasked with maintaining and regulating roadways but hasn't done much to improve the power grid and rail improvements.
Information and Communications Technology (ICT)
Tanzania's telecommunications revolution from the 1990s to the 2000s was supported by Chinese technology firms and financial institutions. The Tanzanian National ICT Broadband Fibreoptic Backbone (NICTBB) was established in February 2009 in order to offer more capable ICT services at lower costs and establish Tanzania as the digital hub of East Africa. Huawei and Chinese International Telecommunications Construction Corporation (CITCC) implemented the project, which was financed with USD 264 million in loans from Exim Bank, China. NICTBB project's Phase II launched following a further USD 100 million loans from Exim bank, with the condition that the project uses Chinese equipment and suppliers; as a result, the partnership with Huawei and CITCC continued. The project is currently being utilized to lower the cost of communication and promote e-health, e-learning, e-government and enhance the development of technology and science.
International Airport of Zanzibar
The Chinese Beijing Construction Engineering Group started upgrading Zanzibar International Airport in January 2011 through the construction of terminal 3 and renovation of terminal 3. The government of Tanzania received funding of USD 70 million from the Chinese Exim Bank for the project, which is expected to serve 1.5 million travelers yearly. In addition to improving air transport for goods, the project also expanded air travel for passengers t Zanzibar whilst providing a reliable and safe airport for the high volume of airplanes and for big aircraft.
Details of the Chinese Financing Agreement
Chinese loan contracts use amiable language and a soft power strategy that emphasizes amicable ties, equality, reciprocal assistance, and shared wealth. However, Chinese financing agreements frequently involve stringent specifications for contracting companies and agreements for the sourcing of materials. Approximately 89% of infrastructural projects in Africa financed via China are carried out by Chinese contractors. For instance, Chinese Exim Bank mandates that 70 percent of contract procurements (materials and machinery) are sourced from China. The excitement surrounding Chinese loans is mainly influenced by the Chinese development assistance not being correlated to the receiving nations' commitment to democracy, human rights, or good governance, which are usually conditionalities to receive funding from western nations.
Managerial Enclaves of China
Enclaves are unique geographic, social, or cultural groups that are contained within the borders of another country or territory. Chinese enclaves have developed in Tanzania, which is demonstrated by the fact that Chinese employees rarely leave the workplace to engage in local activities, watch local entertainment, or learn about the local culture, often due to company policy. Language barriers are primarily to blame for the development of these communities, as older Chinese managers don't speak English and the younger Chinese managers frequently have trouble understanding the accented English spoken by locals. Additionally, relatively few Chinese employees are fluent in Swahili, Tanzania's national language, or Bemba, a dialect spoken in the Copperbelt region of East Africa. Chinese managers reside in segregated homes called "Chinese compounds" or "China houses" in the cities of Kitwe, Urafiki, and Chambishi. These housing arrangements for Chinese employees frequently feature their cooks, security guards, Chinese DVDs, video media, ping-pong tables, television, athletic spaces, livestock, and vegetable gardens. The salaries of employees living in the Urafiki compound are paid directly to their Chinese bank accounts to encourage them to save; they are given an allowance to purchase goods such as fruits and toiletries as necessities and entertainment are available in the enclaves. This practice alienates them further from the local community.
Military Connection
In 1972, The Tanzania People's Defense Force (TPDF) army was listed by the International Institute for Strategic Studies (IISS). It had 10,000 soldiers, 4 infantry battalions, 14 T-62 Chinese light tanks, 20 T-59, Several BTR-152 and BTR-40, Chinese mortars, and Soviet Field artillery.
The Tanzania-Uganda war happened between 1968 and 1979. The 1st tank battle took place in Africa between Libyan Soviet tanks and Tanzanian Chinese Tanks
ISIS enlisted the army with thirty Chinese 32 T-54/55 and Type 59 major battle tanks.
Chinese Nationals and Elephant Poaching
The Convention on International Trade in Endangered Species of Wild Flora and Fauna's fourteenth meeting published report (3rd to 5th June at the Hague, 2007) expressed grave concern over
the engagement of Chinese citizens in direct purchase of ivory from African countries that are home to elephants. The ETIS data show that Chinese citizens have been apprehended, detained, or fled in over 126 cases of ivory seizures, totaling about 14.2 tonnes, that have taken place in or come from twenty-two elephant-inhabited African countries. These countries include Botswana, Congo, Cameroon, Côte d'Ivoire, Ghana, Equatorial Guinea, Guinea, Kenya, Malawi, Liberia, Mali, Namibia, Mozambique, Nigeria, South Africa, Senegal, Uganda, Sudan, Tanzania, Zimbabwe, and Zambia. As 87 percent of these incidents happened recently after 1998, this problem is relatively new. Chinese citizens are now in a strong position to take advantage of direct sources of illegal ivory in a way that was not possible in the past, thanks to their country's already significant and expanding economic presence all over Africa.
The UN Office on Drugs and Crime discovered in its Transnational Organized Crime in Eastern Africa 2013 report: A Threat Assessment that:
Numerous Chinese workers and executives have recently arrived in Africa as a result of China's investment boom, including in nations where ivory is traded openly and frequently carved into goods to be sold in Asia. It can be sent in small quantities or in checked luggage for resale at enormous profits or for personal use. Although the amounts involved are typically small (although tusks shaped into suitcase-sized pieces have been found), their frequency suggests that they could be a significant supply source.
Chinese nationals who were present in Tanzania at the time of the massive interdictions were imprisoned. 3 Chinese nationals were detained in Dar es Salaam in November 2013, along with 797 tusks.
Corruption among Tanzanian rangers and police and rising purchasing power among Chinese baofahu and tuhao has had a devastating effect. Tanzanian authorities seized more than 3 tons of ivory from 2010 to 2013, with about two-thirds of elephants disappearing at Selous Game Reserve, the country's largest elephant reserve.
The UN report claims that the relationship between Tanzanian Supply and Chinese demand is the factor that has the greatest negative impact on the population of African elephants:
According to recent studies, poaching rates in Eastern Africa have risen to levels that could endanger the region's elephant population.
Large shipments of ivory from Africa into Asia seem to mostly travel through container ports in Kenya and Tanzania, where they may be intercepted.
Every year, between 5,600 to 15,400 elephants are thought to be poached from Eastern Africa, yielding 56 to 154 metric tons of illegal ivory, two-thirds of which (37 tons) are sent to Asia and sold there for about USD 30 million as of 2011.
Some of the most crucial intermediaries in Eastern Africa are Chinese expatriates. China and Thailand continue to rank among the top travel destinations despite their efforts to combat illicit trade.
Recent Interpol operations discovered increased the number of carved items and vendors who speak Chinese to their customers.
Lazaro Nyalandu, the deputy minister for tourism and natural resources in Tanzania, was compelled to respond to citizen complaints following the UNODC findings about "…Chinese citizens, engaged in massacring our animals and their transport to their countries to benefit themselves." He declared that the Tanzanian government would close down poachers regardless of nationality and that any threat to tourism revenues would be addressed.
Yu Bo, a Chinese national, was charged with illegally obtaining 81 tusks at Dar es Salaam's Kisutu Resident Magistrates' Court in March 2014. Yu pleaded guilty but asked for mercy, citing his numerous dependents and a lack of past offenses. Devota Kisoka, the Senior Magistrate, sentenced him to 20 years which is being appealed or a TZG 9,781,204,900 fine. Chinese authorities have taken action to stop the importation of illegal ivory; of the 900 seizures of ivory made every year in China, about 90 percent involve items found during hand inspections of luggage. They are also not known to assist their nationals arrested in Tanzania over poaching allegations, whether legally, financially, or politically.
Resident Diplomatic Missions
Tanzania has a Consulate-general located in Guangzhou and an embassy located in Beijing
China has a Consulate-general located in Zanzibar and an embassy located in Dar es Salaam
For more articles related to Government of Tanzania and the Society (Community), click here!