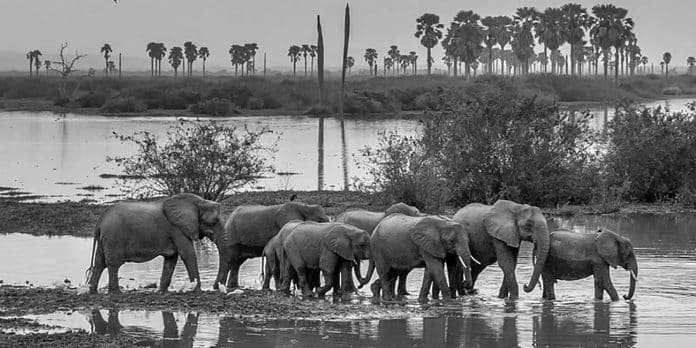 Quick Review of the Best Game Reserves in Tanzania
Tanzania's Best Wildlife Sanctuaries
Tanzania is a great place to go on a safari if you want to view some of Africa's most exciting animals. Since 38 percent of Tanzania's geography is designated as protected wildlife areas, Tanzania's private game reserves offer a wide selection of National Parks and Game Reserves to fulfill various travel interests.
At the time of writing, Tanzania had 32 active game reserves. To get the most out of your Tanzania safari vacation, you'll want to research which parks and reserves are best for your particular interests. We've compiled a list of the best game reserves in Tanzania, which we believe every tourist should include on their itinerary.
Parks in the Northern Part of Tanzania
National Park of Serengeti
Is there anything special about Serengeti National Park?
Famous for the cradle of human civilization and arguably the closest thing you'll ever see to a pristine African wilderness, with millions of relocating wildebeest traversing the Acacia plateaux. No matter how many animals move around, it feels like time stands still on a safari in Serengeti National Park. It is probably the best game reserve in Tanzania.
What is the best way to get to Serengeti Park?
Serengeti National Park's ancient regulations and seasonal cycles have mostly remained intact, making it unique and challenging to reach the destination. One of the seven airstrips located within the park can be reached by flying into Arusha International Airport (AIR).
Alternatively, a 4×4 safari vehicle can go from Arusha to Serengeti National Park, stopping to visit other parks. You may do both things by booking a one-way Tanzanian Serengeti safari and returning to Arusha the same day.
Within Serengeti National Park, what lodging options are available?
The Ewanjan Camp in Lemala: Those looking for a peaceful and adventurous vacation might consider Lemala Ewanjan Tented Camp. Explore the Serengeti National Park's vast grasslands and meet with awe-inspiring wildlife. Make friends with the people and take in everything the area offers by getting to know them. All-inclusive vacations are available to guests at this resort.
The Lemala Kuria Hills Lodge:

is an excellent and secluded location for your Serengeti safari if you want a majestic experience. View African wildlife in their native habitat while sipping wine and feasting on African cuisine in Wogakuria Hills.
Visits to Serengeti National Park are best made during what time?
When it comes to Serengeti National park, there's no negotiation. Serengeti is among the best game reserves in Tanzania. Visiting Serengeti National Park on safari is most popular from the end of June through the end of October, during the dry season. To assuage their appetite, animals assemble around rivers and waterways. The Great Migration is in full swing, and the chances of seeing a historic river crossing are higher than ever.
2. The Ngorongoro Conservation Zone
Is there anything special about Ngorongoro that sets it apart from other conservation areas?
It is the world's largest intact caldera at the Ngorongoro Conservation zone in northern Tanzania, once a massive volcano. Before the eruption, some say it was taller than Africa's highest mountain, Mount Kilimanjaro.
The 600-meter-deep Ngorongoro Crater now serves as the focal point of this enormous highland environment that has long eroded and collapsed.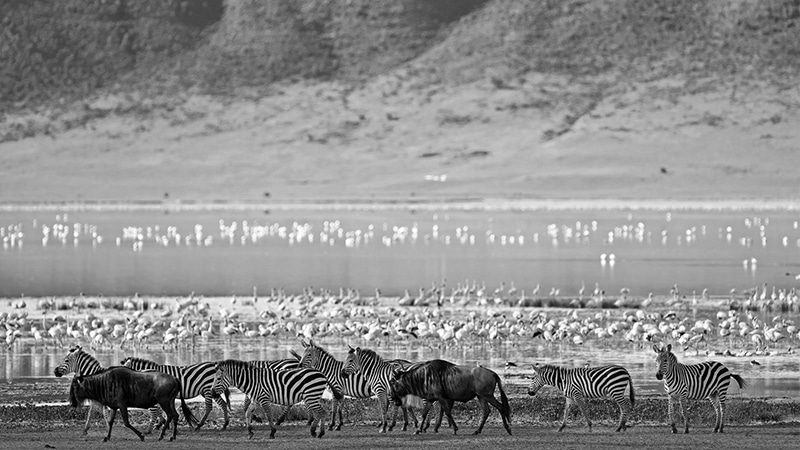 How to locate the Ngorongoro Conservation Area (NCA)?
Serengeti safaris are usually part of a larger package that includes the Ngorongoro Conservation. All safaris in northern Tanzania begin in Arusha, where the Ngorongoro conservation area is located, about three hours on a paved road.
The drive from the Serengeti's Seronera region to the crater's rim is about three hours and 140 kilometers (90 miles) long. Due to the likelihood of stumbling across wildlife, this would likely take a lot longer. There are about 80 kilometers (50 miles) between Lake Manyara and the Ngorongoro Crater and roughly 180 kilometers (110 miles) between Tarangire and the Ngorongoro Crater (110 miles).
Flights to Kilimanjaro International Airport (JRO) are the quickest way to get to Arusha, located about 46 kilometers (29 miles). Also, you can fly into Dar es Salaam, Tanzania, and then on to Arusha or Kilimanjaro International Airport (ARK or KIL) (JRO).
What lodging options are available at the Ngorongoro conservation zone?
The Lemala tented camp in the Ngorongoro Crater:

The charming Lemala Ngorongoro is tucked away in an old acacia woodland on the perimeter of the massive Crater of Ngorongoro. The Lemala Tented Camp's of Ngorongoro proximity to the Lemala crater access road means you can descend to the crater in a matter of minutes every morning making the Ngorongoro conservation zone one of the

best game reserves in Tanzania

, especially for nature lovers. Visitors to Lemala often have an hour's lead on those descending through the significantly busier Seneto crater western access route on the rim's far busier road. Game drives departing from the camp as early as 6:15 a.m. will take guests out into the abundant wildlife of Ngorongoro.

The Lodge at Ngorongoro Crater: is a great place to stay. The highest game lodge in the world goes by the name of Ngorongoro Crater Lodge. It's easy to think you've stumbled into a fantasy realm when you see the crater's natural splendor and stunning architecture at your feet.
When it comes to wildlife, this is one of the most beautiful places on Earth. There are endangered black rhinoceros, flamingos in the soda lakes, and elephants with gigantic tusks inside its borders.
When is the best time to go to Ngorongoro Crater?
The best time of year to visit Ngorongoro Crater is the rainy times of April to May because there are fewer visitors, and the landscape is lush and green rather than dry and dusty during the dry season.
3. The National Park of Tarangire
What makes Tarangire National Park unique is its diversity of wildlife. Tanzania's sixth-largest national park, Tarangire National Park, is known for its elephant herds and mini-migration of over 250,000 animals during the dry season.
Lakes are located north and west of the Great Rift Valley, while the Masai Steppe grasslands are southeast. Nearby, the well-known northern Tanzania safari circuit it's easy to get to.
How do you get to Tarangire National Park?
Flight or car are the two main ways to get to Tarangire National Park. Kilimanjaro International Airport is the quickest route to Tarangire (KIA).
Arusha is 46 kilometers away (29 miles).
Once at Dar es Salaam, you can take a regional aircraft to Arusha from the Julius Nyerere International Airport (DAR) (ARK).
What lodging options are available to tourists of Tarangire National Park?
The Treetops at Tarangire: Tucked away on the Tanzanian border, Tarangire Treetops is a tranquil hideaway in the Tarangire National Park. As the most oversized guestroom in the camp in this region, the Treetops Rooms include a 65-square-meter floor area and an uncommon double shower. If you're an animal lover, Tarangire national park is among the best game reserves in Tanzania to visit and have a full view of all game animals on a treetop camp.
Visiting Tarangire National Park when it's least crowded.
Late June through October, the middle and end of the dry season, is the best time of year to visit Tarangire National Park in Tanzania. There are fewer animals to observe in the park during the rainy season.
4. The National Park of Lake Manyara
Lake Manyara National Park is unique because of its location in Tanzania.
In addition to a soda-ash lake filled with hundreds of thousands of pink flamingos, Lake Manyara National Park is home to Tanzania's largest elephant population and a stunning landscape!
What is the best way to get to Lake Manyara?
The park can be reached via the southern and northern entrances. The north exit is more popular because it is near most hotels. About 90 minutes and 126 kilometers separate Arusha from Lake Manyara National Park.
Accommodations for Lake Manyara National Park for tourists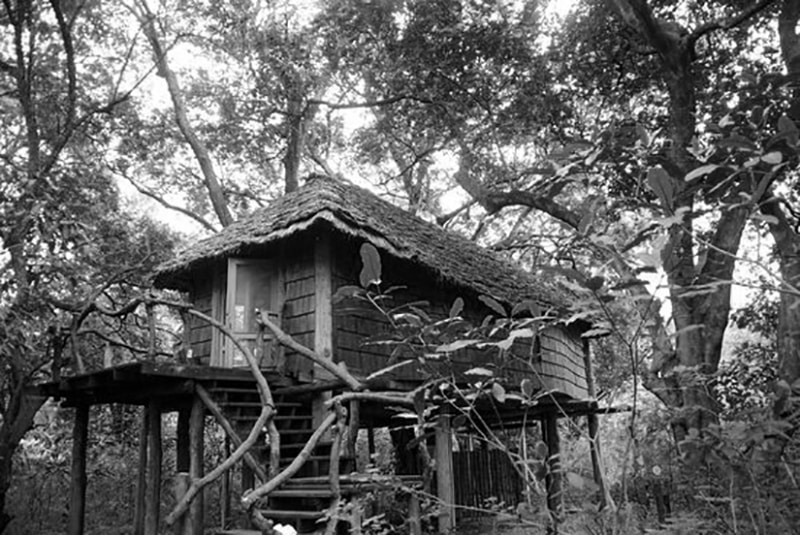 The Tree House in Lake Manyara: It's hard to imagine a more idyllic setting for a romantic getaway than the calm, lush surroundings afforded by these nine stilted treehouse rooms, constructed of local hardwood and makuti palm fronds. The Treehouse at Lemala Manyara National Park In northern Tanzania, Lake Manyara National Park is home to this camp. Eight huge tents, the main tent with a lounge and dining room, and a campfire in the middle of an acacia forest make up this sumptuous mobile camp.
Lake Manyara National Park is best visited during what time of year?
It is possible to go on safari in Tanzania's Lake Manyara National Park all year round; the dry season (June to October) is the best time to see wildlife.
5. The National Park at Arusha
What sets Arusha National Park apart from the rest?
Longer northern circuit safaris departing from Arusha are popular reasons for day trips to Ngorongoro Crater. The tiny national park comprises Mount Meru's cliffs and top, the Momela Lakes, Ngurdoto Crater, and the magnificent highland forests covering its lower slopes.
The National Park at Arusha is one of the best game reserves in Tanzania for peace lovers, introverts, and photographers.
Getting to Arusha National Park, how do you get there?
Arusha National Park is around 45 minutes from Arusha city. Hotels and motels line the road to this tiny hamlet's national park. Arusha offers the opportunity to make a pit stop at this little park as the starting point for all safaris in northern Tanzania. Routes to Arusha are numerous.
What lodging options are available to tourists of Arusha National Park?
All-inclusive Lake Duluti Lodge: Lake Duluti Lodge sits on a 30-acre coffee estate on the outskirts of Arusha, Tanzania, and features 19 beautiful, contemporary African-styled bungalows. Each chalet has a private terrace with a stunning view of the property's many ancient indigenous trees, which all face the coffee farm. The Tanzania Safari lodge aims to give guests a more homey experience than a typical five-star hotel. Luxurious accommodations, five-star service, world-class cuisine, and environmentally friendly practices are all hallmarks of the Lake Duluti Lodge.
The Inn of the Rivertrees: Having flown for so long, you'll be exhausted when you land in Arusha. Your strength for your African safari can be replenished in the tranquility of Rivertrees Country Inn. There are 18 garden rooms, two cottages, and the River House to choose from at this Arusha hotel set on the foothills of Mount Meru. In each of the hotel's 24 guest rooms, you'll find clean, comfy beds, elegant décor, full bathrooms, mosquito netting, and flattering bottled water. Showers or bathtubs are functional in the garden rooms. The River Cottages offer a secluded retreat beside the Usa River, where visitors can see blue and vervet monkeys.
What's the best time of year to visit Arusha?
Arusha National Park's dry season runs from the end of June to the beginning of September, making this the best time of year to see wildlife.
6. The National Park of Nyerere, Formerly Known as Selous National Park
What distinguishes Nyere National Park from others like it?
The Selous Wildlife Reserve is Africa's largest game reserve, covering 54,600 square kilometers of forested, grassy plains, mountainous, and open woodlands. Perfect for all bubbly and adventurous souls, the Nyerere national park is one of the best game reserves in Tanzania.
This reserve is three times the area of South Africa's Kruger National Park and more than twice the size of Tanzania's Serengeti National Park.
When and how do you locate the Nyere National Park?
Selous Game Reserve is accessible by road; however, a direct approach from Dar es Salaam takes 240 kilometers via the eastern route (149 miles). The journey takes 6 to 7 hours, or about a whole day, and is rigid and slow. This route takes you via Kibiti and Mloka before arriving at the park's Mtemere gate.
Access to the Selous Reserve is made more accessible by the TAZARA railway station (Tanzania Zambia Railway). As it travels from Dar es Salaam to Matambwe, it passes through the Tanzanian bush. On this trip, you'll get to take in the lush scenery. A four- to five-hour journey is expected.
The third method of getting to Selous Game Reserve is by charter jet.
Several aircraft landed at hotels or public airstrips from Zanzibar, Dar es Salaam, and Arusha. Most safari-goers fly into Tanzania's Julius Nyerere International Airport (DAR) to get to Selous from Dar es Salaam. These scheduled flights serve the Selous and Ruaha national parks. The fastest and most expensive way to go to Selous wildlife reserve is by this route.
What lodging options are available in Nyere National Park, and how much does it cost?
The Inn near Serena River Mivumo Lodge: It's hard to beat Serena Mivumo River Lodge, located in Tanzania's Selous Game Reserve, to taste upscale luxury in a spectacular setting. The Rufiji River and Stiegler's Gorge can be seen from the river lodges.
The Roho Ya Selous: One of Africa's largest reserves and home to the continent's largest population of wild dogs, Nyerere National Park (formerly Selous Game Reserve) contains Roho Ya Selous. During the day, elephants and giraffes meander through the camp, while the night is punctuated by the noises of adjacent hippos and lions. This area is recognized for its water-based activities because of its extensive rivers and lakes network.
The best time to visit Nyere National Park is spring and fall.
Tanzania's high tourist season, which runs from June to October, is the ideal time to explore Selous Game Reserve. We'll look at the seasonal weather patterns in the Selous and how they impact the game reserve when talking about the climate in Tanzania. The Selous, a classic dry park, offers exceptional opportunities for wildlife observation, which only get better as the dry season progresses. Animals can be spotted throughout the year, but the best time to watch them is from July through October.
7. The National Park at Ruaha
What is so special about Ruaha National Park?
Tanzania's Ruaha National Park is one of the continent's largest parks. The Ruaha habitat is also home to massive elephant herds, with 12,000 elephants estimated to pass through each year.
How can one reach Ruaha National Park?
Ruaha national park is one of the best game reserves in Tanzania to visit due to its flexible reachability. Travelling can be done by automobile, Ruaha is 625 kilometers away from Dar es Salaam and 130 kilometers away from Iringa. Dar can be reached in approximately nine hours, depending on traffic and road conditions.
The park airstrips receive daily scheduled flights from Dodoma, Arusha, Kigoma, and Dar es Salaam (Jongomero and Msembe). There is also the option to reserve chartered flights.
Where can one lodge in Ruaha National Park?
The Inn on the Ruaha River: Few camps can match this one's setting on the Great Ruaha River, where you can watch wildlife from the comfort of your veranda the entire day. In Ruaha, the riverside eating banda and the kopje-climbing kopje are separated into two unique regions, each with a different view.
The Intimate residence of Jabali:

One of the most famous lion populations are found in Ruaha National Park, where the Jabali Private House sits. One-on-one attention from a chef and a guide ensures that each group has a fully personalized safari experience.
Ruaha National Park is at its most beautiful in the spring and summer.
Mid-May through December is prime viewing months at Ruaha National Park, a traditional dry-season park. A unique opportunity for wildlife observation arises as the dry season draws to a close and animals begin to cluster around water sources.
Many birds migrate from the northern hemisphere to this area during the wet season from January to April, making it one of the best game reserves in Tanzania to watch different bird species.
For more articles related to Wildlife in Tanzania (Animals), click here!