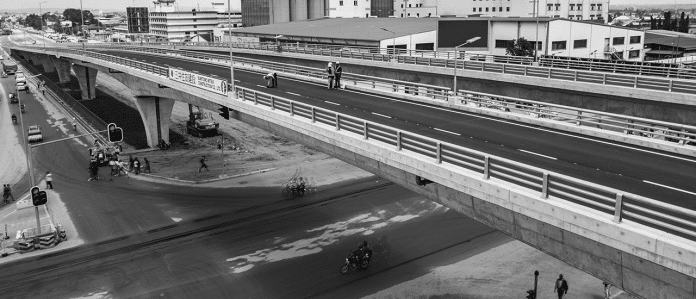 Tanzania Road Network – Highways, Feeding and International Roads
Tanzania road network is 86,472 km (53,731 mi) in length where 12,789 km (7,945 mi) is classified as highway and 21,105 km (13,114 km) as regional roads.
Roads
Tanzania Roads Agency (TANROADS) – The main road agency under the ministry of labor, transport and communications – came into operation in July 2000 and is the agency responsible for the improvement and development of highways and the regional road network in mainland Tanzania. The total road network in Tanzania identified in mainland of the country is 86,472 Kilometers (53,731 miles) according to the Roads Act of 2007. The Ministry of Labor through the Roads Agency (TANROADS) oversees the road network in Tanzania which is approximately 33,891 km (21,059 miles) ), comprising 12786 kilometers (6,945 miles) of highways and 21,105 kilometers (13,114 miles) regional roads. The remaining Tanzania road network is approximately 53,460 kilometers (33,220 miles) of the urban zone. District and dusty roads are under the supervision of the Office of the Prime Minister Regional Administration and Local Government.
In 2007, there were 91,049 kilometers (56,575 miles) roads including 6,578 kilometers (4,087 miles) of paved roads. The Tanzania road network ranks 51st in height in the world.
Highways
The remaining section of road in Dar es Salaam is paved. The Mkapa Bridge is located on this stretch of stretch to the Rufiji River.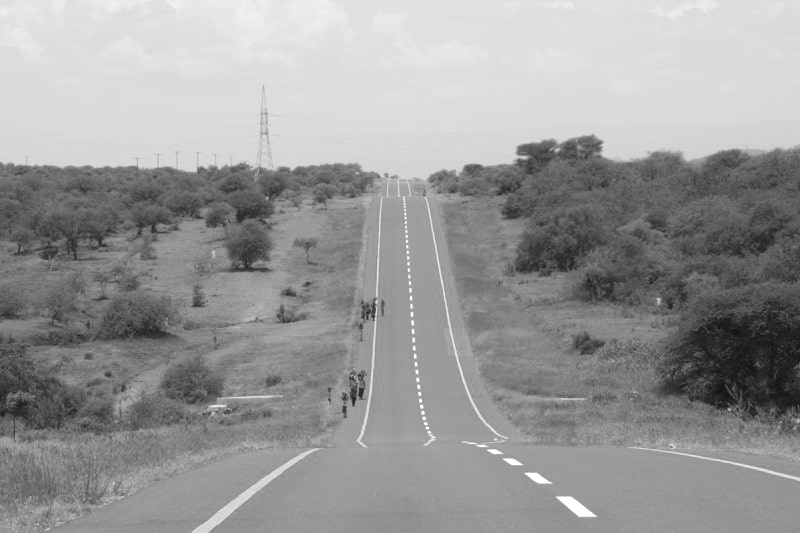 Tanga and Arusha (435 km (270 miles) all paved): A-14 road connects Tanga to Segera, from the point where B-2 connects the end of the road to the Himo junction. Road A-23 follows and heads towards west of Moshi and Arusha.
Dodoma and Mwanza on Lake Victoria (701 km (436 miles) both paved). B-129 is heads toward west of Manyoni followed by B-141 road north of Singida, starting with B-141 road north of Singida, followed by B-3 road further west of Nzega. The last piece is on the B-6 road through Shinyanga towards Mwanza
Dar es salaam and the Rwandan border at Rusomo Falls (1,281 km (796 miles) all paved): From Nzega in the Tabora region the B-3 road runs to the border with Rwanda (380 km (240 km)
Kigoma and Burundi border in Manyovu: all roads are paved
Mwanza and Musoma (218 km (135 miles) both paved): Road B connects all the cities then continues west to the border with Kenya
Arusha and Namanga on the Kenyan border (106 km (66 miles): The A -104 road is all paved
Iringa and Mbeya (330 km (210 miles) both paved): The A-104 road connects the cities, with Tunduma on the border with Zambia.
Tanzania's main roads are identified by numbers that follow the two-level number system preceded by A- and B-, as is the case throughout East Africa. The following are lists of Tanzania's main roads. Tanzania has now introduced a number system for highways that start with "T" but so far the selection of "A" is widespread.
Road #
Length
Network
Via
Status
Further Comments:
A7
492 km
Dar es Salaam – Iringa
Chalinze – Morogoro – Mikumi
Paved
A14
315 km
Chalinze – Horohoro
Segera – Tanga
Paved
Goes towards Kenya as far as Mombasa
A19
620 km
Masasi – Mbamba Bay
Tunduru – Songea – Mbinga
Paved/Unpaved
Paved: Masasi – Ngomano (56 km) and Namtumbo – Mbinga (168 km)
A23
117 km
Arusha – Holili
Moshi
Paved
It continues within Kenya up to Voi
A104
1,218 km
Tunduma- Namanga
Mbeya – Iringa – Dodoma – Kondoa – Arusha
Paved
The entire Cairo-Cape Town Highway, recently paved: Dodoma – Babati (257 km)
B1
263 km
Segera – Himo
Paved
It connects A14 and A23
B2
561 km
Dar es Salaam – Mtwara
Kilwa – Lindi
Paved
It is paved 30 km to Kilwa Masoko from Nangurukuru
B3
625 km
Singida – Rusumo Falls
Nzega – Isaka – Kahama
Paved
It serves as B6 Nzega – Tinde (42 km), and continues as RN3 within Rwanda to Kigali
B4
293 km
Makambako – Songea
Njombe
Paved
B5
120 km
Mingoyo – Masasi
Paved
It connects B2 to A19
B6
1,071 km
Makogolosi – Sirari
Rungwa – Tabora – Shinyanga – Mwanza
Paved/Unpaved
Imewekwa lami: Nzega – Sirari (kilometa 524), Inatandaa na B3 Nzega – Tinde (42 km)

Paved: Nzega – Sirari (524 km), Paved by B3 Nzega – Tinde (42 km)

B8
1,128 km
Kasesha – Mutukula
Sumbawanga – Mpanda – Kasulu – Biharamulo – Bukoba
Paved/Unpaved
Paved: Lusahunga (B3) – Mutukula (287 km)
B129
388 km
Morogoro – Manyoni
Dodoma
Paved
B141
308 km
Rungwa – SIngida
Itigi – Manyoni
Paved/Unpaved
Paved: Itigi – Singida (160 km)
B143
151 km
Singida – Babati
Paved
B144
390 km
Makuyuni – Kukirango
Karatu – Ngorongoro – Serengeti National Park
Paved/Unpaved
Paved: Makuyuni – Ngorongoro (79 km), the rest cannot be paved because it is a national park
B163
230 km
Usagara – Biharamulo
Sengerema – Geita
Paved/Unpaved
Unpaved: Bwanga – Biharamulo (68 km), asphalt has started and passed through Chato to Bukoba
B182
171 km
Nyakasanza – Kyaka
Kimisi – Burigi Game Reserve – Omurushaka
Paved/Unpaved
Paved: Omurushaka – Kyaka (57 km), connects B3 to B8
B182 W
111 km
Omurushaka – Murongo
Unpaved
It is divided from B182 and continues along the Murongo border into Uganda
173 km
Bulahu – Lamadai
Bariadi
Paved/Unpaved
Paved: Bariadi – Lamadai (72 km), and is known as the main road by TANROADS but has no numbers.
59 km
Nyakasanza – Kobero
Ngara – Kabanga
Paved
It is divided from B3 to the Kobero border into Burundi, and continues as RN6 in front
Regional Roads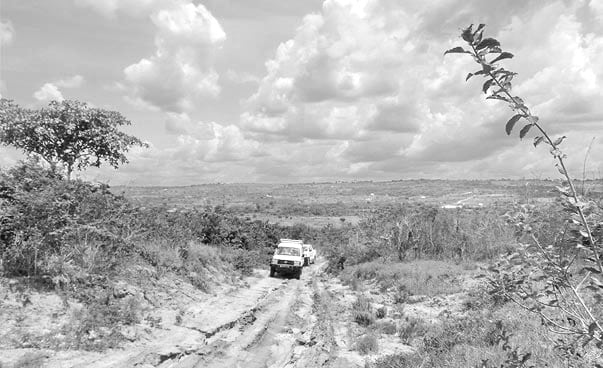 Mtwara Region: paved roads connecting Mtwara and Masasi and from there to near Nangoma. Unpaved roads lead to Mtambaswala and a modern bridge on the Mozambique border. In 2012 the African Development Bank approved a road rehabilitation loan, which was followed by an additional 7.659 billion yen ($ 77.9 million) also from Japan
The western regions have the worst services, with no main tarmac roads except Kigoma city and Ujiji. southwest of the Nyakanyazi junction near Kibondo in the northwest, about 1000 km no highway inland
International Highways
Cairo-Capetown Highway, Highway # 4 on the African Highway network north of Namanga on the Kenyan border and the Zambian border at Tunduma in the southwest, via Arusha, Dodoma, Iringa and Mbeya. The entrance to the Tarangire and Iringa National Parks, which have recently been paved between Babati-Kondoa-Dodoma-Iringa. There is currently no need to travel through the long east road from Arusha to Iringa via Moshi and Morogoro is paved. This route is 921 km (572 miles) compared to 689 km (428 miles) via Arusha-Dodoma-Iringa.
To the southwest from Iringa to Tunduma, the Cairo-Capetown highway follows Tanzania's main road linking Zambia with Dar es Salaam.
Last but not the least, please note the road networks in Tanzania has always been under constant improvements as the economy of the country continues to grow rapidly, and one of the recent updates have been associated with the implementation of the new project "The Dar es Salaam rapid bus transit system (Dar es Salaam BRT)". A ton of changes had to be made on local roads of the Dar es salaam city.
For more information on infrastructure click here!